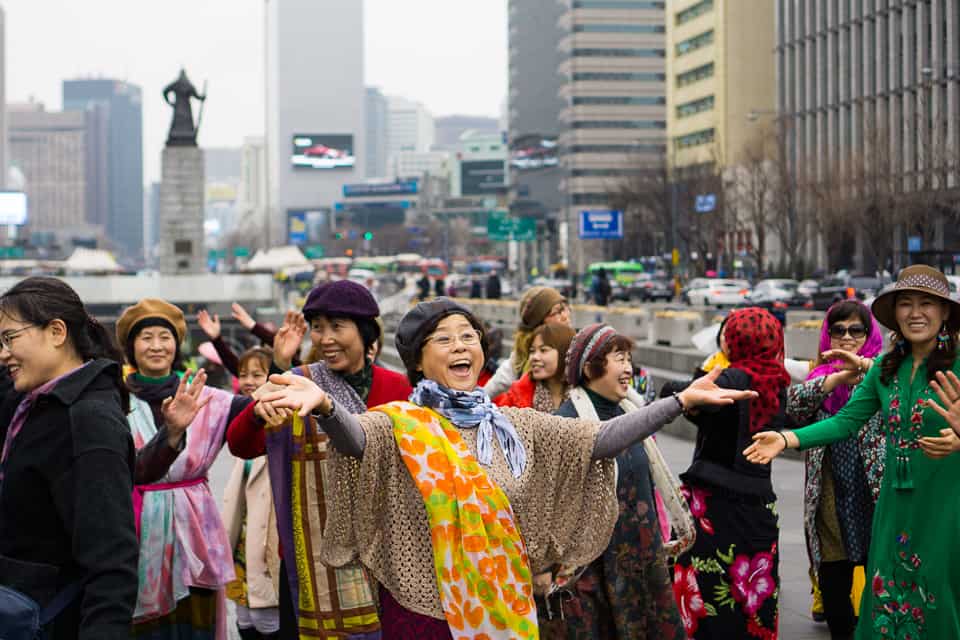 South Korea Women's March in Photos
On Mar. 4, with South Korea's intensifying #MeToo movement, the annual Korea Women's March took place in central Seoul.
Hosted by Korean Women's Association United (KWAU) and the 3.8 Women's Day Organizing Committee, the march began in Gwanghwamun, south of the historic Gyeongbokgung Palace. The dress code for the event was black or purple, while "#MeToo" and "#WithYou" signs adorned the crowd.
Organizers estimate that around 2000 people participated in the march. The participants chanted in support of more female representation in politics, constitutional reform, anti-discrimination legislation, and legalizing abortion. 
One participant held a signing "Ajoobeonim (husband's sister's husband), doryeonnim (husband's brother), and agassi (husband's sister)…. I am not beneath you. The National Institute of Korean Language (NIKL) must reform discriminatory and sexist family relationship terms." The Korean language is inherently hierarchical, the implications of which are often addressed by feminist groups through petitions to the NIKL. The NIKL is also notorious for its bizarre definition of the word feminist: "formerly a metaphorical term used for men who are kind to women."
The yellow headline in the banner above reads, "Bridge the gender wage gap," while the text on the right reads "democracy of gender equality can change my life." The phrase "gender equality" (seong pyeongdeung) holds a unique power in Korean politics: Conservatives are staunchly opposed to it, arguing instead for the use of "two-gender equality" (yangseong pyeongdeung) in order to exclude other genders and, implicitly, homosexuality.
Marchers held up signs depicting the assaulters, with accompanying texts demanding better care and legal protection for victims. A child walked with his guardian, who was in a wheelchair.
A pungmul (traditional percussion music) troupe greeted marchers as they reenter Gwanghwamun Square. Various pro-LGBT rights flags can be seen in the crowd. The day was a hopeful moment for feminism in South Korea, because it showed marked concern for intersectionality, taking into account the plight of immigrant women, LGBTQ Koreans, and people with disabilities.
Women danced in Gwanghwamun Square in celebration of diversity. After the dance was over, one woman asked her partners, "Where else could we dance like this in public?"
A banner for the Green Party: "Politics — Now women will take charge!" The party is known for its progressive platform across many fields, including the environment, feminism, and social responsibility.
The march wrapped up back in Gwanghwamun Square at approximately 3:30. The organizers awarded the "Gender Equality Stepping Stone Award" to five groups that had advocated for a wide range of causes: the gender pay gap, feminist education in elementary schools, sexual violence in the literary world, reparations for state-run sexual labor in the mid-20th century, and survivors of domestic abuse.
Photos by Ho Kyeong Jang for Korea Exposé. 
Become a subscriber to access all of our content.