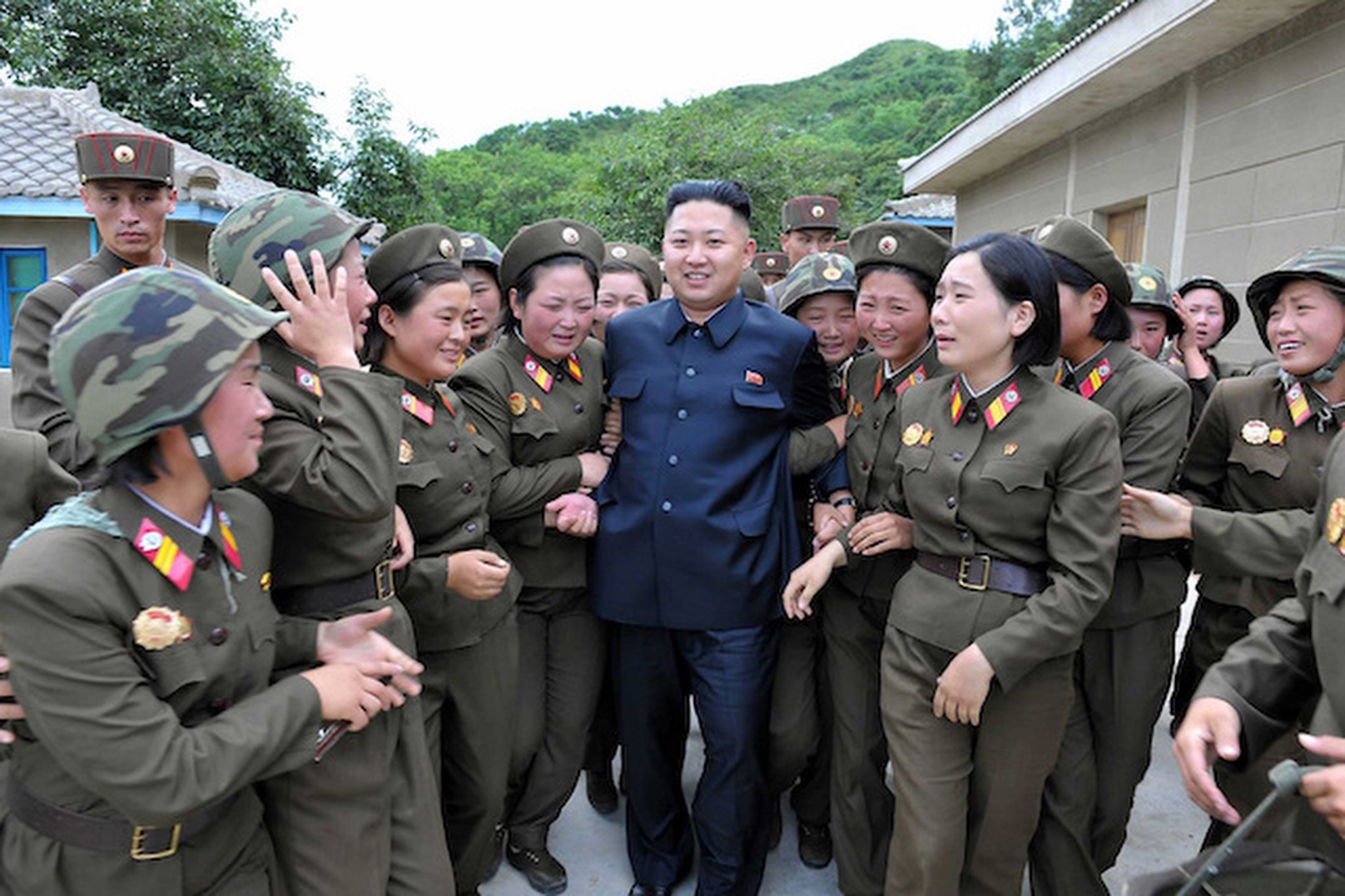 Inside the North Korean Military: The Plight of Women
Just over 10 years ago, North Korean defector Lee Da-eun would not have imagined munching on fried chicken topped with gooey cheese, at a faux-military restaurant surrounded by ammunition and gas masks. Back then, she was more familiar with slaughtering a chicken or holding a real gun, working for the North Korean military.
YouTube channel Digitalsoju TV recently interviewed two female North Korean defectors who served in the military before fleeing the country. The interview was held, fatuously, in a military-themed fried chicken joint in Seoul.
Lee, fashioning a short bob and a fringe with a rather dewy makeup, looks like a typical South Korean woman (even her accent is indistinguishably South Korean). But Lee served for nine years in the Korean People's Army, eight of which she served as a lieutenant. Yeon Jeong-sil, on the other hand, with hollow cheeks and a mild North Korean accent, seems a bit more foreign. Yeon was a master sergeant for seven years. Both Lee and Yeon were volunteers; they defected before North Korea introduced the mandatory military service for women in 2015.
Lee joined the military against her parents' objection, who suggested that Lee become a school teacher. But she "wanted to beat other men." She had ambitions to become a leading member of the Worker's Party, a notable path to success in a country ruled by this one party.
Yeon, on the other hand, said many female volunteers had financial motives. Upon joining the military, one would lift the burdens off her parents' shoulders by being fed and paid by the military, Yeon said.
While Yeon added that serving in the military was difficult, her life afterwards as a civilian was incomparably harder. At least serving the military was "worthwhile" for Yeon, adding that her vivacious personality and general aptitude suited military training. Lee, on the other hand, described her military experience as "the worst," being paid two dollars a month (a kilo of rice costed three dollars then), coupled with poor living conditions and arduous training in the military.
As women in the military, they faced threats of sexual harassment, especially by their male seniors. Lee, at the age of 18, was beaten up by a middle-aged major general after he failed to rape her. To save his face and position in the military, he blackmailed her not to speak out about the abuse.
According to Lee, many female soldiers got birth control (e.g. IUD) or learned alternative methods of birth control before joining. With the pervasive culture of victim-shaming, women had to protect their own body. If one got pregnant through rape, she would not only be dishonorably discharged, but also socially stigmatized, becoming inept for marriage due to the loss of her 'purity.'
Despite having one of the poorest economies in the world, North Korea reportedly pours nearly a quarter of its gross domestic product (GDP) to the military, having spent around 3.5 billion dollars annually on average from 2004 to 2014, according to the U.S State Department's World Military Expenditures and Arms Transfers report in 2016. The country had the world's highest "military burden," or military expenditure relative to its GDP.
North Korea also has the world's largest army relative to its population. Men serve in the military for at least 10 years, while women between the ages 17 and 20, starting from 2015, were also obligatorily conscripted into the military, serving for around half the period of their male counterparts, according to Daily NK, a Seoul-based online media outlet focusing on North Korean issues.
And what do the former female officers from North Korea think about the prospects of war? Well, watch the interview by Digitalsoju TV to find out:
Cover image: Kim Jong-un surrounded by female soldiers of the Korean People's Army (Source: Vietnam Mobiography on Flickr)
*
Digitalsoju TV aims to bring people together through food and shine a further light into the lives of the people living in South Korea, focusing on entertainment, nightlife and food. For more content, check out their YouTube channel.
Become a subscriber to access all of our content.