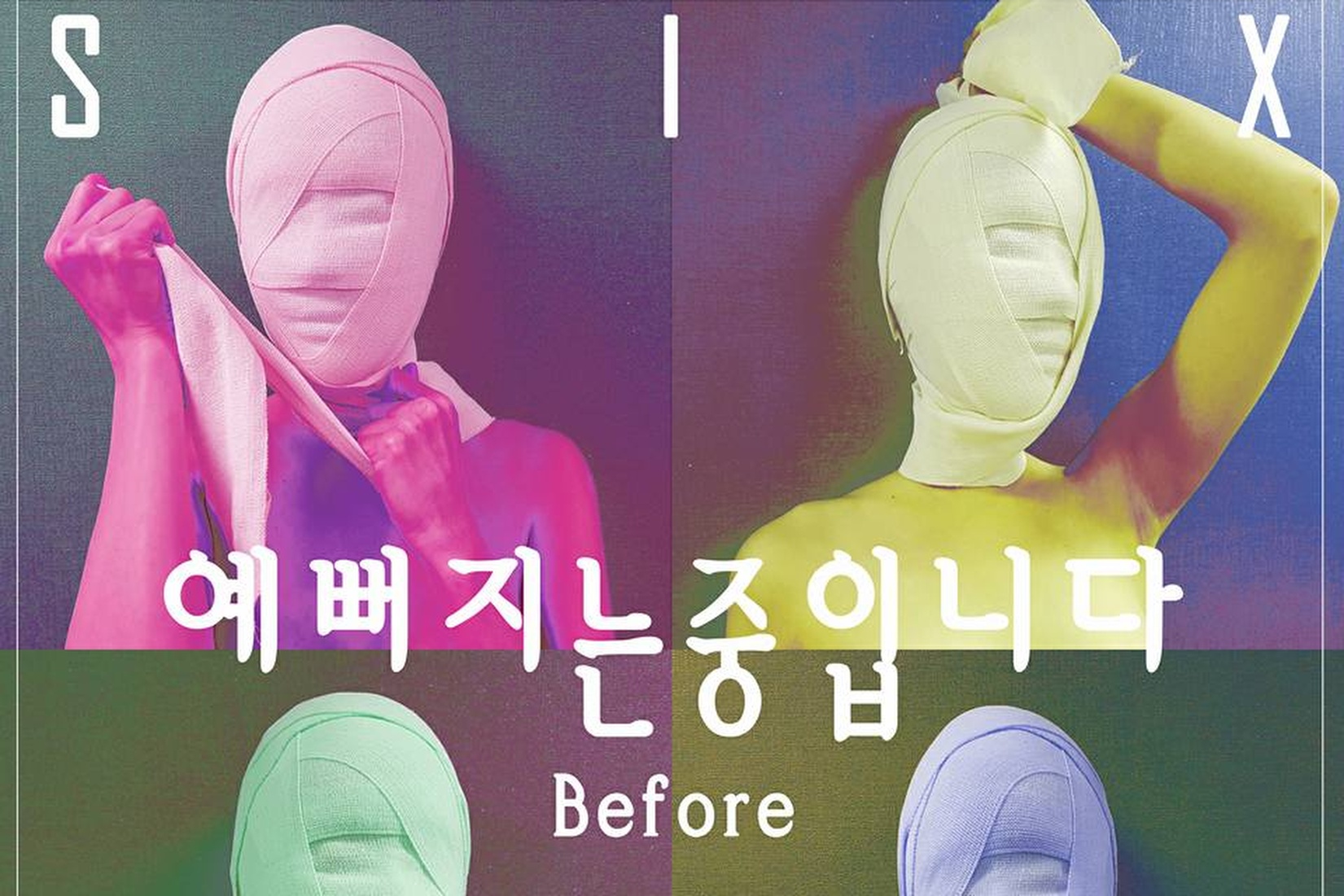 "Becoming Prettier": K-pop MV Chronicles Girl Group's Plastic Surgery
Four girls in skintight pink bodysuits march into a surgery room. One of them lies down and closes her eyes, as blinding white light gleams from the surgical headlights above her. Then, a long beep and brief silence, followed by a catchy beat with these lines:
"I'm pretty, pretty, pretty, pretty, from anyone's perspective."
This music video is the newest release from Six Bomb, a K-pop girl group. The title of the song is literally, "Becoming Prettier (After)." What does the "after" allude to? After plastic surgery, of course.
Before and after: On one side of the screen, the original girls grin after wiping off their makeup. On the other, each transformed member walks out of the surgery room in full makeup and hairdo, and strikes a pose.
"After" shows the newly transformed members, caked with makeup and wearing (what I personally think are tacky) outfits reminiscent of Kim Yuna's 2010 Vancouver Olympics costume, and donning quasi-unrecognizable faces compared to what they looked like before.
The recent "After" song is a sequel to another song: In early February, K-pop girl group Six Bomb released a single called "Becoming Prettier (Before)." The music video features the four members consulting a plastic surgeon, attending pampering sessions and a hair salon. In other words, chronicling the girls before they… "become pretty."
The girls sing in an oddly upbeat and gleeful manner: "I'm becoming prettier. Don't laugh at me. I'm going to meet a better man. I am not sad."
Since the release, "Before" has reached over 400,000 views on YouTube. This isn't much, compared to the massive popularity of the likes of Girls' Generation. Still, the viewing was ten times that of their previous song, "Wait Ten Years Baby."
Six Bomb recently confirmed the rumors of actually having undergone surgeries, and said the four members spent up to 100 million won (around 88,000 U.S dollars) altogether for the "new project." They emphasized that the plastic surgery was their idea; that the agency, Danal Entertainment, did not force them.
They said they were satisfied with the result. "At first, my parents were worried and unsure, but after they saw the result, they asked me why I didn't get more," one member said.
"After" is getting mixed reactions on YouTube. Some commenters praised their bravery for being honest, while others pitied their having to go under the knife for public attention.
South Korea is notorious for being a "Plastic Surgery Republic." The country has the highest ratio of cosmetic surgeries per capita in the world. K-pop stars coming out publicly about their plastic surgery experience no longer makes news.
Each year, with fierce competition in the K-pop industry, a plethora of talented girls and boys emerge and disappear. Only the top few manage to survive and flourish. The cutthroat pressure to leave any sort of dramatic impression may be driving groups like Six Bomb to the extreme.
Cover Image: The promotional poster of "Becoming Prettier (Before)" shows members' faces covered in bandages (Source: Six Bomb Facebook page)
Jieun Choi wrote this radar report.
Become a subscriber to access all of our content.