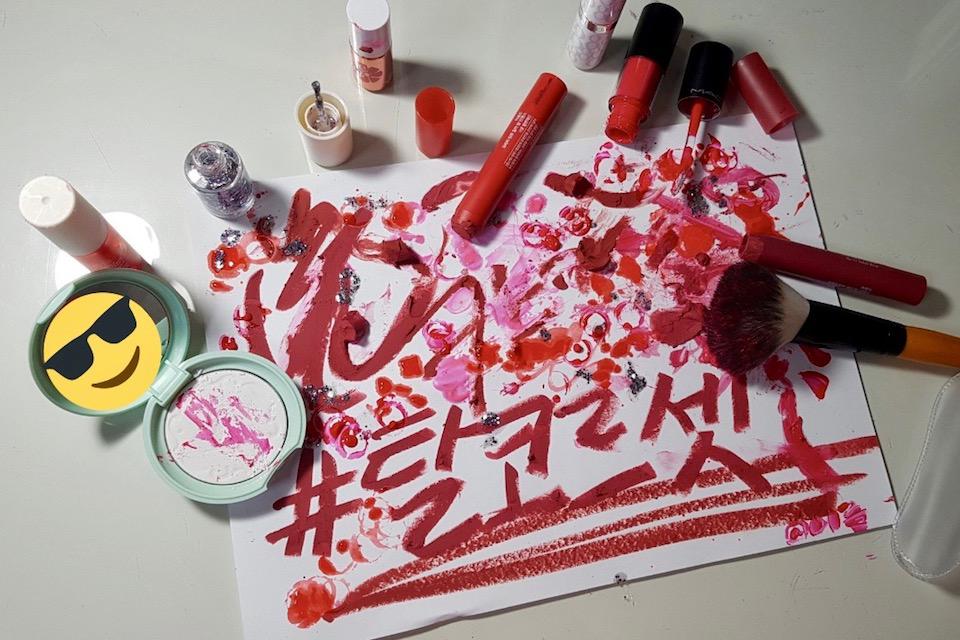 The K-beauty Nation Begins to Question Its Obsession With Beauty
After months of deliberation, Shim Jung-hyun, a 26-year-old South Korean YouTuber known for her beauty tips, announced to her subscribers that she would stop filming makeup tutorials, skincare routines and cosmetics unboxing videos.
"I'm no longer happy with making myself up beyond the point of gaining self-satisfaction," Shim said in the video announcement, published in June. "Lately, I've considerably reduced the time spent on putting on makeup. And I'm spending that time on myself—even if it's just 10 minutes—and it's making me much happier each day."
Shim, who has nearly half a million subscribers on YouTube, isn't the only person to take a stance against makeup and beauty norms.
Young South Korean women are smashing their makeup, snipping their long hair and throwing away their bras. Since the beginning of 2018, they have been sharing online photos of their fresh buzz cuts and lipsticks broken into pieces, along with the hashtag "#RemoveTheCorset"—tal-koreuset in Korean.
This corset isn't the literal one that turns a woman's torso into an hourglass shape. In this context, the corset refers to South Korean society's rigid standards of beauty, imposed particularly on women.
South Korea is known for its obsession with appearance and thriving makeup culture, dubbed "K-beauty." "South Korea is among the top 10 global beauty markets, estimated at just over US$13 billion in 2017," declared Mintel, a market intelligence agency. South Korea is "the plastic surgery capital of the world," said a Business Inside article from June, citing the number of procedures carried out here each year. Women who are dolled up from head to toe are a common sight in major South Korean cities.
Some women point out that this isn't entirely by choice.
"As a woman in South Korea, one must have heard this at least once: 'Makeup is about manners!'" said Shim. "When I go outside without makeup on, I really feel like I am lacking in basic etiquette."
The expectation for women to dress up is so widespread that earlier this month, a franchisee of Yogerpresso, a South Korean cafe chain, fired a female employee on her first day at work after she showed up with short hair and no makeup. The story went viral on social media, and the company ended up apologizing, but the incident was a reminder of the prevailing attitude that women must conform to established standards of beauty in order to be seen as presentable.
"[At office] all sorts of ideas of femininity are imposed on women — such as makeup, feminine clothes and behaviors such as being caring and smiling — which I thought I had to learn to fit into the adult world," said Kim Ji-soo, a South Korean woman in her mid-twenties working in finance.
The demand for women to look a certain way is so strict that there's even an expression for describing the effort that goes into it: kkumim nodong, meaning "embellishment labor." And this includes not wearing glasses, to go by the incident involving Lim Hyeon-ju, a female anchor at broadcaster MBC, who made headlines in April for wearing glasses on air.
"There was an unspoken rule against women wearing glasses at work," Lim said in one interview. "Even after I bought my glasses, I couldn't wear them at first because I was worried about what the viewers might think. I worried that they might say I wasn't being professional."
The social pressure to look pretty now affects more than just grown-up women. In 2015, an ad for school uniforms featured slender models in what it described as a "corset jacket" and "[weight-]shedding skirt." It attracted a firestorm of criticism for promoting an unrealistic body image to teenage girls.
Then there is children's makeup.
"These days, I see girls aged 11 or 12 in cosmetics shops wearing full makeup," said Kang Do-yeon, an 18-year-old high school student from Icheon, a city to the southeast of Seoul.
Kang, who started wearing makeup in middle school, said almost every girl in her class wears "BB cream" (facial cream that covers blemishes) and lip tint to school while girls who fail to get up early enough to put on makeup cover their faces with masks.
Multiple South Korean media outlets reported last month that the market for cosmetics for teenagers is growing at the rate of 20 percent annually. According to the Green Health Solidarity, a consumer advocacy group, 73.8 percent of middle school students have used color makeup such as lipsticks or eyeshadow.
Already five years ago, a study at Sookmyung Women's University in Seoul said more South Korean girls were starting to use makeup at an earlier age: 43.2 percent of seventh graders said they started putting on makeup in elementary school, compared to 7.1 percent of twelfth graders.
The popularity of cosmetics for minors is reflected in the sheer number of makeup video tutorials in Korean for children, often starring children themselves.
Some women are saying enough is enough.
The Remove-the-Corset movement coincides with growing interest in women's rights and feminism. South Korea's #MeToo movement has highlighted the enduring culture of sexual violence. This summer's rallies against so-called "spycam" crimes—the use of hidden cameras to film women without consent—have become the biggest women-only demonstrations in the country's history.
Issues such as South Korea's gender pay gap—the third-worst in the OECD—are scrutinized in the media. And a number of executives at major banks and state-run firms have been charged with or convicted of deliberately disqualifying female applicants in order to hire men.
This cultural shift is feeding the awareness that South Korea's existing, high standards of beauty may be yet another form of oppression.
Shim, the beauty vlogger, also began questioning this cult of beauty. "I must have spent nearly an hour everyday putting on makeup," she told Korea Exposé. But as she learned about different feminist issues, she wondered, "Is this really for my own satisfaction?"
Still, it wasn't an easy decision for Shim to stop what she was known for.
"At first I was worried about my YouTube subscribers," she said. "If these subscribers are gone, would my channel have any more meaning?"
So Shim was surprised to see that comments were mostly positive. One person wrote: "Lately, I have been thinking a lot about removing the corset. I can sleep longer before school because I don't wear eyeshadow or eyeliner any more. It's so convenient. I sincerely root for you. You are amazing."
Other women are also stepping up. A video titled "I'm not pretty" by Lina Bae, another South Korean YouTuber, went viral this summer. In it, insulting comments about Bae's appearance appear on screen as she puts on heavy makeup. The vitriol continues after she finishes her makeup, implying that she cannot escape judgemental comments even after putting in so much effort.
Then, Bae wipes off the makeup and smiles for the first time in the video. The screen goes black and a message appears.
"I am not pretty. But it's OK not to be pretty."
Some women argue that the movement has become yet another corset, shaming women for wanting to be beautiful. They say putting on makeup, curling their hair and wearing skirts and heels can be done out of free will and for self-satisfaction, not simply because of patriarchy or a desire to please men.
Min Suh-yeong, a cartoonist known for drawing comic strips about feminism, insisted beauty means being the best person she can be—which, for her, includes bleaching her hair, dressing up and wearing heavy eye makeup.
"I really like being pretty," she wrote on her blog. "I really want to show that someone who has publicly declared being a feminist can have a good life. To achieve it, isn't it natural to want to use everything I have as a woman, as a human being?"
Proponents of the movement, though, maintain that its crux is escaping the idea of beauty itself.
"I don't think the problem of corset is limited to makeup, long hair or women's clothes like skirts," said one Twitter user. "Unless we break down the preconception that women are beautiful, or that women should be beautiful, this debate about removing the corset will never end."
Kang, the high school student, said it's also about changing one's own mindset so that one isn't so affected by external validation and societal norms.
"If I had grown up in a place without so many prejudices [about appearance], wouldn't my entire outlook on life be different too?" she said.
Cover image: a photo uploaded on social media to show destroyed cosmetic products, with the hashtag "#RemoveTheCorset" (source: Twitter)
Become a subscriber to access all of our content.