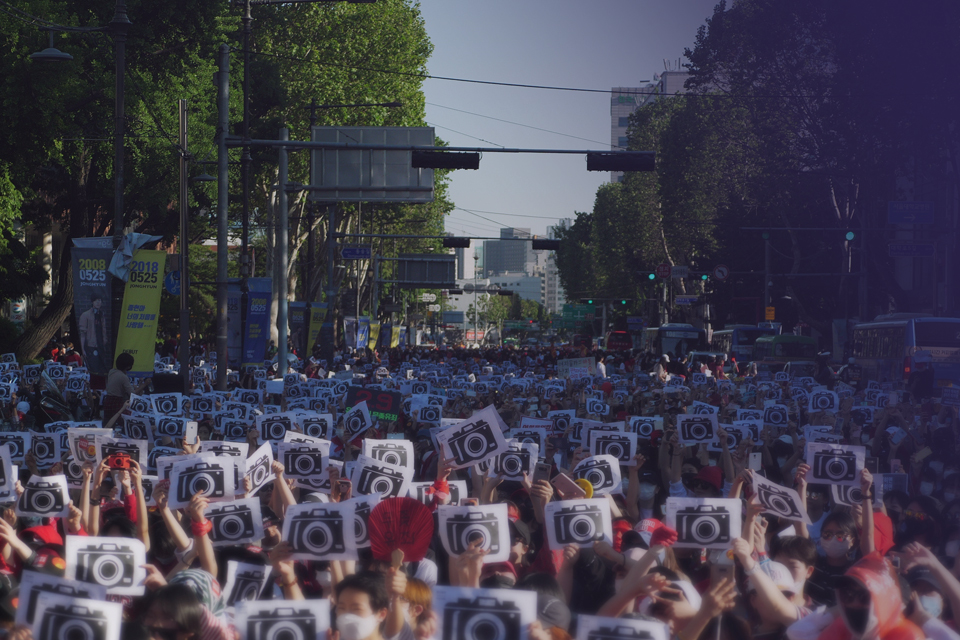 The First Rally Against South Korea's Spycam Porn Epidemic
It was a sight to behold: at least 12,000 women shouting at the top of their lungs in central Seoul, enraged by South Korea's widespread spycam pornography, enraged by what they perceived to be police inaction, even discrimination.
On May 19, 2018, women from different walks of life — all anonymous, masked, refusing to be interviewed individually — gathered at Hyehwa Station.
First and foremost, they were protesting against the police's reaction to a recent spycam case at Hongik University. Last week, a woman was arrested for secretly filming and distributing the footage of a nude male model. The woman, surnamed Ahn, was made to stand in front of the media, wearing a mask.
"Women in Korea are always exposed to illegal filming," stated the organizer, Women March for Justice, in a press release. "It has been a normal daily life for Korean women to be exposed to illegal filming anytime and anywhere, and to deal with negligent police investigation, secondary harm, and the obscene expressions by the press."
It's not clear how widespread illegal filming is. (Then again, if I was filmed secretly, I guess I wouldn't know.) In South Korea, spycam pornography is a genre unto itself — it's easily accessible on porn websites, showing unknowing women in public spaces, motels, and even homes.
"Unlike most illegal filming cases where the victims were female, illegal filming against the male nude model at H university gained massive attention from the start," said the protest organizer. "The police reacted promptly and effectively, which was unprecedented, victim oriented policing. Many women criticized the police for their negligent attitude toward female victims in the past."
Video shot and edited by Youjin Do.
Police denied there was gender discrimination, saying Ahn was arrested not because she was a woman, but because police feared she would destroy the evidence and possibly flee.
According to statistics from the National Police Agency (NPA), cases concerning spy cameras have been rising in recent years. An overwhelming majority of the suspects are male. And the majority of the victims are female.
Between 2012 and 2017, out of the nearly 30,000 male suspects investigated by police, less than 3 percent were arrested for investigation. Out of the 523 female suspects during the same time period, 4 were arrested (0.8 percent).
NPA doesn't have separate statistics for how swiftly they respond to each case. "There have been cases that were wrapped up more swiftly than the 'Hongik University Nude Model Case,'" reported Chosun Ilbo, a conservative daily newspaper.
The statistics don't point to a clear-cut discrimination between male and female suspects. But to look at the protesters' anger purely through the lens of statistical accuracy is to miss the central point. These women aren't just angry about the most recent spycam scandal. They're not just angry about police's decision to make Ahn visible, compared to the thousands of invisible male perpetrators every year.
The protesters' wrath stems from years of South Korea's widespread consumption of spycam pornography, which puts women at risk in unexpected places, even by their relatives and boyfriends. It stems from the lack of a support system for victims, whose reputations and even careers get damaged, unlucky enough to star in an ejaculatory fantasy.
"Hidden cam is uncritically seen as a matter of taste," said activist Yena Ha. Something more 'natural.'
It stems from the numerous testimonies from ordinary women and activists, who say that police too often close the cases because the servers are located abroad, it's hard to pinpoint the intentionality of the accused, etc.
In a previous interview with Korea Exposé, Ha argued that the vagueness of the law, coupled with a lack of awareness of online sex crimes, make the police less than helpful to victims.
As of now, over 200,000 people have participated in an online petition on the presidential website, arguing for a ban on spycam sales and stricter punishment of criminals.
Whatever the solutions, this much is clear: We need to talk about South Korea's spycam porn epidemic.
Cover image: At least 12,000 women protested in central Seoul on May 19, 2018. (Youjin Do/Korea Exposé)
Become a subscriber to access all of our content.