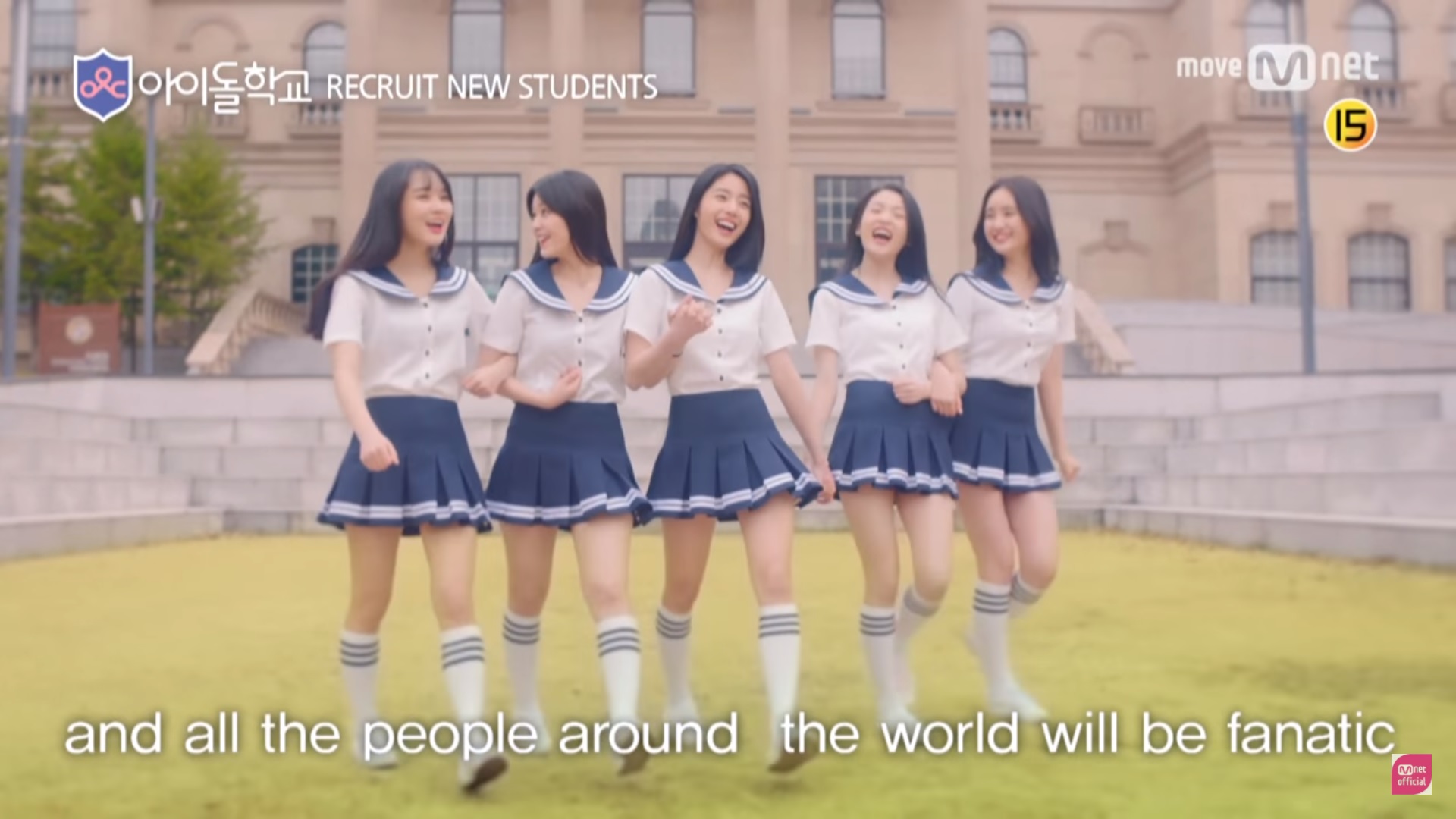 Welcome to K-pop Idol School, Where Only the Beautiful Enter
"We are recruiting beautiful freshmen."
This shamelessly explicit phrase on its website says everything about Idol School, an institution that aims to nurture K-pop girl group members.
In the video, girls in lolitaesque school uniforms (the skirts barely cover their thighs) vow to follow the school's curriculum so that they would become a competent member of a K-pop group. The school, in return, vows to prepare the students to become an "outstanding idol talent" that would entice the global audience.
This all-girls program is actually South Korean cable channel Mnet's upcoming survival show, airing this July. The application for the "school," which just closed, was open to any woman born before 2006, or over 11 years old, from South Korea and beyond. The first class was public, held last week on Facebook Live to teach the applicants how to sing and dance to the school song, which they will need to perform in the audition on June 3.
The program sticks to its concept as an educational institution, shown by its detailed efforts to resemble one: Its website presents the school emblem, teaching aims, school song and detailed curriculum. It even delineates some school regulations that emulate those of an average South Korean school with some tweaks. "There is no restriction on hair length," but "the student needs to manage a hairstyle that suits her," says Article One, Subsection Four of the school rules. (Most South Korean secondary schools have regulations on students' hairstyles, from length to color.)
There's only one requirement to enter Idol School: You have to be beautiful. Even dancing and singing skills are irrelevant. "Anyone with the dream of being in a girl group can apply," says the promotional video.
Some advocates of Idol School say that not prioritizing artistically talented applicants actually lowers the entry barrier, because anyone can join (as long as they're "beautiful"). They argue that the program will nurture those individuals as successful idol talents with its well-rounded curriculum, which also includes "Mind Control" and "How to Deal with A Stage Crisis."
The School tried to play down the criticisms that it promotes lookism. It claims that its idea of "beauty" encompasses appearance, the mind, personal charm and enthusiasm. But let's be real. Just look at their promotional videos (English subtitles available). The school song is even titled, "Because you are pretty." And the application form requires body shots of the woman.
But besides the school's unabashed advocacy of lookism, some critics are concerned how the school will prevent another tragic case of unchosen participants taking an extreme measures. In 2015, Ahn So-jin, a participant of a similar survival show "Kara Project" from broadcaster MBC, committed suicide after failing to be selected as a final member of a girl group.
Chillingly, the precept of Idol School, as seen in the recruitment video, is: "Making a debut is the only way to survive."
The program lasts for 11 weeks. After that, students who pass the graduation exam will make an immediate debut. But the exact quota for admission and graduation are unclear. CJ E&M, the owner of Mnet, did not respond to Korea Exposé's request at the time of publication.
S.M. Entertainment, one of the largest entertainment companies in South Korea, is also opening a talent school called "K-pop International School" in September. Their version, unlike Mnet's, would serve as an alternative form of education along with the K-pop education, including academic subjects like Math, Korean and English, along with of course, dance and music training.
"But don't worry, I have a beautiful mind." Come June, a girl as young as 11 years old will probably be singing these Idol School lyrics while dancing in front of the judges, who will decide whether she is "beautiful" enough to be admitted to the School. If she's chosen, she'll most likely master the art (or formula) of dancing under a torrential rain. Well, that's what the promotional video says anyway.
Cover image: K-pop Idol School. "All the people around the world will be fanatic." (Source: Idol School promotional video)
Become a subscriber to access all of our content.