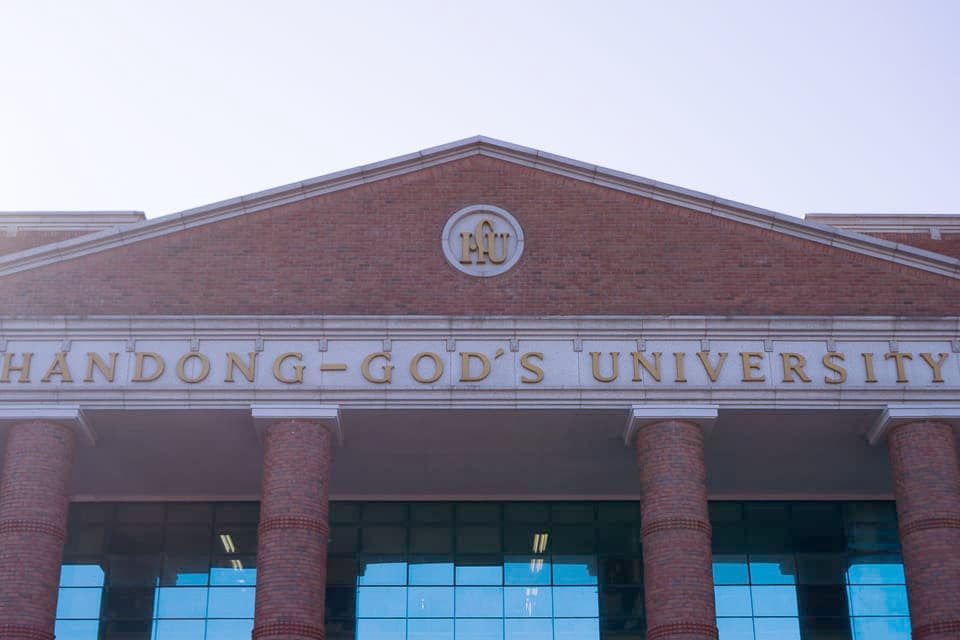 P(r)aying for Bigotry at Handong University
"Homosexuality is not just any crime. It's a serious problem that tries to change laws, systems, society and culture and corrupt our children."
Jei Yanggyu, a professor at Handong University, voiced such concerns on the university's internal website on Dec. 23. "If Handong loses its identity as God's University, it will inevitably sink to the level of a mediocre provincial college," he added. Jei's views were echoed in multiple email replies from other professors.
Handong, whose official English name is "Handong Global University (HGU)," is a private Christian University in Pohang, South Korea. But according to signs on buildings around the campus, HGU also stands for "Handong—God's University."
It made clear last month just what that means by trying to ban a feminist lecture organized by student group Deulkkot (Wildflower).
Deulkkot's members had obtained the school's approval in advance to host a lecture on Dec. 8 about sex workers' rights and bodily self-determination. But on the morning of the lecture, the Office of Student Affairs summoned Deulkkot members and told them to cancel it, citing a regulation that forbids extracurricular events within the week before final examinations. This rule had not been applied to other groups, so Deulkkot requested a meeting with Cho Wonchul, dean of student affairs, who apparently told them that feminism was a "postmodern way of thought" that went against the school's founding principles.
Cho allegedly said he would punish them if the event took place. Deulkkot held it anyway.
Everything went downhill from there.
***
Angry professors including Jei and Cho brought students to protest the lecture, holding signs with slogans like "We reject feminism, which promotes free sex" and "We reject gender ideology, which disrupts the creationist order."
The three-hour lecture was, as proposed, about sex work and bodily rights. At the two-hour mark, the protesters disrupt the lecture. At the end, they ask the lecturers: "How is your uterus not public property?"
After the lecture, Cho emailed faculty members, writing "Last Friday, there was a spiritual earthquake at Handong." He claimed there was "much talk about homosexuality" during the lecture and disclosed the sexual orientation of one student to the entire faculty. (In reality, homosexuality was brought up just three times during the three-hour lecture, and was talked about for less than three minutes.) The named student told Korea Exposé that he has since been heavily ostracized by the Handong community.
Two students then circulated a manifesto condemning the lecture, demanding the punishment of everyone involved in hosting it and warning against a "homosexual conspiracy masquerading as feminism."
The basis of their argument was that "the lecturers promoted 120 genders," thereby destabilizing God's natural order. (In fact, the lecturers had referred to 120 types of sexual acts described by 19th-century psychiatrist Richard von Krafft-Ebing.)
God's University
Handong's founding principles, according to its code of regulations, are to "create leaders who can change the world, based on Christian beliefs and the educational principles of the Republic of Korea." The price of this education is around $7,000 a year.
Perhaps as a sign of this dedication, Handong announced its official opposition to homosexuality last May in a publication titled "Handong Theological Position on Homosexuality and Same-sex Marriage" despite opposition from the student council and some members of the faculty. Key claims include: "Homosexuality is a regressive cultural trend that denies Biblical truth" and, "We believe true homosexual rights lie in conversion therapy." Conversion therapy has been proven universally ineffective, and is being outlawed in multiple U.S. states. Handong, however, presents it as an act in service of human rights.
One week after the lecture, Handong began disciplinary proceedings against five students involved in hosting the event. The school formed a "disciplinary committee" — later renamed "special guidance committee" after some very unflattering news articles were published — and charged the students with offenses as varied as "hosting an unauthorized lecture" and "revealing a polyamorous lifestyle, thereby violating regulations created to nurture talent for God based on Handong's founding spirit and educational philosophy."
A month of deliberation ended with the school sentencing the students to "special guidance" on the grounds of "disrespectful behavior towards faculty."
Handong and the Country
As a government-licensed academic institution, Handong's primary commitment is to the state that allows it to exist. This commitment is tested when confronted with the question of priorities: God or the state?
In fact, the same question arose in 2007 when a mega-church near Seoul dispatched 20 young people to Afghanistan to carry out missionary work with the help of three locally based Korean missionaries. Five days after arriving, the whole team was kidnapped by the Taliban, who killed two members before releasing the rest. A Taliban leader told Reuters that they had been paid $20 million as ransom, which the South Korean government denied.
After returning to South Korea, the missionaries bowed to their compatriots in a show of contrition, but the dominant view in the press was that Christians had selfishly pursued their religious agenda at the expense of the nation. The family of the deceased even sued the state three years later, to no avail.
Handong's relationship to the state is straightforward. According to an audit of its 2016 financial statements, the university received approximately 17.7 billion won (roughly $16 million) in funding from the government that year and 14.4 billion won the previous year.
Park Won-gon, dean of external relations, told Korea Exposé: "The core of Handong education is the integration of learning and faith. Every major is taught not in a secular framework but through a Christian perspective."
Park continued, "Faith is one of the most important factors in the hiring process. When we hire professors, we emphasize their confession of faith — how their faith has progressed and their current level of conviction. If they cannot meet these standards, professors will have a hard time at Handong."
Three weeks after Deulkkot's lecture, Pastor Kim Dae-ok was denied a contract extension, according to local media. Kim had become embroiled in the Deulkkot controversy by those who had taken offense at his inclusive theological views. The university had already transferred him from its church to its law school in 2014 for not being aligned with "Handong's Christian identity." Kim had suggested students keep an open mind about LGBTQ rights and Islam.
Watch our interview with one of the five students, punished for organizing the feminist lecture.
Between Integration and Exclusion
Despite Park's assurance of "integration," the evidence points to Handong prioritizing faith over learning. Adherence to its model of faith overrides academic freedom.
In November 2017, another student group planned to invite Rev. Bora Lim, a pastor at Hyanglin Church and a rare Christian advocate of LGBTQ rights, for a seminar on LGBTQ-inclusive theology. The backlash from the university led to the cancellation of her visit.
An earthquake hit Pohang that afternoon, prompting parts of the campus community to attribute the disaster to God's wrath over Handong's attempt to invite Lim. The university responded that it unequivocally opposed inclusive theology and thus had no reason to be punished by God.
Handong's unequivocal support for homophobia is undeniable. Last May, it hosted a lecture titled "Understanding Homosexuality Properly," in conjunction with the "Youth Association for Beautiful Family and Marriage," a homophobic organization registered at the University's address. They distributed copies of a book titled "21 Questions about Homosexuality and Same-sex Marriage," which is available on Prof. Jei Yanggyu's personal blog. The central argument of the lecture and the document was the need to "stop the tyranny of homosexuality."
Jei is also accused of recruiting students for a part-time job handing out homophobic flyers at Seoul Station over the Chuseok holidays in autumn, paying each person 100,000 won daily. (A screen-capture of the recruitment ad he allegedly posted on the school's intranet is available for viewing on Twitter.)
When reached for a comment, he declined an interview with "a publication whose leanings are unclear." He then cited his fatigue with "distortive framing" by the media.
Handong's commitment to God over academics is exemplified by its deep affiliation with the Korean Association for Creation Research (KACR), a Christian group that decries evolution and geology and is dedicated to proving that only the literal interpretation of the Bible can account for the universe.
"With the founding of Handong University, many of our devoted members were appointed as professors… we expect our Pohang branch to become the center of Creationism research in Korea," the KACR writes on its website.
Handong accordingly established the Institute for Creationism Research in 1999. In December 2017, the university and the KACR formed an academic exchange partnership. "Recovering Biblical Creationism" is also included in the official Handong Vision Statement. Dean Park confirmed the importance of creation science to the Handong curriculum: students are de facto obliged to take a creation science course titled "Creation and Evolution."
What Makes a University?
The government grants Christian universities freedom of religious education. This right is exercised by prominent Christian universities like Yonsei and Ewha in ways such as mandatory chapel attendance.
Handong goes much further. In the name of God, it forbids students from publicly discussing and learning a certain topic on university soil. It censors ideas that question its interpretation of the Bible. Private lives are also scrutinized and disclosed at the university's discretion. It controls not just what it teaches, but what students learn.
Dean Park stated, "Students are notified before and after enrollment of Handong's educational philosophy and regulations. They enroll consenting to these policies…. grievances raised after enrollment are unacceptable."
Some would argue that it is all right for such regulations to be absolute. If the institution in question were fully private, this claim might hold. But given the billions of won it receives from the South Korean government, surely either its internal rules, its status as a university or its receipt of taxpayers' money should be reviewed.
A central monument at Handong reads "Love, humility, service." These words are ringing true, in the form of love of censorship, lack of humility, and failure to serve students.
Cover Image: Hyundong Hall, the main administrative building of Handong University. (Ho Kyeong Jang/Korea Exposé)
Become a subscriber to access all of our content.