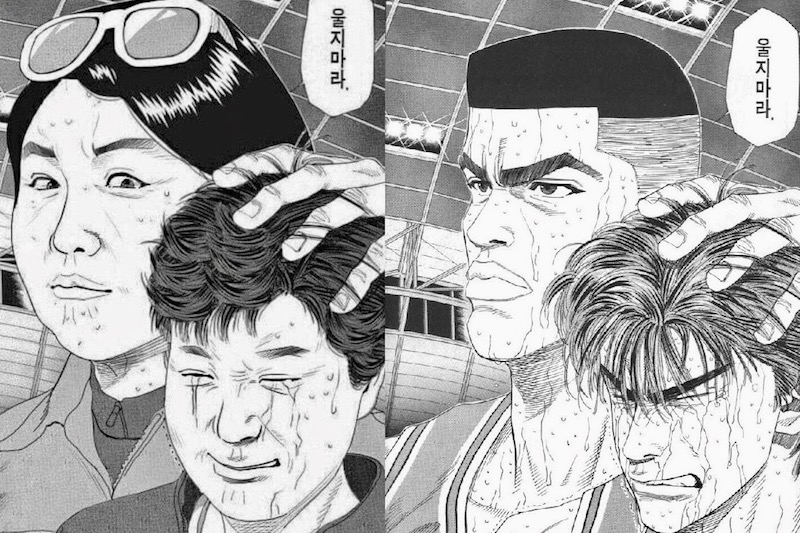 Awesome Humor on Display at Park Geun-hye's Ouster
Even ten years from now, many who were in South Korea on Mar. 10, 2017, will remember how they were feeling that morning, when South Korea's Constitutional Court upheld the December impeachment and formally removed former president Park Geun-hye from office. Many yelled with joy, laughed, and cried. Some — like Park's last remaining loyalists — were silenced by disbelief, and even broke out in angry violence.
Then there are many unforgettable moments: Acting chief judge Lee Jung-mi's hair rollers on the morning of, Park Geun-hye's motorcade returning to her private home two days later, and that Robert Kelly interview with the BBC (which is now probably more famous than South Korea's impeachment scandal itself).
To take a break from all this, and to laugh a little, Korea Exposé has gathered some of the more humorous moments from the past few days. Corruption isn't funny, nor is a country not having a proper president for the next sixty days. But that doesn't mean there's no room for a little humor….
1. Lee Jung-mi's hair roller parodies
8:0 만장일치 인용을 암시하는 이정미 재판관 머리 위 '8'자…pic.twitter.com/tVi7MGtoWG

— 새옹? (@gfknj) March 10, 2017
"That number '8' on justice Lee Jung-mi's head foreshadows a unanimous 8:0 ruling…"
When Lee showed up to work on the morning of the ruling with two rollers still in her hair, the Associated Press said they were seen as a sign of hardworking women. South Korean netizens had a field day. The public response did not disappoint, with memes and parodies in honor of Lee, who also read the verdict in a calm, unfazed voice. (By the way, Lee retired from her post on Mar. 13.)
오늘 유행 이라하여.. pic.twitter.com/uAcFYiRixc

— 김미화 (@kimmiwha) March 10, 2017
Comedian Kim Mi-hwa rolls her hair. "I heard it was trending today.."
2. The ruling: She's out
https://www.youtube.com/watch?v=XilOfw_-eS0
The moment of truth: Park Geun-hye's verdict spawned a parody of One Piece, a popular Japanese manga series created by Eiichiro Oda. Featuring Japanese prime minister Shinzo Abe, North Korean leader Kim Jong-un and Chinese General Secretary Xi Jinping. (Source: YouTube)
그러니 탄핵 기념으로 곡 하나 씁니다
박근혜 탄-핵! pic.twitter.com/5ay4xeYedn

— 이병 EvilServant (@Evil_S_) March 10, 2017
A Twitter user made music using the words "Park Geun-hye Impeachment" on Cubase 5, a music software product.
3. Sign language went viral
"파면한다" 할때 수화가 너무 맘에 들어서 움짤로 만들었다. pic.twitter.com/jfT6CpdkPS

— 라인슬링/ロコ42位 (@Ln_sling) March 10, 2017
The sign-language interpreter signals: "Removed." In an interview with a South Korean website Deepr, the interpreter Jang Jin-suk said, "I didn't feel any joy or excitement. Viewers who can't hear were watching me. Just because she was removed it didn't mean I could add in my personal feelings. I translated as I usually do."
This S.Korean sign language interpreter was one of biggest stars at Saturday's anti-Park victory rally in Seoul. https://t.co/VsWf0IKnXU

— Hawon Jung (@allyjung) March 12, 2017
4. Many were not sympathetic toward the ousted president
Ji Sang-wook celebrates the president's ouster with a rubber chicken with botox syringes, hair rollers and handcuffs (all refs to Park) pic.twitter.com/oLUUGw26W4

— Anna Fifield (@annafifield) March 11, 2017
5. Meanwhile, chicken started trending nationwide
https://twitter.com/dianmzhang/status/840035211807195136
People got hungry and started looking for — sorry, not kimchi — chicken. That's not all. A chicken restaurant was fortunate enough to be located near the nation's most talked-about spot over the weekend…the former president's private home in Gangnam, Seoul.
Guess what's #trending on @Twitter #Korea — the fried chicken place in front of @GH_PARK's crib. 계동치킨 pic.twitter.com/aziZD96N7u

— Jihye Lee 이지혜 (@TheJihyeLee) March 12, 2017
대형 치킨체인쯤은 돼야 비싼 돈내고 tv 15초 광고 띄우는데, 이웃 하나 잘 둬 시청률도 쩌는 방송에 집중노출 공짜 ppl 하는 계동치킨의 위엄. pic.twitter.com/oELws2nebY

— foodnjoy (@foodnjoy) March 12, 2017
"To get a 15-second advertisement on television, a restaurant needs to be a huge chicken chain. But there's one with a neighbor so great it gets free PPL (products in placement) and concentrated exposure on a show with outrageous ratings. Behold the majesty of Gyedong Chicken."
계동치킨 사이트 터졌엌ㅋㅋㅋㅋㅋㅋㅋㅋㅋㅋ pic.twitter.com/eRqgyDJ1iS

— 양도계 (@u_u5_06) March 12, 2017
Gyedong Chicken's website went down because of the sudden upsurge in traffic.
Fried chicken is usually very popular in South Korea, but its heightened popularity this past weekend is particularly funny — and ironic — because "chicken" is also a derogatory nickname for Park Geun-hye, whom some perceive as being as unintelligent as…a chicken.
6. Of course, that BBC interview
This interview might be even more famous than Park Geun-hye herself. It's already spawning its own parodies. Here are just a few:
Cover Image: (Source: Parody of Japanese manga Slam Dunk by Kong Young-seok)
Haeryun Kang wrote this radar report.
For more on South Korea's political humor, read:
Become a subscriber to access all of our content.