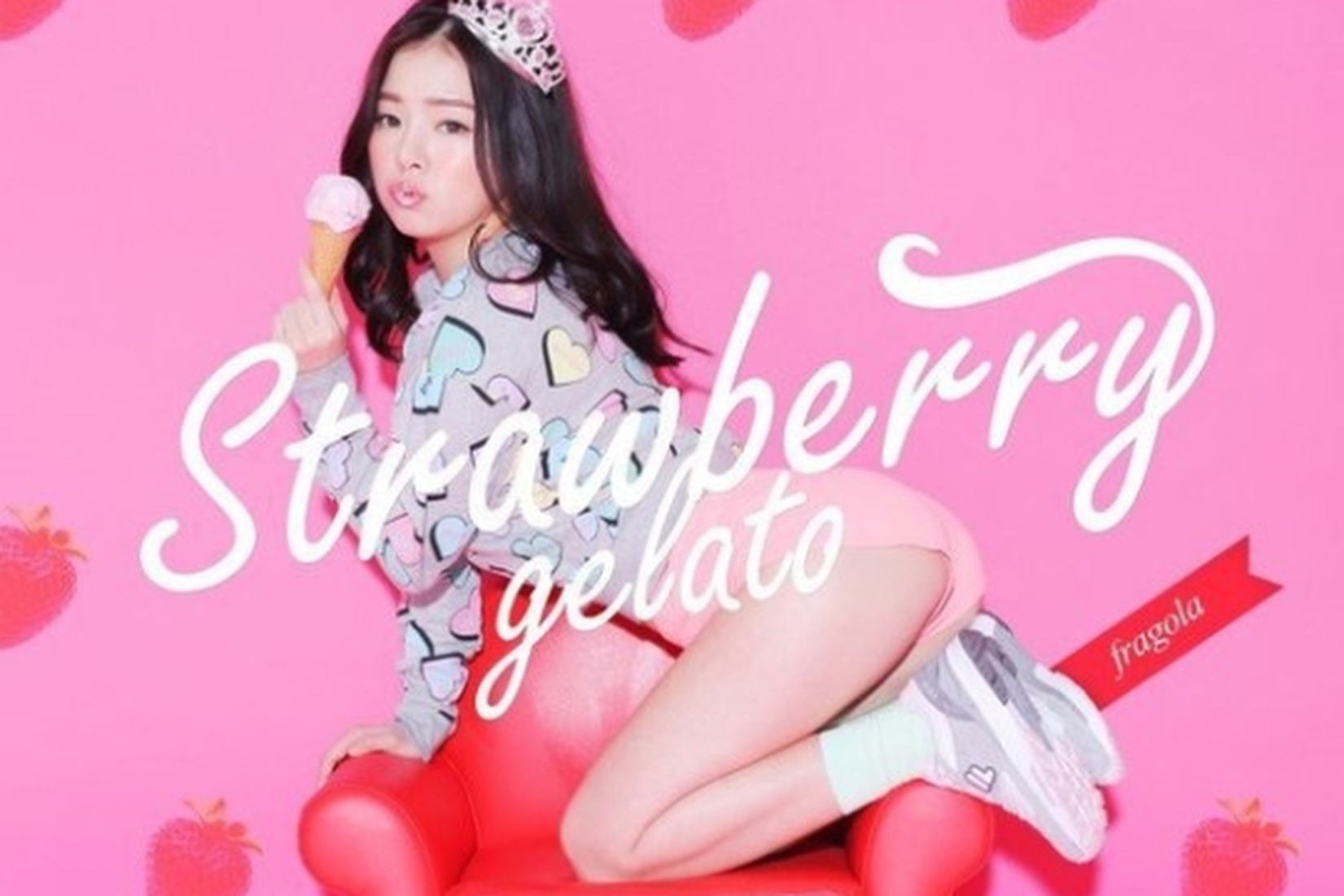 Twitter User Flags 'PedoFILA' Controversy
An old advertisement is suddenly going viral online in South Korea. Keywords: "pedoFILA" and "sexualization."
Against a pink background, dotted with strawberry patterns, "Strawberry gelato" is written in playful cursive lettering. By the way, this ad is not for a new flavor of Baskin Robbins.
Underneath the script, a sneaker is perched on the bottom of someone who, the photo suggests, is naked except for the pink underwear on which the shoe rests.
This was one of the promotional photos from FILA Korea's sneakers campaign in 2015. The model — female, juvenile-looking and often pantless — poses suggestively with the FILA shoes; in one photo, she even places an ice-cream-shaped balloon in between her bare legs, which her shorts hardly cover.
The old ad resurfaced on Apr. 9 on the page of one Twitter user with a moderate following. "Hannamjaggyyo" has just over 250 followers; the feed contains mostly trivial and personal tweets, but also retweets pertaining to misogyny in South Korea. Overnight, the user's offhand tweet about the two-year-old ad was retweeted more than 22,000 times.
"I'm boycotting FILA starting today."
Problematic, Lolita-esque depictions of women in South Korean pop culture are not new. But this belated outrage is telling about the increasing importance of feminism in South Korean society. According to Google Trends, "feminism" as a search term has steadily been on the rise after May 2016, a month that may be seen as a historic turning point for South Korean feminism.
In May 2016, a man murdered a young woman in Gangnam, a bustling commercial district in Seoul. The murderer, who did not know his victim, was waiting in a public bathroom, specifically targeting women to kill. Even though he was explicit about his hatred towards women, the police concluded that his crime was not driven by misogyny, citing his mental instability. The Gangnam Station subway exit near the crime scene turned into a site of mourning and anti-misogyny protests. Many South Koreans protested against what they perceived as a society unsafe for women, still full of hate crime and gender inequality. For the month of May 2016, at least, feminism wasn't just an issue reserved for activists, although since then, issues concerning women — lack of rights, media representation, etc — have been met with as much backlash as with interest.
In a series of follow-up tweets, user "Hannamjaggyyo" expressed astonishment and even fear for the tweet's unprecedented popularity. But (s)he emphasized that the ad was as relevant as ever, writing, "Don't tell me this is an old ad from 2015. Hiring Rotta for the advertisement is reason enough for me to boycott FILA."
Rotta, the photographer behind the FILA campaign, is a figure notorious for his Lolita-esque portrayal of female celebrities. In an interview with online media outlet Wikitree in early 2016, Rotta denied that his work had pedophilic tendencies and said he found it difficult to deal with the way it was misunderstood. He has not responded publicly to the FILA ad controversy. Similarly, while FILA Korea was quick to take down the photos from its website and social media platforms, it has not made any public statements and has not responded to Korea Exposé's requests for comment.
The only participant in the campaign to break the silence was the woman whose body drove the advertisement. Ha Neul, the model in the 2015 FILA campaign, apologized via her Instagram account, saying, "Neither I nor the netizens at the time knew the severity of the issue in 2015." She said she had stopped working with the photographer and had been "studying a lot" since then.
Cover Image: FILA Korea's "Fragola Gelato" sneakers campaign (source: FILA Korea Naver blog)
Jieun Choi wrote this radar report.
Become a subscriber to access all of our content.