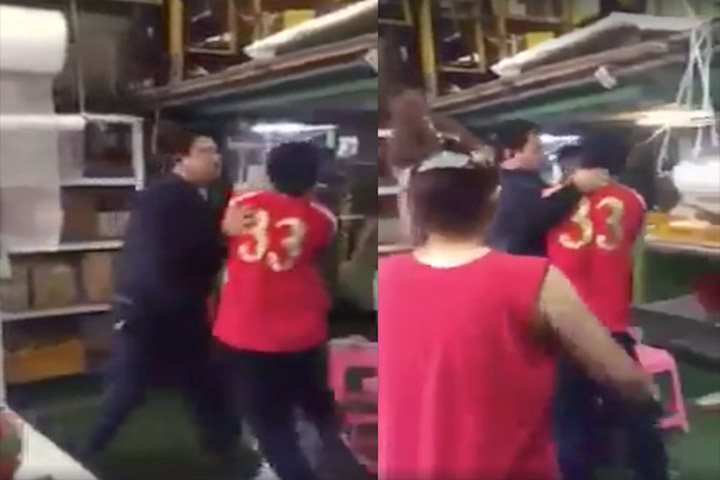 South Korea Migrant Workers Publicize Dire Work Conditions
In a viral video posted by Facebook page "Khmer people in Korea," a migrant worker is violently beaten and abused by a man assumed to be his South Korean boss. It has reached more than 2 million views since July 13.
The video shows the worker being forcefully dragged around, grabbed around the neck and punched multiple times. The boss yells profanities at him, supposedly about a task he underperformed or failed to do, and various standerby either watching or halfheartedly trying to stop the scene. You can hear a woman saying, "Don't hit him!"
The video was shared on July 16 by Ijoomindeullae — which, according to its Facebook page, aims to inform both immigrants and South Koreans about migrant and racism-related issues — with the caption, "This video is the reality of a migrant worker in Korea."
The plight of migrant workers in South Korea is nothing new. And according to a report published by Amnesty International, 250,000 migrant workers were employed in South Korea as of 2013, and a significant number of them regularly endured human rights violations.
The same report found through interviews with agricultural migrant workers that the majority "were working in circumstances which would constitute forced labour," working longer hours they were contracted for without sufficient rest days or extra wages.
And according to 2013 data from the National Human Rights Commission of Korea, 84 percent of migrant workers surveyed felt they experienced some sort of discrimination, 76 percent verbal abuse and 15 percent physical assault. Many also reported work-related physical injuries or illness, but said they could not go to the hospital due to language and cost barriers, lack of time and failing to get employers' permission.
Under South Korea's Employment Permit System, migrant workers face especially dire conditions. Migrant workers are unable to seek new jobs without employers' permission, and their contracts may be terminated without justification, creating exploitative work conditions or even leading to deportation.
Cover image: The video, first posted on a page for Khmer people in South Korea, shows a worker being physically dragged around and beaten. (Source: កូនខ្មែរនៅកូរ៉េ Facebook page)
Become a subscriber to access all of our content.