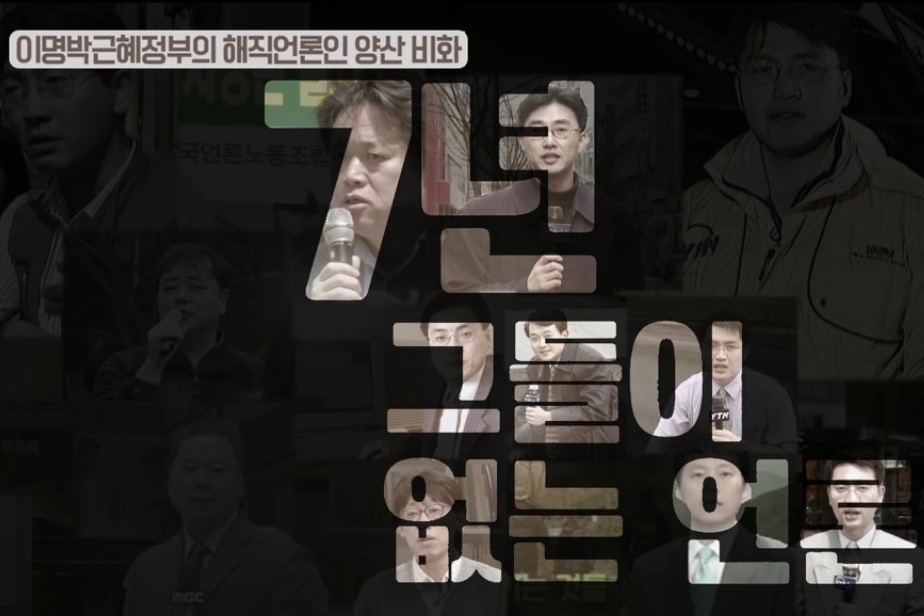 Journalism Without Journalists: Political Interference Cripples Public Broadcasting
President Park Geun-hye's scandal is often seen as a triumph of South Korean journalism. Not just for the dogged investigations by countless journalists, but because typically partisan newspapers on different sides of the political spectrum, like Hankyoreh and Chosun Ilbo, all reported persistently and critically on the same mega-story.
But this scandal also highlighted the waning prominence of South Korea's public broadcasters. Reporters from KBS and MBC — the country's two biggest broadcasters — were harassed by protesters at candlelight vigils. Last December, the ratings for MBC's prime time evening news in the greater Seoul area, where half of the population is concentrated, fell below three percent — a ratings zone that's often snarkily called the 'national anthem ratings' because that is what you would get just by playing the national anthem on television.
The recently released documentary Seven Years: Journalism Without Journalists comes at a time when viewers' trust in public broadcasting is at one of its all-time lows.
The film chronicles the plight of fired reporters at MBC and YTN between 2008 and 2015 (hence the seven years), who fought against their politically appointed executives. To be clear, YTN isn't technically public, but its biggest shareholders are government-affiliated agencies.
Compared to the hundreds of reporters each outlet employs nationwide, the fired journalists comprise a tiny minority — six from YTN (three reinstated by the Supreme Court in 2014), and around 20 from MBC. But their protests against company executives pose critical questions about government control over public broadcasting.
"Is this the kind of broadcasting we worked for?" an unnamed reporter shouts at the YTN executives in the film, tears streaming down his face. "Is this what I gave my entire youth for?"
The journalists' plight is ostensibly about getting their jobs back; but the film connects it to larger problems plaguing South Korean journalism. The viewer gets a glimpse of the union strikes in 2012, which started with MBC reporters' refusal to produce news favoring the then-Lee Myung-bak administration. The months-long strike spread to KBS, YTN, and other media outlets outside broadcasting.
Seven Years is not always easy to follow. While the documentary offers a mountain of chronological details about the fired reporters and their struggle, it fails to provide a basic overview illuminating the special relationship between public broadcasting and politics.
South Korean Journalism: Subservient to Politics
"The most critical issue is how the board of directors are formed," said Hong Won-sik, professor of media studies at Dongduk Women's University. "South Korea's public broadcasters have a flawed ruling structure that allows easy political interference."
The majority of directors at South Korea's three public broadcasters are appointed by the ruling administration. At MBC, for example, six out of nine directors are appointed by the ruling party and the Blue House, and three by the opposition (for KBS, this proportion is 7:4; EBS, also a public broadcaster, is 7:2).
The Democratic Party, which is the main opposition party and has the largest number of seats but not the majority in the National Assembly, recently proposed a bill to create a more politically balanced board in public broadcasting.
Hong says, "Now is the perfect time to talk about reforming the ruling structure in public broadcasting, now that the political situation makes it uncertain which party will end up ruling."
Skeptics, though, wonder if this bill can pass before MBC's governing body appoints its new president next month.
The creators and participants of Seven Years argue that their stories aren't limited to broadcasting. "After we got fired, the status of journalists as a whole became shaky," Choi Seung-ho, one of the fired MBC journalists, said at a press conference. "Journalists lived under the anxiety that they could be fired any moment. This eventually contributed to the disastrous reporting on the Sewol."
During the Sewol ferry disaster in 2014, which killed 295 people, the majority of whom were students, many media outlets (including MBC and YTN) initially reported that everyone was saved. Many were simply mimicking the government's report, written by officials not present at the scene.
"If there was an experienced and competent management that didn't play by political leanings, there would not have been such enormous misreporting," argued Kim Jin-hyuk, director of Seven Years.
A common nickname for journalists during this time was and still remains giregi, combining gija (journalist) and sseuregi (trash). It embodies the public's negative perceptions of journalists — as politically biased, insensitively aggressive, error-prone and generally untrustworthy. An infamous moment in live broadcasting happened when a man started screaming, "Stop lying, you bitch!" at a KBS journalist reporting on the ferry disaster.
This intense rage and distrust aimed at journalists was also evident at the recent candlelight rallies against president Park. "M-Byung-Shin, M-Byung-Shin," a crowd of protesters yelled at MBC reporters last November. "M-crippled idiots," they were yelling, a cruel twist on the outlet's name.
According to last year's study by SisaIN Magazine, public trust in MBC has been plummeting since 2008, when it had ranked as the country's second most trusted outlet, by 21.3 percent of respondents. In 2016, only 4.5 percent chose MBC, putting it in sixth place. YTN's ranking remained consistently low, favored by only 2 percent of respondents in 2008 and 3.2 percent last year.
Seven Years argues that the demise of South Korean journalism — especially public broadcasting — began with Lee Myung-bak, and intensified with Park Geun-hye. To be fair, the executive structure at each outlet has also benefitted the two progressive administrations preceding conservative rule — a fact that the film does not mention.
"The collusion between politics and journalism is widespread and intense," Hyun Duk-soo, a fired YTN reporter in the film, said in an interview with the Journalists' Association of Korea. "Journalism cannot function as journalism."
"There's a culture within journalism that perceives politics as the higher realm, with journalism beneath it," said professor Hong. "This is rooted deeply in the culture of South Korean journalistic outlets. This culture needs to change."
Apologies from MBC Reporters: Journalists Fight Back
Inside MBC and YTN, many journalists feel that change is necessary for the companies' survival. Earlier this month, three young journalists at MBC posted a video criticizing their company's biased coverage of the candlelight protests. "At the rallies, reporters had to take off the company logo from the mic, and even hide indoors to report" because some protesters were so angry at the station, Kwak Dong-geon said in the video, titled A Letter of Apology from MBC's Junior Journalists.
In response to the video, MBC demanded that the three journalists submit a report detailing how they came about producing it, as a way to punish and warn them not to repeat the mistake. The company's demand incited an even wider outcry, this time from older MBC journalists; over 150 reporters nationwide posted videos supporting the young journalists, and calling for the resignation of the managers who meted out the punishment.
"We despair," the older journalists said in unison, "in the face of a thoroughly collapsing News Desk, the pride of and reason for our existence."
As to what specifically must change in order to make South Korean journalism less vulnerable to political interference, the documentary Seven Years: Journalism Without Journalists doesn't offer a grand solution. It focuses solely on reinstating the journalists that were fired, back to their posts in Seoul.
"There are still reporters enduring out there in the field," said Noh Jong-myun, a former YTN reporter in the film. "If I ever go back [to YTN], I'll bow deeply in front of the Korean people."
Cover Image: "Seven Years: Journalism Without Journalists" is currently in theaters. So far it has a modest total attendance of slightly over 15,000 viewers. (Source: Movie Trailer)
Become a subscriber to access all of our content.