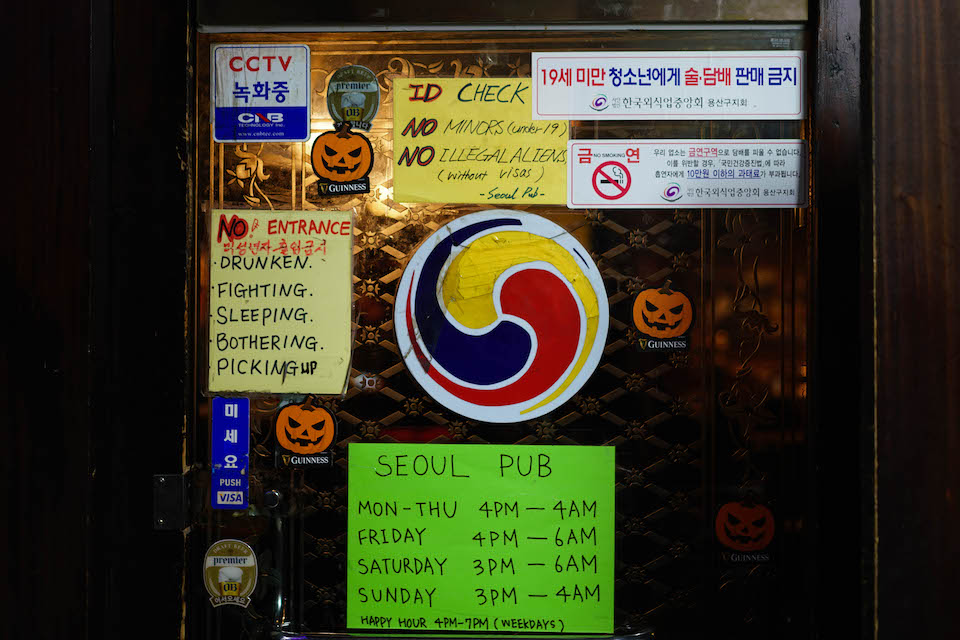 The Last Gulps of the Canary in the Itaewon Coal Mine
After climbing a dusty, graffiti-strewn staircase to the entrance to Seoul Pub, one encounters a handwritten sign hanging on the glass door: "No drunken, fighting, sleeping, bothering, picking up."
Inside the bar, owner Jung In-chul explains that the sign is an expression of his desire to maintain a family-like atmosphere in Seoul Pub.
Anyone who has heard Seoul Pub's reputation, or set foot in the place, might be surprised to hear it described in this way. Most people familiar with Seoul nightlife, particularly the foreign enclave of Itaewon, think of Seoul Pub as a late stop on a boozy night out, a place to go in the small hours of the morning, where unrefined folks who have already imbibed too much booze drink themselves into oblivion.
Seoul Pub's legacy is now up for debate, as after more than 20 years in operation, the bar is set to close its doors on Nov. 26. News of the closure has sparked a conversation that is one part frustration over the closing of an establishment that, like it or not, is a unique bit of color in a gentrifying Seoul. At the same time, some are bidding Seoul Pub good riddance on the premise that it's nothing more than a dive bar that stains Itaewon's increasingly posh landscape.
Seoul Pub's demise feels more significant than the fate of one bar; with its disappearance an old, debaucherous Itaewon era is breathing its last. Korea Exposé visited the bar on one of its last nights to get a sense of what Seoul Pub means at a time when old, small-scale operations are getting pushed out and replaced with characterless corporate-owned businesses.
Gentrification's latest casualty
If you walk into Seoul Pub late at night, you're likely to find a mixed bag of characters: Burly U.S. soldiers, Korean ajeossies, beer-swilling English teachers, Western businessmen, heavily made-up young Korean women. Like any late night spot, over the years it has seen more than its share of fights, illness, and regrettable hookups.
After rising to become a busy watering hole through the late 1990s and early 2000s, in recent years Seoul Pub has been strangled by Itaewon's rising property costs. Over the past several years, Itaewon has morphed from shady to shiny, having just several years ago been a reputedly dangerous and unseemly place that many South Koreans were afraid or ashamed to go to. Now, the area is full of smart restaurants and cafes, and is a common destination for South Koreans, particularly young people.
Just a block away from Seoul Pub is an alley popularly dubbed the "Hooker Hill" for all its small brothels. Many have shuttered in recent months, with wooden bars nailed across the doors. Not far from them sits a massive Line Friends store, which sells cutesy stuffed animals and trinkets based on the Line messaging app's emojis. When the Line store opened in 2015, longtime Seoul resident Douglas Binns posted a photo of the new place on Facebook while succinctly breaking down the area's transformation by asking, "Itaewon, disreputable to infantile in, what, about three years?"
Gritty Seoul Pub is therefore out of sync with the area's evolving aesthetic, and unable to keep up with the rising cost of doing business in Itaewon. The bar occupies prime real estate, a spacious second-floor unit looking out over Itaewon's main intersection. A few years ago, the bar's monthly rent was increased from 12 to 18 million won per month, and Jung says the landlord wants to now increase the fee to 25 million won (more than $23,000) monthly.
Lining Itaewon's main drag are corporate outlets such as Olive Young and a Nike store. Jung doesn't know what the next tenant in the Seoul Pub space will be, but expects it to be a large franchise business with corporate backing. "Big Korean companies want a presence in Itaewon because it's a way of getting exposure to the larger numbers of foreigners that are coming here nowadays. Independent businesses like us can't survive here anymore," Jung said.
[ngg_images gallery_ids="27″ display_type="ds-nextgen_royalslider"]
Drinking games where everyone wins
Jung tells the story of Seoul Pub as a bootstrapping tale that rode the wave of growing foreign interest in South Korea. In the mid-1990s, the country had few conventional western bars, places where customers, alone or in groups, could get a pint of beer or western-style mixed drinks without having to order food.
Seoul Pub was opened in 1995 by Jung's sister; he began working here in 1997 and took over ownership two years later. He recalls that time fondly, to the extent that he can remember it. "Back then, foreigners didn't have many options for bars in Itaewon, so many people came here and they would meet people and make friends," Jung, 53, told Korea Exposé in an interview in a corner booth of the bar.
Along with being a purveyor of booze, Jung wanted Seoul Pub to give back to the community. He smiled while going through tattered photo albums documenting Seoul Pub's charity efforts.
Hanging near the entrance is a yellowed cutout from the Korea Times newspaper covering a donation event held at Seoul Pub. The article's introduction reads, "Instead of the stereotypical drinking binge, the purpose of the event is to help Korean children in need."
For years on Children's Day, a South Korean annual holiday, Jung would go with staff and regular customers to make donations at Seoul orphanages administered by the Salvation Army. He would gather donations by challenging customers to drinking contests; if they lost (and they nearly always did) he would ask them to donate 10,000 won ($9.20).
He said that in those days, he would down five pitchers of beer each night, in addition to several mixed drinks. Looking at Jung's long and nearly flabless frame, it is a bit hard to imagine him as a prodigious drinker, until he uses his mobile phone to show off videos of him besting all comers in pint-chugging contests. The videos show Jung, with mechanical precision and speed, knocking back full pints before his physically larger opponents are even half done. He said he holds the bar record for downing 1,750 millilitres of draft beer in one minute and four seconds.
He is sad to see the closure of the business that has been at the centre of his life for the past two decades, but happy that he will now have some time to spend with his wife and two children, who are aged 25 and 22, saying, "For 20 years I was never home and my family's life and my life functioned separately; my wife managed our household. I'm thankful to her."
Memorial for a complicated boozer
So now that the kegs are running dry, how will, and how should, Seoul Pub be remembered, as a gross place that Itaewon is better off without? A cosy family business whose loss should be lamented?
A Facebook post about the planned closure drew mixed reactions. Some unequivocally welcomed Seoul Pub's departure: "The air quality of Itaewon will go up significantly as a result. Less spores, scum, grime, parasites and gonorrhea," went one commenter.
Others combined grim humor about the excess drinking that took place there with nostalgia: "You haven't experienced Itaewon until you've seen the sunrise from Seoul Pub," went one, and, "Good old Seoul Pub… the best place to wake up at daybreak with your head on the bar and vomit on your shoes," went another.
Maybe the most evenhandedly accurate was, "Nothing good ever happened when someone said 'let's just have 1 more at Seoul pub.'"
But the bar still draws regulars who appreciate its atmosphere. Park Hwa-myung, a 48-year-old Chinese-Korean man, recently began coming to Seoul Pub regularly after he lost his job. He sits at the bar by himself, nursing a pint of draft beer. "I'm sad that Seoul Pub is closing, because it has become a place where I have friends, both the staff and other customers," Park said.
Despite the rules laid out on the door, Seoul Pub still has a more free-flowing atmosphere than most bars in South Korea, as evidenced by the fact that though smoking in bars was banned in 2015, in the back of the bar is a designated smoking space.
That sense of serendipity — the ability to sit down alone at a bar and fall into spontaneous conversation with another drinker or the serving staff — is a part of how Seoul Pub carved out a niche in the city, and the folks who became regulars will now have to go elsewhere.
Bradley Baker, a 51-year-old neuroscientist from the U.S., has been coming to Seoul Pub for the past six years. "People from all over the world come here, and it feels like home," said Baker. "It is always where I've come when things go bad. I'm not sure where I'll go now."
Cover image: Seoul Pub is set to close on Nov. 26. (Jieun Choi/Korea Exposé)
Become a subscriber to access all of our content.