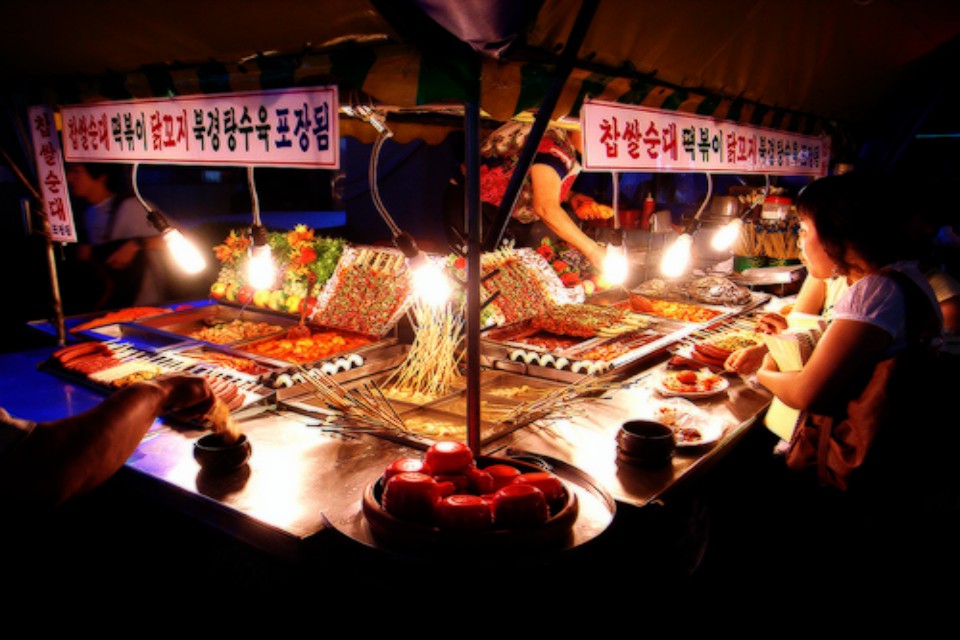 Pojangmacha: Tent Nostalgia
In Seoul's central Jongno District lies one of the city's last pojangmacha alleys. Every day around late afternoon, hired workers take apart around two dozen wheeled carts lining both sides of the alley. Tents are thrown over steel frames; five-gallon oil containers filled to the brim with water are used as makeshifts pegs; simple red banners displaying the pojangmacha owner's name are pinned onto every tent entrance, a loose plastic flap.
74 year-old pojangmacha owner Kim Su-ja does not even bother trying to shout at customers to come inside. She sits silently on her bench, watching the latest news on her mini Imazu TV.
Kim opened this tent in the 1980s, but has no expectations for the future. Around a decade ago, when three nightclubs in Jongno 3-ga were shut down, Kim has noticed a drastic decline in her clientele.
"Century used to be directly opposite my tent," she said, referring to one of the three nightclubs. "Back then, girls wearing short skirts would dance crazily until late in the night. That's when business was booming!"
Sighing, she popped another chewing gum into her mouth and continued to gaze sternly outside her cocoon.
For decades, the pojangmacha has been used by Korean films and TV series as the setting to emotionally-charged scenes.
http://www.youtube.com/watch?v=94qf_AKQyKM&t=1m26s
A pojangmacha scene from the 2006 movie, My Boss, My Teacher.
Many of Seoul's baby boomers fondly remember whole nights spent within the plastic sheets of these tents, a nostalgic longing that explains why the average age of the clientele remains well above 50.
"There are a lot of restaurants that can offer just as cheap and just as good food as the pojangmacha. But for us old-timers it's not a question of money, we just come here because of the memories." said 58 year-old Go Jin-tae, who was enjoying his monthly reunion with high school friends.
"Coming here brings back memories of love, like that time when I waited hours on end inside a pojangmacha for a girl that I liked. There were no mobile phones back then, so I had no way of knowing if she had forgotten about our date," he said. His two friends proceeded to mock him for being such a "softie."
Nowadays, unfortunately, the pojangmacha is more akin to a cultural relic. The cluster of tents in Jongno 3-ga are granted permanent residence for the sake of tourism. But only a few decades ago, many neighborhoods in South Korea's biggest cities would have at least one road lined with these red tents. Prices were cheap; service was good.
"I don't go to such places," said 31-year-old Go Yoong-san, referring to the older pojangmacha. "It's known as the place for anyone looking to play rough."
23-year-old pojangmacha regular Kim Ji-seon, a student from Gangwon Province, believes that some "young Seoulites look down upon these tents because it seems like something from another age to them."
The exact origins of this restaurant-in-a-tent are unclear. The pojangmacha's literal translation – packaged horse cart – might lead some to guess that its origins lie somewhere in the Joseon dynasty, when horse-driven food stalls were a common sight in the capital.
But many sources point to the birth of the modern pojangmacha in the 1950s, after Korea was liberated from Japanese colonialism. Some speculate that the pojangmacha is more likely a spin-off from the Japanese yatai, mobile food stands dating back to the 1600s.
54-year old Choi Yeon-Su, another pojangmacha owner in Jongno, giggled as she narrated the story of how a young Japanese woman once took solace in her tent after being stood up by her Korean boyfriend. Choi remembers offering native wisdom on Korean men as she poured soju for her client, who tipped her 100,000 won (over $90). After Choi managed to persuade the young woman to make up with her boyfriend, she was tipped another 50,000 won. The boyfriend unexpectedly showed up around 2 a.m.
Yet these advantages quickly became irrelevant, as consumer expectations changed with rising living standards, technological development, and redevelopment projects bulldozing over old neighborhoods — thousands of pojangmacha, which were often occupying the streets without permits, became replaced with even more coffee shops, bars and more corporate, franchised pojangmacha (which often recreate the old tents in chic indoor bars).
Kim Su-ja, who has run her tent for over forty years, has plenty of memorable stories of her own. An almost childlike excitement swept over her usually frowned brow as she talked about the differences between the tourist clients she has served in her tent.
"Chinese are the best because one person always treats the rest of the group to a lot of food. Americans I can't stand, all they do is drink [and not eat]. The Japanese are very stingy with their money, they always split bills, I'm not too fond of that," she said.
Customers who don't order food are frowned on as wasting valuable table space; a quick turn-over, with lots of food as well as alcohol on the bill, is what ensures decent profit for owners like Kim.
Her square jaw, pronounced gum-chewing, and thick South Chungcheong dialect, all combine to give her a tough, don't-mess-with-me kind of demeanour. For the pojangmacha owners in this alley, controlling drunk customers within a tiny space is the most tiresome part of their job. "I'm as strict as you can get. I don't take in drunk customers. I don't sell more than two or three bottles, and after 11:30 p.m. I just shut everything down," Kim said.
"The space and the affectionate aunties who take good care of you — the pojangmacha just has this feeling of intimacy, as if everyone in the neighbourhood is coming together to eat," said 24-year-old Kim Han-sol, who lives in Daejeon.
If South Korea's food scene and nightlife is to retain some connection to its past through these decades-old tents, it's important to create licensed areas — like Jongno 3-ga — where the older tent-owners can run their business without fear of eviction.
Continuity for continuity's sake is pointless, but the pojangmacha holds a special place in the heart of many South Koreans, who see value in the communities these tents still create. Many customers don't just come here to get ridiculously drunk; they come to relive a shared past, to ask for advice, and to discuss life in general with the owners. This human connection is why, under an ever-growing shadow of westernized coffee houses and neon-lit apartments, these tents continue to persist.
57 year-old Lee Gyeong-hee, who has been running a pojangmacha since 2011, lets out a warm smile as she describes her happiest moments in this alley. "When it rains, the sound of raindrops falling on my tent makes me feel warm. Snowy days are even better, when couples walk in, sit down, and just hold hands whilst watching the snowfall. It's a beautiful sight."
Cover image: Pojangmacha in South Korea. (Source: superlocal via Wikimedia Commons, CCA 2.0 Generic)
Become a subscriber to access all of our content.