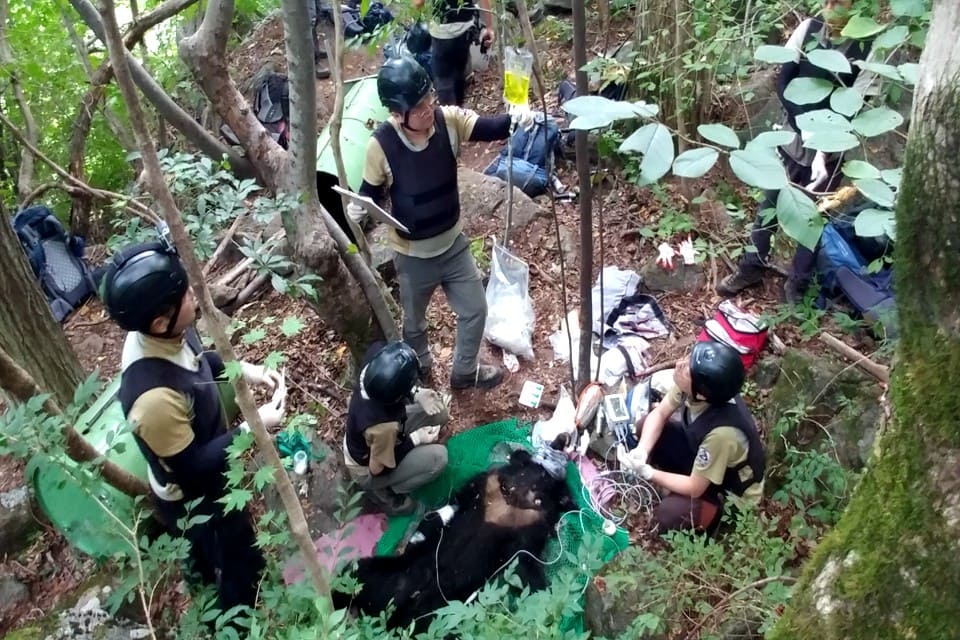 When the Moons Align: Black Bears Back to the Wild
Asiatic black bears occupy a special place in Korean folklore. The cute creatures, called 'moon bears' due to the crescent of white fur on their chests, appear as characters in stories, and cartoon depictions of moon bears were chosen as the mascot for the Paralympics held in Seoul in 1988 and this year in Pyeongchang. There is even a craft beer named after them.
But the reality for moon bears in South Korea is not as bright as those cartoon bears' smiling faces suggest. The bears were hunted out of existence for their gallbladders, the bile from which is used in various forms of traditional medicine. In several east and southeast Asian countries, bear bile is consumed as a supposed treatment for several physical and psychological ailments.
Nearly all of the moon bears in present day South Korea spend their whole lives in captivity on commercial bile farms (Green Korea estimates that there are 600 bears on 36 such farms nationwide). The bears must be kept alive until they are at least ten years of age, after which they are slaughtered for their bile.
But there is at least one free bear on the scene. Korea National Park Service (KNPS) announced in a press release on Thursday that a young Asiatic black bear has been discovered in Jirisan National Park, in the southwest of the country. The cub is said to be the third member of the third generation of Jirisan moon bears since a reintroduction project began in the area in 2006 (the first generation being the reintroduced bears). Its presence is therefore an encouraging sign for efforts to repopulate South Korea with moon bears.
KNPS scientists performed a health check on the new bear, which is the grandson of bears brought in from outside South Korea. They announced that he has no known health problems, weighs 56 kilograms and is estimated to be two years old. Scientists say he was immediately released back into the wild, with an implanted tracking device, after being assessed.
The 2006 government project selected 54 species to restore and expand populations of endangered wildlife and plants — moon bears were one of them. The project's goal is to build a wild moon bear population of 50, the minimum number required for sustainability. This involves a combination of bears brought to South Korea from countries including China and Russia, reintroduction to the wild of bears from zoos, and captive births.
With the number of Jirisan moon bears now estimated to be 48 nationwide, the project appears close to achieving its goal.
Cover image: Scientists from Korea National Park Service conduct a health examination on a newly discovered Asiatic black bear on Jiri Mountain. (Courtesy of Korea National Park Service)
Become a subscriber to access all of our content.