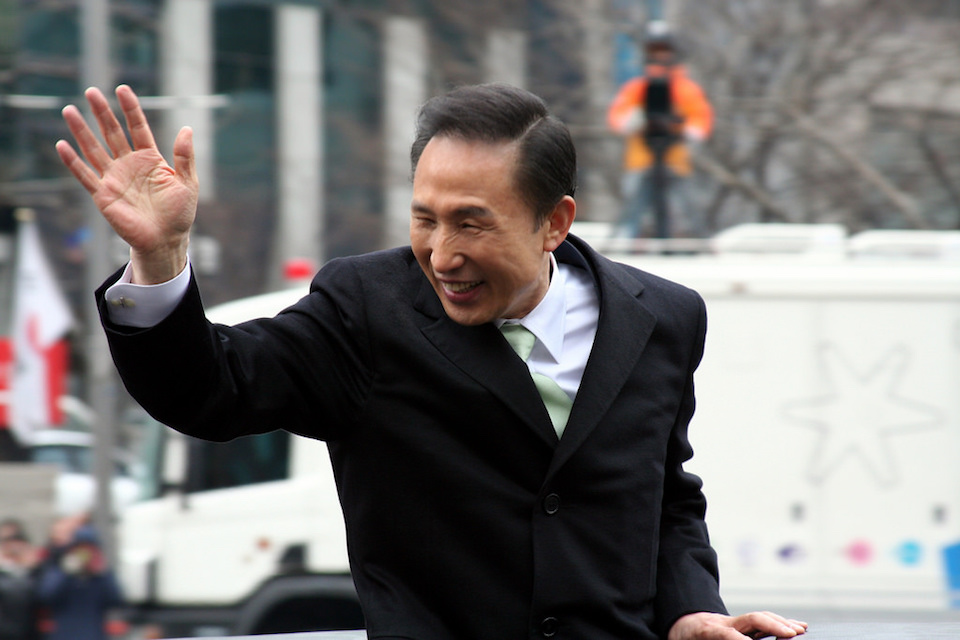 Lee Myung-bak: One More President to Face the Past
Former president Lee Myung-bak has enjoyed a comfortable retirement until now, thanks to having a fellow conservative succeed him. But now that Park Geun-hye has been replaced by Moon Jae-in, from the center-left Minjoo Party, Lee faces growing scrutiny over his term, from 2008 to 2013.
A reform committee within the National Intelligence Service (NIS), the country's main spy agency, has revealed that while Lee was in power, the NIS compiled a blacklist of cultural figures suspected of harboring leftist sympathies. Included in the list were such cultural luminaries as novelist Cho Jung-rae (known for his masterpiece Taebaek sanmaek), film director Park Chan-wook (Oldboy, The Handmaiden) and actor Lee Joon-gi (The King and the Clown).
The NIS is accused of seeking to bar these figures from appearing on public broadcasters. It also tried, according to documents disclosed by the reform committee, to undermine leftist politicians such as Seoul mayor Park Won-soon and fill management positions at public broadcasters with individuals sympathetic to the conservative administration.
The question being asked is whether the NIS performed these tasks under the direct supervision of the presidential office, with Lee Myung Bak's knowledge. One poll commissioned by the left-leaning outlet Media Today showed that over 75 percent of the public wants the former president investigated.
Lee is a deeply unpopular figure with the South Korean left. He signed the free trade agreement with the U.S. in 2008, prompting massive protests. He also initiated the Four Major Rivers Project, widely derided as a waste of tax money for the benefit of the construction industry. (Lee is former head of Hyundai Engineering and Construction.)
Some within the ruling Minjoo Party see him as directly responsible for the criminal inquiry that resulted in late president Roh Moo-hyun's suicide. Current president Moon Jae-in, incidentally, was Roh's chief of staff at the time.
If Lee is prosecuted for misdeeds during his time in office, he will join a long list of South Korean presidents who faced ignominy after stepping down.
In 1987 South Koreans saw an end to 26 years of military dictatorship, adopting a democratic constitution and directly electing former general Roh Tae-woo as president. His predecessor, military dictator Chun Doo-hwan, soon found his family and aides a target of criminal prosecution.
Chun, who seized power in a coup d'etat and ruled South Korea from 1980 to 1987, issued a public apology to the nation for corruption under his rule and went into exile for two years at Baekdam-sa, a Buddhist temple in Gangwon Province. Now living in a mansion in Yeonhui-dong, Seoul, he still owes the South Korean state an incredible sum he and his family are accused of embezzling.
When Roh Tae-woo stepped down in 1993, former opposition lawmaker Kim Young-sam became president. Roh, a former military general, was tried and convicted alongside Chun for treason, over participation in the 1980 coup. Roh was also convicted on a separate charge of bribery.
Kim Young-sam and his successor Kim Dae-jung were not directly accused of corruption, but their sons and aides were implicated in various influence-peddling scandals. Roh Moo-hyun, who governed South Korea from 2003 to 2008 following Kim Dae-jung, took his own life while prosecutors investigated ties between him and a prominent businessman.
The last president to leave office, Park Geun-hye, is undergoing a criminal trial for charges stemming from the notorious Choi Soon-sil scandal that ousted her.
Keeping with the pattern, it seems that Lee Myung-bak will face the music, too.
Cover image: Lee Myung-bak waves to the crowd from his motorcade after he is inaugurated as South Korea's new president in February 2008. (hojusaram via flickr, CC BY-SA 2.0)
Become a subscriber to access all of our content.