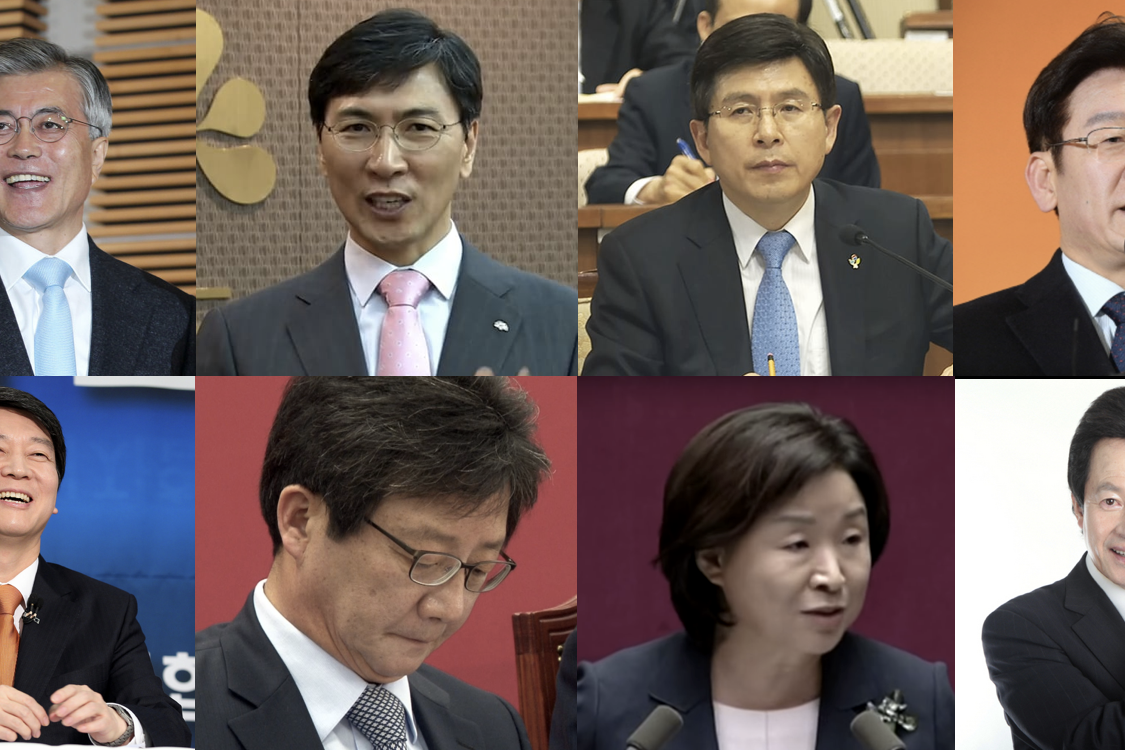 [Updated] Guide to South Korea's Presidential Election
The National Assembly impeached her. The Constitutional Court stripped her of presidency. Prosecutors have summoned her for questioning. She is now holed up in her house in Gangnam, not seen after moving out of the presidential Blue House on Mar. 12.
Since the Choi Soon-sil gate broke last autumn, South Korea's political landscape has been shifting at the speed of light. At least the massive demonstrations against now-former president Park Geun-hye are winding down. The focus is on her criminal prosecution and the election to determine the new president, scheduled for May 9. Here is a rundown of the names to watch out for.
Moon Jae-in: Will the second time be a charm?
Moon Jae-in, a former leader of the Minjoo Party and Park's opponent in the 2012 election, has been the unchallenged frontrunner in the polls for months now. He has run a top-shape campaign so far, focusing on making specific policy proposals rather than criticizing the ruling party or Park Geun-hye. On the day Park was ousted, Moon visited Paengmok Port in the southwest to console grieving families of the missing Sewol victims. He has also retained a feminist lawmaker to head his women's affairs team, causing some controversy among male supporters.
Moon is a divisive figure though, commanding the support of the left but detested by conservatives. His victory will depend on whether he can persuade enough swing voters to side with him.
Ban Ki-moon: Out after three weeks
Ban Ki-moon, United Nations Secretary-General until the end of last year, was once the presumed standard-bearer for the right. His unofficial campaign – he never actually declared his candidacy – began on Jan. 12 and flopped within a matter of three weeks. Mild-mannered and cautious at every turn, Ban put national unity at the forefront of his campaign but satisfied neither the right nor the left.
Ahn Hee-jung: A dark horse with a weak spot
Governor Ahn Hee-jung of South Chungcheong Province has seemingly come out of nowhere; his support rate once seemed to know no ceiling. His mentor was late president Roh Moo-hyun, beloved by progressives, but Ahn has struck a centrist note in his campaign. Even normally cynical young voters have taken to him.
His Achilles' heel: a prison term thirteen years ago for illegal campaign funding while running Roh's election camp. Then there is the debacle of an interview he gave to cable channel JTBC, in which he all but refused to criticize the policies of past and present conservative administrations. His popularity took a real beating after that, but he has managed to stay in second place, with more conservative voters expected to embrace him.
Hwang Kyo-ahn: Acting president who wouldn't be real president
In the absence of a strong candidate from the right, prime minister and acting president Hwang Kyo-ahn was the only possible leader for the beleaguered conservatives. But after months of speculation, he announced on Mar. 15 that he wasn't running after all in order to "do his best to prepare for a fair election."
In many ways it was a sound decision. While Hwang's conservative credentials are impeccable, he has never been elected to any post in his long government career. He is also seen as too much of Park Geun-hye's ally to be completely credible in a nation that is fed up with four years of her administration.
Lee Jae-myung: South Korea's Trump, or Sanders
Lee Jae-myung, mayor of Seongnam, has seen his popularity slip from its peak in late autumn. Some liken him to Donald Trump for his astute use of social media, but Lee himself wants to be known as "South Korea's Bernie Sanders." He champions vast expansion of social welfare for the whole nation, in keeping with the policies he has enacted in his own city. Lee's main strength: Refusal to mince words. A rarity in South Korea, he even took to social media to talk about a family feud in its glorious details.
Others who lag in the polls
Then there are others who have also thrown their hats into the ring: Ahn Cheol-soo, a software entrepreneur who has seen his star dim in the five years he has spent in politics; Yoo Seung-min, a conservative lawmaker who has gone from Park Geun-hye's close ally to relentless critic; Sim Sang-jung, the leader of the small pro-labor Justice Party; and Huh Kyung-young, a man who can only be called a celebrity — just about every South Korean knows him for his outlandish pronouncements and career spanning music, religion and politics.
In an attempt to help understand South Korea's 19th presidential election, we will continue to publish in-depth portraits. Hwang Kyo-ahn is up next, to be followed by Sim Sang-jung and Moon Jae-in.
Also to be discussed are the salient issues: Can the South Korean left truly claim to be progressive in its agenda? Is the troubled labor movement truly championing the interest of the working poor? How will the young people vote?
Stay tuned.
And read the rest of our election stories:

Editor's Note: This guide was updated on Mar. 16 to reflect the recent political development.
Become a subscriber to access all of our content.