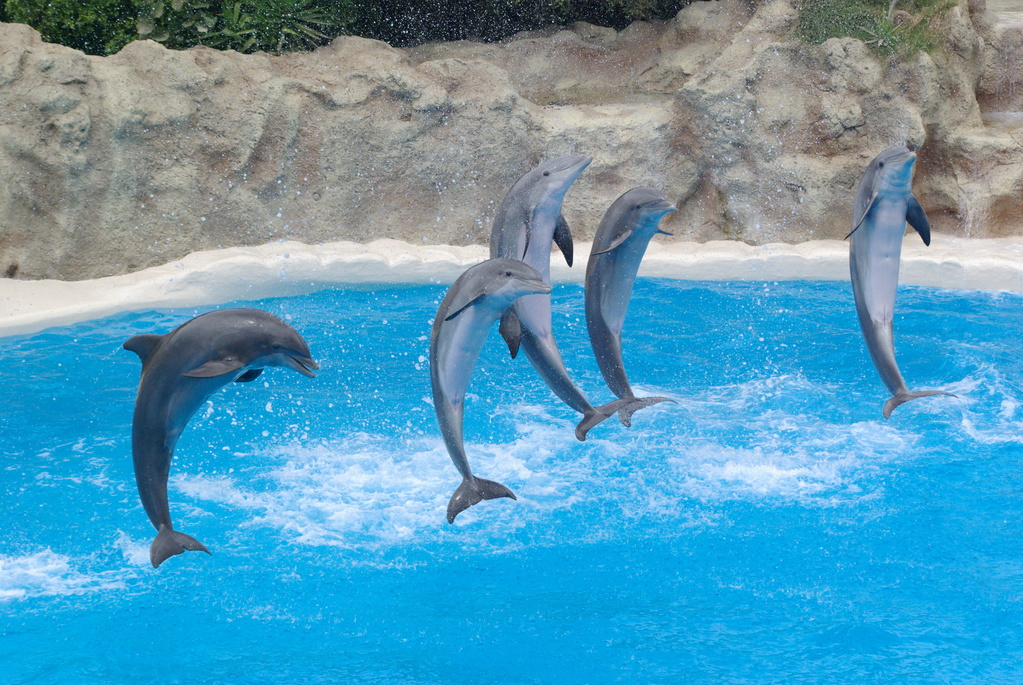 Another Dolphin Death In South Korea's Aquariums
On its website, Geoje Sea World, an aquarium and marine theme park, describes itself as "second to none in Korea," a place "expressly designed for cultivating interactive and mutual relationships between human-beings and marine mammals."
Geoje Sea World offers a variety of programs that allow people to swim in pools with dolphins, touching and even being kissed by the animals, including one where visitors can latch onto a dolphin's dorsal fin and be pulled through the water. "You'll find your energy level will dramatically improve!" Geoje Sea World promises prospective visitors.
The findings of a newly released report allege that for the dolphins involved in these activities, the experience is less invigorating. Local NGO Korea Federation for Environmental Movements announced this week the results of an investigation into conditions at eight aquariums nationwide, and found that dolphins kept in captivity in South Korea have far shorter lifespans than dolphins who live in the wild.
The report found that of 98 dolphins imported to eight aquariums in South Korea since 1990, 52 have died, including two known deaths this year alone. Their average lifespans were four to five years. According to the National Oceanic and Atmospheric Administration, a U.S. government body, bottlenose dolphins' average lifespan in the wild is 40 to 50 years. National Geographic puts the figure at 45 to 50 years.
KFEM drew a direct causal relationship between the condition of dolphins' lives in captivity, specifically being confined to small spaces, and their early deaths. At a press conference in Seoul this week, Cho Min-young, a member of KFEM's Tongyeong branch, said, "Dolphins are dying because of the stress of performing in shows, and living in unendurably poor conditions."
The impetus for KFEM's investigation came from the death in February of a dolphin at an aquarium in Ulsan, just five days after it was imported from Japan. Activists alleged that the stress of spending more than 30 hours in transit from Japan caused the dolphin's death. Local government officials in Ulsan contended that the dolphin was transported in a specialized truck, along with trainers and a vet to ensure the animal's comfort.
The KFEM also charge that a dolphin died at Geoje Sea World in January, but did not release details to the press until a month later. "The aquarium did immediately notify the relevant authorities, but probably tried to hide the news from the press, whom they are not legally obligated to notify," Cho told Korea Exposé.
Phone calls seeking comment from Geoje Sea World were not returned on Wednesday.
Cover Image: Wikimedia Commons
Steven Borowiec wrote this radar report.
Become a subscriber to access all of our content.