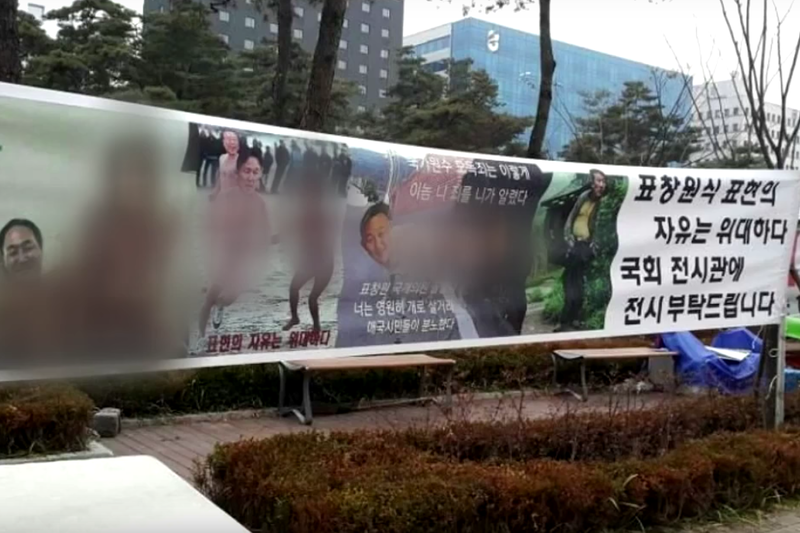 Battle of the Nudes: Political Satire Targets Lawmaker and His Wife
Editor's note: This post contains nudity and may offend some readers.
Passersby outside South Korea's National Assembly today were greeted by an unusually colorful banner: Four clumsily photoshopped images portrayed the faces of the opposition Minjoo Party lawmaker Pyo Chang-won and his wife pasted onto various naked bodies. The lewd display generated an instant buzz on the internet, where many netizens branded it disturbing and demeaning.
"You guys should be ashamed of yourself. This is Ilbe-level. I'm utterly speechless." (Source: Naver)
Amid the outrage, far-right online community Ilbe proclaimed itself the culprit in a celebratory post, causing frenzied excitement among members.

"Great job. We have to show that the right-wing isn't just sitting idly by anymore. You've done well. Thank you." (Source: Ilbe)
One user simply left the comment "Give and take," indicating that Ilbe's lewd photoshop spree was not the beginning of the story.
The banner bears the sarcastic caption: "Pyo Chang-won-style freedom of expression is great. Please display this at the National Assembly's exhibition hall."
In fact, it all started in January when Pyo helped organize an exhibition at the National Assembly. It featured "Dirty Sleep," a satirical painting that caused instant controversy by sticking an image of President Park Geun-hye's head onto — you've guessed it — a naked body. Though Pyo attempted to defend his position by citing freedom of expression, he soon found himself under attack from an increasingly wide swathe of the public. His party responded by suspending the lawmaker from political duties for six months.
"Dirty Sleep" is a parody of Edouard Manet's "Olympia," satirizing Park's controversial seven hours of absence during the crucial early hours of the Sewol ferry sinking. It shows Park sleeping while the ferry sinks outside her window and Choi Soon-sil, Park's alleged confidante and manipulator, appears as her servant.
When Pyo's exhibition opened, angry right-wingers stormed the legislature and trashed the painting. A member of Parksamo, the president's personal fan club, even photoshopped the face of Pyo's wife onto the nude woman's body and posted it online, saying, "I will strip your wife naked." The artist in turn created a second version of the painting, this time shrouding the woman in black and adding the head of a chicken, in reference to the president's nickname.
The provocative Ilbe banner, portraying Pyo and his wife naked, reignited the controversy. Many called it defamatory, while others responded by counter-citing freedom of expression. Feminist organizations and female lawmakers spoke out against the work's unnecessary sexual connotations, with some claiming it had crossed a line by dragging Pyo's wife into the picture(s).
"Pyo Chang-won and Park Geun-hye are politicians; they're public figures and therefore are objects of public criticism. But not Pyo's wife. She's just an ordinary housewife." (Source: Naver)
Pyo's family has now filed a criminal complaint.
Cover Image: Modifications added to the original picture uploaded anonymously on Ilbe.
Seohoi Stephanie Park wrote this radar report.
Become a subscriber to access all of our content.