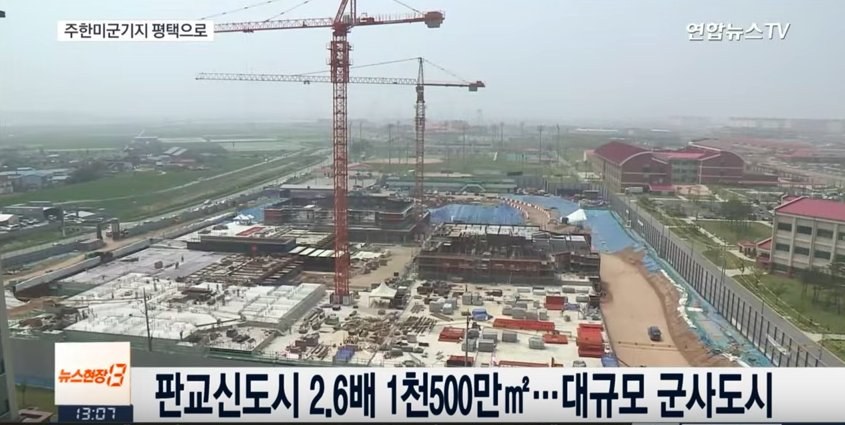 Corruption Suspicions Another Hiccup in Massive U.S. Military Relocation
Suspected corruption in South Korea threatens to undermine what has been called the largest construction project in the history of the U.S. Department of Defense.
The U.S. military is currently undertaking a massive relocation of its forces out of bases in and north of Seoul and toward United States Army Garrison-Humphreys in Pyeongtaek, about an hour south of the capital.
As with any major construction project, the relocation and expansion involve contracts worth huge sums of money. One major player is South Korean company SK Engineering & Construction, which in 2008 won a contract worth well over $400 million to put up new buildings as well as road, sewage and electrical infrastructure. Prosecutors are now looking into just how SK managed to get selected for that contract, having raided the company's offices on Friday as part of an investigation into suspicions that it bribed a U.S. Forces Korea official as part of the deal, Yonhap News Agency reported.
Prosecutors are investigating suspicions that SK conspired with the USFK official to create a slush fund with money siphoned off the project budget. SK was also raided in 2015, that time by the police, over suspicions involving more than $900,000 in alleged misuse of funds.
Both the U.S. and South Korean governments are spending massive sums on the relocation. According to a 2013 U.S. Senate Armed Services Committee report, U.S. expenditures are "estimated at $3.2 billion, and that does not include an estimated $100-$200 million in transition costs for sustaining facilities until the move is completed."
The raid of SK is just the latest in a long string of mishaps and delays related to the relocation project, which was originally scheduled to go ahead in 2008, but was delayed until 2012, then again to 2016. It is now scheduled for completion later this year.
The project is reshaping the real estate landscape in and around Pyeongtaek, mostly because the relocation of troops is set to more than double the base's population to more than 42,000 by 2020. Between 2008 and 2012 the number of U.S. military families in South Korea more than doubled (though the number of soldiers stationed here remained roughly the same), leading to increased demand for housing. A Samsung semiconductor factory is also being built in Pyeongtaek and the city is being connected to the KTX, South Korea's high-speed rail system, leading some to call Pyeongtaek "the hottest real estate market" in the country.
Corruption sometimes accompanies real estate booms, and it's possible that SK's current saga may be one part of a larger web of financial malfeasance related to the current boom in Pyeongtaek. Friday's raid also comes a little over a year after South Korea passed a landmark law meant to rein in corruption.
Cover image: construction on the United States Army Garrison-Humphreys in Pyeongtaek, South Korea (Source: Yonhap News TV via YouTube).
Become a subscriber to access all of our content.