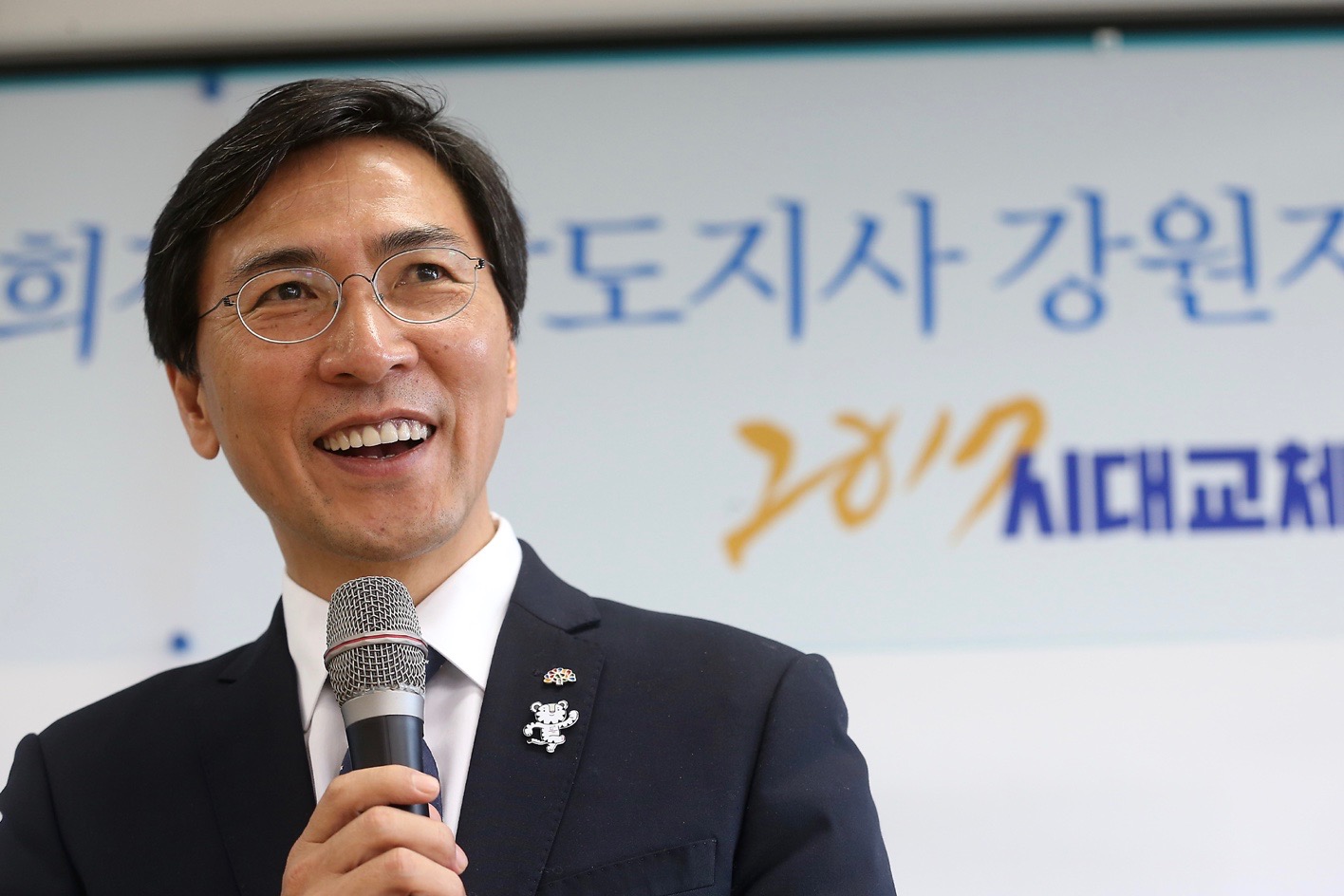 Ahn Hee-jung: A Dark Horse Gathers Pace
South Chungcheong governor Ahn Hee-jung has emerged as a serious contender for the presidency
In June 2004, a tall figure in summer prison garb and short hair was brought into Seoul Central District Court. The judge sentenced Ahn Hee-jung, a close aide of then-president Roh Moo-hyun, to 30 months in jail and more than a billion KRW in fines for illegal election campaign fundraising. Handing down the verdict, he slammed the young progressive for impeding the development of democracy and conspiring to conceal his actions from prosecutors.
13 years later, Ahn is back in the news, but in a different guise: As Minjoo Party-aligned second-term governor of South Chungcheong Province and a leading candidate for the coming presidential election. His smooth interview and discussion panel performances fill the evening airwaves while his support rate has shot from single figures to 19 percent in the space of a fortnight.
Ahn, 51, presents himself as the man to lead South Korea into a new era of genuine democracy. Many of his supporters are attracted by his "pure" and "innocent" image. For now, his crime during the 2002 election is largely overlooked.
But what can Ahn really bring to the table? On one hand, he cites his political experience as his strongest qualifications for the presidency, suggesting he is part of the establishment. On the other, he is exploiting his relative youth to promise "generational change." Would South Korea under President Ahn be business as usual, or could he breathe new life into the country's beleaguered democracy?
* * *
Ahn's is a common story for South Koreans of his generation. Born into the dictatorship of Park Chung-hee, they reached high school and university in the 1980s, when a wealthier, more educated society was growing fed up with its military rulers and demanding democracy. Becoming a student "revolutionary" was a natural way of organizing and expressing opposition to military rule.
Ahn was born in 1965 in the country town of Nonsan, South Chungcheong. He spent a comfortable childhood as the son of an ironmonger during the early years of rapid development under Park.
As a boy, Ahn dreamt of serving his country by joining the military. In the third grade of middle school, however, he heard some of his teachers refer to Park as a "dictator" for the first time. In that same year, Park was assassinated by the head of the KCIA.
"It occurred to me that if he was shot by one of his subordinates, he probably wasn't such a great person," recalls Ahn in an interview with Fact TV in 2013 .
Ahn began reading progressive magazine Voice of the People, growing more aware of social issues and desirous of popular, rather than military, rule. The concept of "revolution" planted itself in his mind as he moved to nearby Daejeon for high school and began reading works such as Sartre's Plaidoyer pour les intellectuels and Kim Hak-jun's History of the Russian Revolution.
Ahn soon dropped out of high school and joined various student movements campaigning against the new military government of Chun Doo-hwan. "I was frustrated," he says. "Trotsky became a revolutionary at 14, and Lenin at 16, but I was already 17."
Realizing that he should actually be a student in order to carry on as a student activist, Ahn entered Korea University and began studying philosophy. He remained politically active and was eventually arrested for violation of the National Security Law in 1988, tortured and interrogated for a month, then imprisoned for almost a year. He calls it a pivotal moment for further political growth.
"Ok then, let's say you had your revolution and you took power. What would be your agricultural policies? What about foreign affairs?"
During a break from his daily beatings, detained student revolutionary Ahn Hee-jung found himself unable to answer any of his interrogator's questions. It was true: He hadn't thought about how to actually run a country. Perhaps a part of him had assumed the revolution would never happen. Held in a secret service complex below Mt. Namsan in the dying days of South Korea's military dictatorship, he sank into despair.
"I realized I was totally unfit to rule," he says. "I spent the next year in prison, filled with shame."
A few years later, while wondering whether politics offered any hope for anyone, Ahn met future president Roh Moo-hyun, who was to become his political mentor. In 1994, Roh inspired Ahn at a time when the latter's faith in achieving political progress was on the rocks. Roh told him, "People as organisms don't change. But as a species-being, they evolve."
The following year, Ahn joined Roh's Local Government Research Institute, promoting decentralization as means of overcoming regionalism and promoting healthier democracy. In 2001, he joined Roh's campaign camp in the approach to the 2002 presidential election, which Roh eventually won.
In 2004, Ahn's illegal election funding activity caught up with him and he found himself behind bars again. Today, he admits his guilt — while claiming that he merely engaged in practices that were technically illegal but ubiquitous at the time.
"I think they couldn't give me a long sentence because I was being made an example of for something that happened in the course of the election," he said in an appearance on TV Chosun last October. "That's not to say I did nothing wrong … I asked them to give me a heavy punishment."
Upon his release, he spent time in academia before taking a leading role in 2007 in the Participatory Government Evaluation Forum, a body formed in the closing years of Roh's presidency.
Ahn was first elected governor of South Chungcheong in 2010. His flagship policies have included relocating the provincial capital from Daejeon to the coastal county of Hongseong, where a new city, Naepo, is being built as part of efforts for balanced regional development; the "Three Agricultural Innovations," a far-reaching scheme to overcome problems faced by farmers and fishermen such as trade liberalization (South Korea's agricultural sector often fares badly in free trade agreements), aging populations and falling incomes through measures such as sustainable agriculture and fishing and improved village living standards; and the "Pan-Yellow Sea" initiative, which aims to develop a Mokpo – Incheon – (eventually) North Korea axis along the west coast of the Korean Peninsula to counter the Seoul-Busan developmental axis that dominated the country's rapid late-20th-century development.
Surveys last year saw Ahn consistently receiving the highest approval rating among South Korea's 17 governors and top-level mayors. He has occasionally courted controversy, however, angering local farmers by suggesting they respond to low rice prices by reducing rice cultivation and switching to other crops. His calls to extend human rights protection laws to sexual minorities have also created friction in South Korean society, which is still largely homophobic.
A presidential bid
Ahn dropped his first hint of a 2017 presidential run to reporters in May 2016, almost half a year before the Choi Soon-sil scandal broke and raised the prospect of an early election. (Had the scandal not happened, the country would have gone to the polls as scheduled in late 2017 anyway.) He officially announced his bid on Jan. 22 this year, reinforcing his image as a champion of democracy by holding a five-hour public question-and-answer session in downtown Seoul.
Ahn is now racing to achieve greater recognition and establish himself nationwide as a serious political name. Polls indicate that he is succeeding for now, having quadrupled popular support for him since late December. South Korean media have flagged him as a "dark horse" and claimed that he is beginning to unnerve front-runner Moon Jae-in.
https://twitter.com/beautysteelroot/status/809058607740297217
Some South Koreans are particularly taken with Ahn's good looks, with one Twitter account chronicling the candidate's shining moments.
Young, trustworthy, nice — these are core elements of the image that Ahn tries to cultivate. In the charisma-starved world of South Korean politics, Ahn does exude a youthful charm, comfortably addressing audiences for hours at a time in his unorthodox turtleneck sweater and jacket, a Sewol memorial badge pinned to his lapel. In many of his publicity images he uses the well-rehearsed open-mouthed smile found in other popular progressive politicians like Seoul mayor Park Won-soon.
The former democracy activist's looks have earned him the nickname "Chungcheongnam-do's Exo," a comparison to the fresh-faced boy group of the same name. Capitalizing on his relatively young age in top-tier South Korean politics, Ahn has adopted "generational change" as one of his key election slogans.
"I hope others in their 40s and 50s will take my presidential bid as a cue to take more responsibility for leading the country," he said in January, calling on others in his generation to stop being "good hubae" — good juniors to the elders; in other words, merely obeying their elders.
But Ahn, described by some as "economically rightwing," does not seem intent on leading any economic reform. In his declaration of candidacy, he states: "Regarding the economy, I am not putting forward any particularly new blueprint. Continuing the policies of the last six presidents is enough."
Ahn's reluctance to go for the jugular when it comes to chronic economic problems leaves him exposed to attacks from more left-leaning progressives who still feel betrayed by Roh Moo-hyun's failure to eliminate irregular employment and willingness to enter free trade agreements. But with no strong conservative opponent at present, it is in Ahn's interest to move toward the center of the spectrum and soak up more swing voters. His recent clashes with fellow Minjoo Party colleague and Seongnam mayor Lee Jae-myung, who is also running for the presidency, support this notion: Ahn has branded Lee's calls for a universal basic income and extended school meal provision "populist," attacking tax-and-spend politics by claiming that "the people don't want a free lunch."
"Ahn has a reputation as a progressive, having been one of Roh Moo-hyun's closest confidantes, but he's recently been showing a moderate, conservative side," says Choi Jin, who heads the Institute of Presidential Leadership. "This is attractive to South Koreans who are fed up with excessively partisan politics. He combines a dynamic, fresh image with gestures that appeal to older voters, like visits, or giving talks to conservative groups and taking a moderate stance on THAAD."
But Ahn still has his work cut out, Choi believes, saying, "He still needs to convince the public that he has enough experience and balance to lead, and overtaking Moon, with his solid base of party support, in the primary, won't be easy."
The time may now have come for Ahn's to complete Roh's democratic project, with many South Koreans exasperated by the way excessive presidential power and opacity allowed the Choi Soon-sil affair to brew. His is a vision of stable, party-based politics, something he considers a fundamental principle of democracy.
"What kind of democracy is it when the genealogy of political parties since the constitution came into operation in 1948 fills eight A4 pages?" Ahn asked one audience at a talk in late January, alluding to how often parties form and disappear, not to mention change names. He has expressed concern at the meltdown of the ruling Saenuri Party in the wake of the current presidential scandal, claiming that this election will be undermined by the lack of a credible conservative choice.
Ahn says he wants to break the cycle of revenge, whereby a change of ruling party often brings a reversal of fortune for those who have lost power. Indeed, he has pledged to continue good policies and institutions introduced by his predecessor, rather than dismantling them on principle.
While other candidates call for constitutional reform, Ahn claims that the constitution is not the problem: Rather, nobody is actually following it properly. If he became president, he would ensure a return of power to the National Assembly and to the prime minister appointed by lawmakers to counterbalance presidential power.
As demonstrated by his relocation of the South Chungcheong provincial capital, Ahn is also a strong advocate of decentralization. His 2010 book 247 Presidents explicitly refers to his belief in the need for a fight against the arbitrary power of centralized authority, calling for the country's 17 governors and top-level mayors as well as 230 municipal heads to become "leaders of decentralization and balance… jointly running the country" along with the actual president. He regards this as a crucial step towards a healthier democracy, dampening the effects of regionalism and protecting the country from the whims of monolithic presidential power.
His commitment to completing Roh Moo-hyun's transfer of the national capital to Sejong City, a project that was blocked by the Constitutional Court in 2004, is an illustration of his belief in disseminating the power and wealth invested in the current capital, Seoul.
Ahn has taken a strong line against discrimination. He showed the courage to appear alongside openly gay celebrity Hong Seok-cheon at his candidacy declaration event, and commented on a podcast recorded shortly afterwards, "Homosexuality is a question of various individual sexual identities, so it's not worth arguing about. We mustn't make it into a social issue by arguing about it."
https://twitter.com/beautysteelroot/status/823176718126968832
Ahn's decision to appear with openly gay celebrity Hong Seok-cheon at his candidacy declaration event won him more progressive admirers.
In his home province, Ahn has announced a planned amendment to local human rights protection regulations to outlaw discrimination on grounds of sexual orientation, incurring the wrath of Christian and conservative groups.
When it comes to North Korea, Ahn treads carefully. "It's their fate, and their leaders must face up to it," He says. "Our priority must be to stop [the North] becoming a powder keg in the Asian region. All attempts to bring the regime collapse by isolating and strangling the country are politically excessive."
As such, Ahn advocates a "framework of dialogue" with the North, putting stability before criticism of its human rights abuses. He points out that economic liberalization and efforts to attract foreign investment to South Korea are undermined if the country is seen as a dangerous destination because of its volatile northern neighbor.
The deployment of American THAAD missiles in South Korea is one of the country's biggest political headaches, forcing the government to weigh loyalty to long-time ally — the U.S. — against the forceful objections of China. Here, too, Ahn emphasizes a dialogue-based approach, saying, "We need to choose a wise path between China and the US. I'll meet Xi Jinping and Trump and look closely at what their interests are, while gathering the opinion of international experts."
With stronger support among younger voters, Ahn Hee-jung must convince elderly and conservative voters that he is experienced enough to be president and is not left-wing or a soft touch when it comes to national security. This could explain his bland economic stance and lack of criticism of the US's THAAD plans.
But by attempting to occupy some of the center-right vacuum left by Ban Ki-moon's withdrawal, Ahn risks damaging his image as a man of principle. He may also have to explain again his past criminal conviction on illegal election funding, which is getting more attention as his popularity grows. The election campaign is a fight and he will be desperate to pull out all stops in his bid to overtake Moon and become the frontrunner.
With Park Geun-hye's impeachment widely anticipated, Ahn requires scrutiny as a rapidly-rising contender for the presidency, one who has yet to reveal a complete picture of himself.
Cover image: From Ahn Hee-jung's campaign website.
Read more of our election stories:
Become a subscriber to access all of our content.