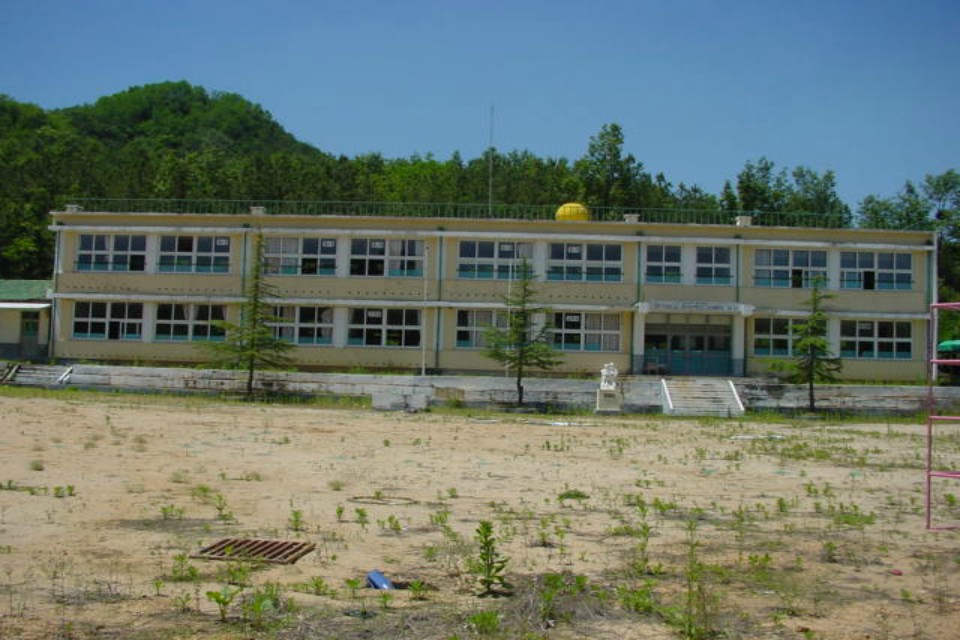 How S. Korea's Abandoned Schools Return to Life
Perched in the highlands of Gangwon Province, Hwacheon is a rural county within reach of the armistice line between South and North Korea. Some parts are as close as nine kilometers from the demilitarized zone; unit after unit of troops stands in the county's silent mountain ranges, in areas restricted to civilians for security purposes.
But outside the restricted area, just a few kilometers away from the military camps, stands Forest Art School, run by a middle-aged couple. "School" may not be the right word for the quaint one-story building and smaller container structure that serve multiple purposes, including as a gallery, café, art shop and even lodgings.
Until the mid-80s, this "school" was an actual public school, with over 120 students. But the number of students began to dwindle each year, until the institution shut its doors in 1999. Over a decade later, the artist couple came in and, with permission from the local municipality, renovated the deserted site into a multi-functional art space. In 2014, it attracted over 300 visitors.
Hwacheon's successful conversion story is noteworthy, but also common. Turning abandoned schools into other productive facilities has become an increasingly widespread practice in South Korea.
Since the 70s, urbanization has left rural areas underpopulated, especially of young people. This meant that primary and secondary schools struggled with low enrollment. Some schools even ended up with more faculty members than students. Local governments started closing down or merging schools with fewer than 100 students.
From 1982 to 2016, over 3,600 primary and secondary schools closed down in South Korea. Almost 90 percent of these were located in provincial areas.
Until the early 2000s, closed schools mostly stood neglected with broken windows and vandalized walls. But then, local governments started using these abandoned properties to generate revenue. Case in point: the Forest Art School, which rented the properties from the Hwacheon government. By 2016, local governments nationwide sold off over 2,300 abandoned schools, or 87 percent of the total number, while converting almost 1,000 others into useful facilities.
And the possibilities of transformations are endless. Since the majority of abandoned schools are located in the countryside, many take advantage of their vicinity to nature to attract outsiders and revitalize rural communities. Schools are turned into eco-parks, campsites, and eco-schools for experiential learning. For example, at Hapcheon Canoe Academy in South Gyeongsang Province, you can learn how to paddle canoes in the nearby river. For a few years, it even taught how to build canoes.
Others serve people in need. In areas where many of the abandoned schools are located, the residents are generally aging. Many of the schools are converted into recreational centers for the elderly and disabled, providing platforms for education, interaction and rehabilitation. At Cheongsong Senior Club in North Gyeongsang, for example, the elderly can learn skills like making natural soap, either for job-seeking reasons or simply to keep themselves occupied.
Some facilities serve the original purpose of education. At Busan Global Village, kids and adults can come for interactive and hands-on English learning. In North Jeolla Province, the National Center for Youth Internet Addiction Treatment provides an alternative education to rehabilitate young addicts glued to their electronic devices.
Elsewhere, art galleries, performance venues and exhibition centers provide enriching cultural experiences, while places like Yangsan Cheese Valley in South Gyeongsang offer educational programs like cheese-making.
Last December, lawmakers at the National Assembly passed a revision to the Special Act for the Promotion of Utilization of Abolished School Properties, to open up more possibilities for the use of abandoned schools. The amendment is not yet in effect; but once it is, it may become possible for private contractors to facilitate the purchase of abandoned schools.
Cover image: Over 3,500 schools have closed down over three decades in South Korea. Some have transformed into useful facilities. (Source: Wikipedia Commons)
*
Read more about South Korea's rural schools closing down:
Become a subscriber to access all of our content.