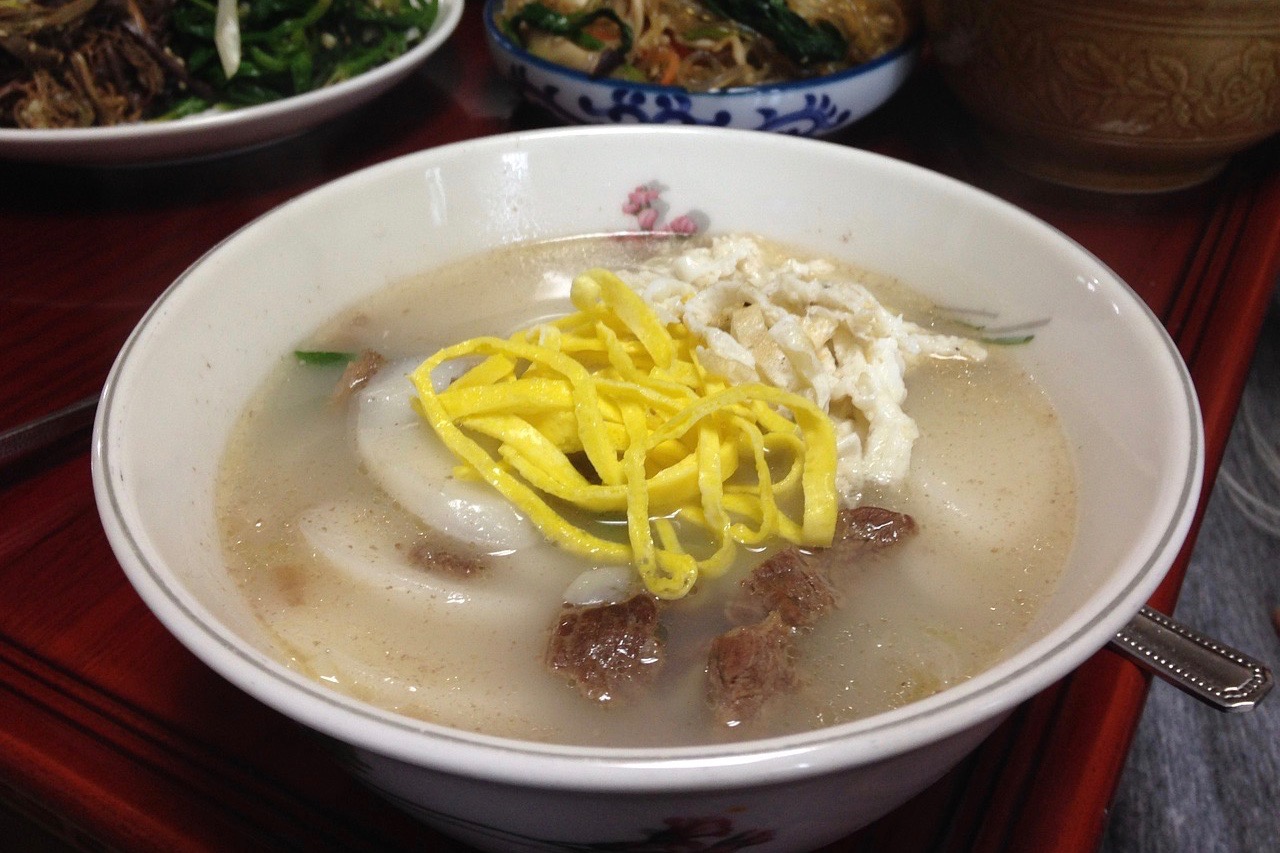 The Enemy Is Within Our Ranks
Two narratives generally dominate the portrayal of South Korea's most important holidays, Chuseok (the Autumn Harvest) and Seollal (the Lunar New Year), which was just last week. There's the happy narrative: Extended families get together to celebrate over traditional home-cooked Korean dishes; smiling celebrities in hanbok promote the holidays on television. And on the other side, the unhappy narrative emphasizes the conservative gender dynamic: women in the kitchen against men who laze around the TV.
The happy narrative is an easily debunked idealization, and the emphasis on gender inequality means well. But there's more to the story. Last year, writer Ahn Yun shared a more nuanced take on the holidays in an essay for a feminist website. She had gotten a phone call from her mother in advance of the big Chuseok dinner, asking Ahn to come earlier and help her prepare the rice-cakes. "She says that mine has the prettiest shape," Ahn recounted her mother's request, "as if she had a chance to look at other rice-cakes, those imaginary ones that my brother or father have never bothered to make."
In her telling of the story, Ahn is surprisingly more conflicted in her portrayal of her mother than that of her brother; it is not difficult to see that he is simply the moral expendable of the story. After the holiday dinner, Ahn described how his brother had dropped by the kitchen, asking Ahn and her mother whether he could "help out" with the dishes. Her frustration reached its peak when her mother, delighted at his generosity, handed over her kitchen gloves "without forgetting to mention 'how good it is to have a son.'"
From what I read in the outpouring of news articles around major holidays, South Korean media likes to focus on the perceived tension between men and women as a quick explanation for all that ails family gatherings. In a recent research, as reported by The Korea Herald, Prof. Kim Jong-Sung and his team at Chungnam National University Hospital coded their survey result of 562 married South Korean men and women and came up with a "holiday stress index." The team's survey targets are gender-divided, with Kim's report emphasizing the high index for women (32.4) in contrast to that of men (25.9). For last year's holiday special, JTBC's popular talk show program "Non-Summit" debated the case of a couple who faces a marriage crisis on every major South Korean holiday. Once again, the dominant narrative of holidays is gender war.
Both the quantitative comparison of holiday stress levels and the qualitative data made up of confessional anecdotes are meant to lift the curtain on the "cheerful" holidays and spotlight the tug of war between men and women.
Granted, many South Korean women I know are forced to go through intense political and psychological strategizing in preparation of the holiday seasons. They share Ahn's discontent and would like to openly protest the patriarchal customs these large-scale family gatherings entail, with women sweating away in the kitchen and men and children sitting around the TV set for holiday specials. That, however, is not the end.
As Ahn reveals, holiday stress in South Korea involves disagreement among women of different generations. It comes down to the fact that women themselves are complicating the fight against patriarchy by complying with the conventional notion of womanhood.
A case in point: In its Sep. 2014 issue, magazine Living Sense, which caters to South Korean women in their 20s to 40s, published short holiday anecdotes contributed by its readers. Over half of its stories dealt with the atmosphere of collective indifference women face at extended family gatherings, rather than grievances specifically against husbands or "men."
It is in fact fellow women — especially mothers — who also make it difficult for the younger generation to stage an open confrontation. Ahn only hesitantly touches upon this problem in her article, but it nevertheless looms large in her concluding remarks to the Chuseok episode: "Why is domestic labor a favor for some [men] and an obligation for others [women]? And why does my mother find this favor so gratifying?"
In South Korea, the struggle for a more gender-equal holiday culture often ends up facing challenges from the single family member whose intensity of holiday labor meets no rival, i.e., one's own mother. A daughter may refuse to clean up the dishes, or plead at least collective responsibility, asking others (the "men") to join in. All too quickly a mother or an aunt would intervene to remark that it is not a big deal. She would take care of it.
The public as a whole is poor in recognizing this uneasy relation between mother and daughter. An article announcing post-Seollal promotions informs us that Sheraton Seoul D Cube City Hotel has just issued "Mother-Daughter Spa-day Gift Certificates," available throughout this month. It reminds me of the "Mother-and-daughter photography contest" held by the Hyundai department store last year — an event that, according to Financial News, was being held on behalf of "all mothers and daughters struggling with post-Chuseok exhaustion." In such advertisements, both mother and daughter are lumped into the single category of women: victims of high seasonal demands, whose stress and sacrifice must either be commercially exploited or compensated for.
But the two are not always on the same team. As long as the mother insists on her place in the kitchen, and is content with the gratification of her own sacrifice, the daughter is suspended in an ideological limbo. I have seen many young women, drawn by their sensitivity and sympathy toward older female family members, end up scurrying into the kitchen at holiday gatherings despite their own political commitments. "At first, I felt bad for the mothers," an anonymous South Korean commented on the internet news site Media Today, "but then I realized that mothers too were perpetuating that structure."
The issue of domestic inequality in South Korean society often culminates in such highly tension-ridden and complicated anxieties on the part of the daughter. On the one hand, she recognizes her mother as performing one of the most under-appreciated feats of South Korea's social, political, and economic reality: domestic labor. And yet the daughter is conflicted, because she does not want to buttress the Victorian vision of holy motherhood that passes for the norm in South Korea — selfless, submissive and domestic — nor does she want that burden to be passed down to the next generation of women.
So how does one defend her ground without insulting or compromising the decades-long sacrifice of her loved ones?
There may be no easy answer. I am reminded of a talk I had with my twenty-five-year-old acquaintance a couple of years back around Seollal, at a coffee shop, where she was contemplating how to face the moral and political dilemma she faces on every major South Korean holiday. How will she prove to other family members that domestic labor is something to be shared and not to be delegated to women, that her mother is not just a mother, but a worker (who shouldn't be expected to toil away an unlimited number of hours)?
"And how," she added, "do I convince my own mother to see that she shouldn't be stuck in the kitchen all day? Or do I even have the right to try to convince her in the first place?"
The battle for gender equality is hard enough when it is fought against men. It is even harder when the enemy is within your ranks, at your own home.
Cover Image: Rice cake soup, one of many dishes South Korean women toil away in the kitchen to make for the Lunar New Year. (Source: Pixabay)
Become a subscriber to access all of our content.