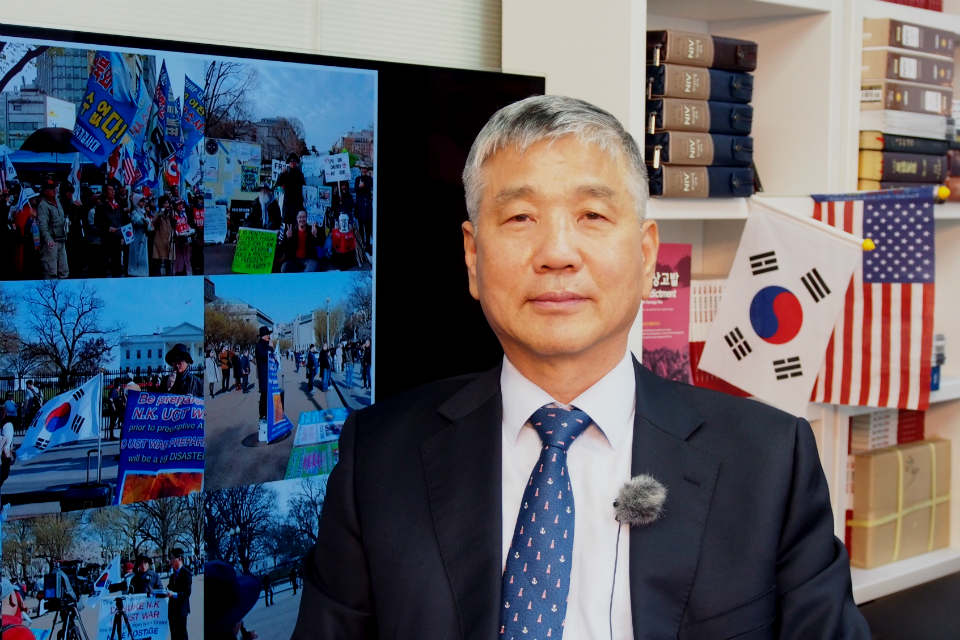 Tunnel Vision: A View from South Korea's Right Wing
"Have you heard about the North Korean tunnels?" a friend asked me one day in 2014. There was panic in her voice.
"They've dug dozens of them, everywhere under Seoul. Under the Blue House [the presidential office], under Gangnam, right up to the walls of underground car parks, just waiting to burst through and invade!"
When I snorted, she thrust her phone at me. I saw a video of a grey-haired man in an air force uniform, delivering a lecture in a church in Gyeongju, a city 280 km southeast of Seoul.
It turned out the video was doing the rounds on KakaoTalk, South Korea's ubiquitous messaging app and a favorite means of spreading political stories among conservative Christian groups (to which my friend belongs).
The man was retired air force general Hahn Sung-chu, a controversial right-wing activist who rose to fame that year for his claims that the ground beneath South Korea was riddled with North Korean invasion tunnels deliberately concealed by "traitors" high up in the South's political and military establishments.
Hahn had held a series of high-ranking positions in the ROK Air Force before retiring in 2010. Two years later, he began his crusade to reveal the extensive North Korean tunnel network. In 2014, the publication of his third tunnel-related book, The Treacherous Generals, gained him some traction in South Korea's mainstream media, even if much of the coverage seemed aimed at trying to debunk his claims once and for all.
What fascinated me about Hahn was the vehemence of his widely-dismissed allegations. Right-wing nationalists with long military careers in South Korea don't make a habit of disturbing the hierarchical order. Yet here was Hahn accusing his former military superiors of deliberately aiding and abetting North Korea — treason of the highest order — in the most public manner. Naturally, the government prosecuted him for libel, and he was found guilty and given a suspended sentence.
Fast forward to late 2016, possibly one of the most traumatic time for South Korea's conservatives in recent history. Then-president Park Geun-hye, conservative icon and daughter of late military dictator Park Chung-hee, had been impeached by the National Assembly. There was Hahn, addressing the weekly pro-Park "Taegeukgi" rallies in downtown Seoul. This time, he was calling for the declaration of martial law in response to Park 's impeachment, which he considered an unconstitutional act of treason. (A martial law was never declared.)
Fast forward to April 2018. This time, Hahn was in Washington D.C. with a message for Donald Trump. He stood in front of the White House in a bid to block the coming inter-Korean summit, with a banner saying "Mr. president! TIME is GOLD. Do Not Hesitate Bomb NK Before APR 27th."
Does Hahn represent all South Korean conservatives? No — nobody does. But he commands a certain degree of influence: While his tunnel evangelism has been a thorn in the side of the conservative establishment, his allegation that current president Moon Jae-in is a communist or North Korean sympathizer is a more common mantra among fellow right-wingers.
In April, Korea Exposé met Hahn in his office in Gyeonggi Province, where he records "current affairs briefings" and other videos for his YouTube channel, to hear his take on tunnels, Park Geun-hye's impeachment and the coming North-South Korean summit.
The following interview contains Hahn's views, most of which cannot be verified, as a sample of how some South Korean conservatives view the current situation on the Korean Peninsula. They have been edited for length and clarity.
* * *
Korea Exposé: Please tell us about the tunnels.
Hahn Sung-chu: When Kim Il-sung saw how the North Vietnamese successfully used tunnels against the United States during the Vietnam War, he said, "One tunnel is more powerful than 10 nuclear bombs." In 1971, he ordered his own forces to dig tunnels [to the South]. Today, there's a checkerboard grid of tunnels under South Korea, as my dowsing-based investigations have shown.
In 2014, I published a book called The Treacherous Generals. The main culprit in covering up the existence of the tunnels was the director of the National Intelligence Service. Then there was the Army chief of staff, the chairman of the Joint Chiefs of Staff and the minister of national defense. The existence of the tunnels is still being covered up today.
KÉ: Wouldn't the people you named in the book consider that libel?
HSC: I was sued for libel, lost my final appeal at the Supreme Court and was sentenced to eight months in prison, suspended for two years. That sentence is still in force.
KÉ: What's their aim in covering up the tunnels?
HSC: There are two types of person [in the South Korean military]: Some are taking orders from North Korea and must cover up the existence of the tunnels, and some have been deceived, so they don't know.
KÉ: Did you say there are now between 24 and 28 tunnels?
HSC: Those are the ones coming straight down south. There are more tunnels connecting them laterally, and others leading up closer to the surface. They form a lattice.
KÉ: You've argued that there's a tunnel leading to the Blue House.
HSC: Yes.
KÉ: Do you think Park Geun-hye knows about the tunnels?
HSC: She doesn't know. All she heard was reports that there are no tunnels. She was told, "General Hahn Sung-chu is lying."
[Editor's note: Hahn claims that there is a network of tunnels under the airfield in Gunsan, about 230 km south of the DMZ, and that the tunnels reach all the way down to Jeju Island. In 2014, South Korea's Ministry of National Defense issued a statement denying the existence of a long-distance tunnel network under South Korea, citing multiple technical reasons why they could not exist. For example, just one 60 km tunnel running from the DMZ to Seoul would produce about 140,000 five-tonne truckloads of spoil, none of which had been detected by South Korean or U.S. monitoring of North Korea.]
KÉ: Park Geun-hye is in prison, Moon is president, and North Korea is about to have summit meetings with South Korea and the U.S. Where do South Korean conservatives go from here?
HSC: Conservatives now have to unite, go into the Blue House and drag out Moon Jae-in. We need a civil revolution. If we don't do that, he'll hand the country over to Kim Jong-un. Since he's a North Korean spy. Of the two people due to meet on Apr. 27, one is a man who murdered members of his own family and the other one is a fraudster who stole the presidency. I'm calling for us to enter the Blue House and remove him before Apr. 27.
The U.S. has been fooled by North Korea about its nuclear weapons for 25 years. We're appealing to it not to let itself be deceived again on Apr. 27, and to eliminate Kim Jong-un before then. We're demanding that the U.S. bomb North Korea.
For a different approach to the summits, read: "North Korea Summit and the Elephant in the Room"
KÉ: Is that why you went to the U.S. recently, to give Trump that message?
HSC: Yes. Moon and Im Jong-seok, his chief secretary, are North Korean spies, following orders of Kim Yong-chol [North Korean vice chairman for South Korean affairs] and, ultimately, Kim Jong-un. I call the Apr. 27 summit the "North-South Master-Servant Summit." Since Moon is a North Korean spy. The meeting is a huge scam and will be broadcast to the whole world.
KÉ: On what basis do you call Moon a spy?
HSC: Recently, during the Pyeongchang Olympics, he hosted Kim Yong-chol, the man who controls all North Korean spies in the South, on the 17th floor of the Walkerhill hotel [in Seoul], and had the North Korean spies within South Korea's National Intelligence Agency visit Kim to receive orders.
KÉ: What evidence do you have that NIS agents took orders from Kim Yong-chol at the Walkerhill hotel? Was a recording made?
HSC: I couldn't record it. I'm making a strategic deduction.
KÉ: How will you go about dragging Moon out of the Blue House before Apr. 27?
HSC: It will be possible if we can get 50,000 or 100,000 people who are ready to risk death for the future of their children and grandchildren. So there's a chance that it could succeed, like the French Revolution, or Yeltsin's revolution in Russia, or the Apr. 19 revolution. Nobody knows.
[Editor: The Apr. 19 revolution overthrew South Korea's first president Syngman Rhee in 1960. He was eventually replaced by general Park Chung-hee, who remained in power from 1963-1979.]
KÉ: Where will you get your weapons from?
HSC: We won't use weapons. It will be a bloodless, non-violent revolution. We'll say, "Kill us if you have to. We're unarmed."
KÉ: What will you do with Moon once you've dragged him out?
HSC: He'll be executed as a traitor, after being tried in a civilian court, according to Article 93 of the Criminal Act [for aiding an enemy of the state].
KÉ: And then will you hold elections to form a new government?
HSC: Yes, I suppose so. New leaders will emerge from the military and from the right-wing camp. We'll show that we're being moved by the invisible hand.
KÉ: The invisible hand?
HSC: The hand of God.
KÉ: In that case, will Park Geun-hye's impeachment become void, so that she's restored to the presidency?
HSC: I think that would be the most reasonable course of action. She was illegally imprisoned through a sham impeachment, so she will be restored to power. The revolutionary leadership must decide how long her term lasts.
How do conservatives frame Korean democracy? Read "Impeach the Impeachment"
KÉ: What's your ideal vision for the future of the Korean Peninsula from now?
HSC: Now is the perfect time for South Korea to achieve unification, but Moon Jae-in has kicked the chance away. He's become an accomplice to North Korea in achieving reunification on its own terms.
KÉ: So what kind of unification is needed?
HSC: Absorption of North Korea by a free South Korea.
KÉ: You mean an invasion of the North by the South?
HSC: No, not an invasion. By absorption, I mean liberating the people of North Korea.
KÉ: When the North Korea regime collapses?
HSC: Letting the regime collapse by itself is one way. The other is invading the North, but 'invasion' is the wrong word. It would involve a counter-invasion northwards in the event that the North invaded the South.
KÉ: So if neither of those things happened, the status quo would have to be maintained?
HSC: Yes, all we could do is carry on as now. But now is the easiest time ever for reunification by absorption by the South.
KÉ: Why is that?
HSC: Now Trump and John Bolton and Mike Pompeo have to solve the North Korean nuclear problem. North Korea is not likely to suddenly give away the existence and location of its nuclear weapons. It will carry on deceiving [the U.S.] as it has for the past 25 years. In that case, the U.S. still has the military option of threatening to totally destroy North Korea. At that point, South Korea could contribute to that as part of a unification strategy.
If Xi, Putin, Abe and Trump agreed on a diplomatic level that this was a golden opportunity for unification by South Korea, then I believe the invisible hand would guide events.
Cover image: Hahn Sung-chu at his office in Gyeonggi Province. (Ben Jackson/Korea Exposé)
Become a subscriber to access all of our content.