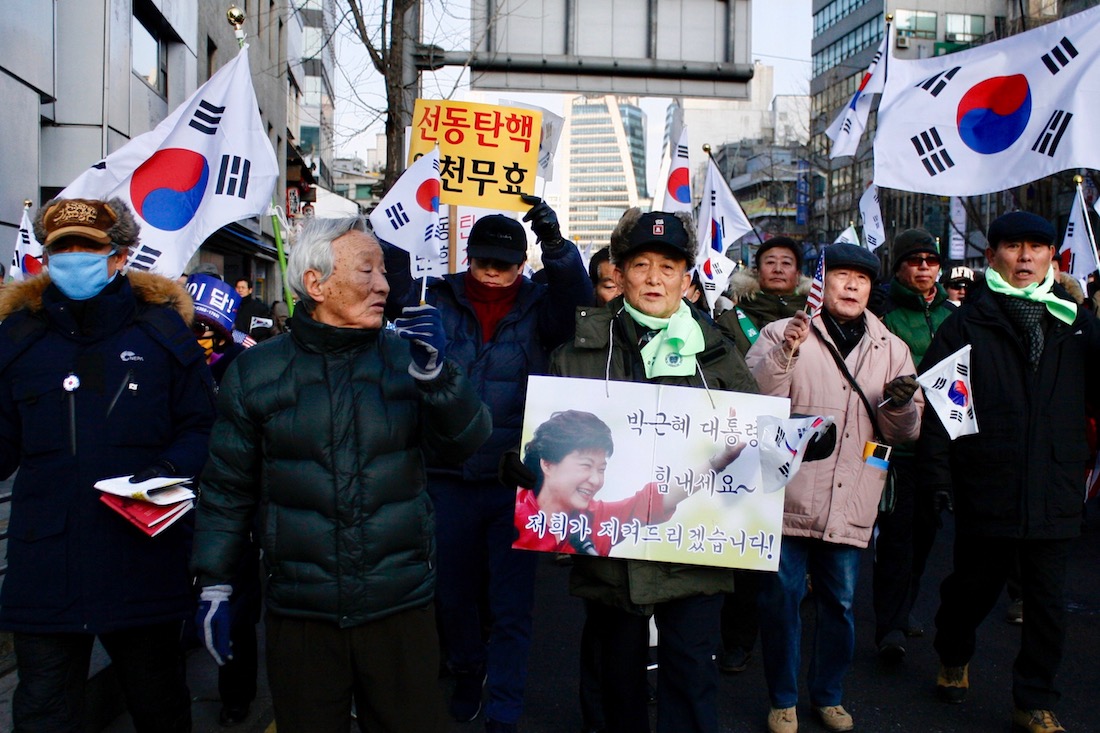 Impeach the Impeachment: Older Conservatives "Defend Democracy"
They call their gatherings the "Taegeukgi Rally," after the South Korean flag. They say their flags represent a growing fire, the true fire of patriotism and democracy, countering the supposedly ill-conceived fire of the candlelight rallies. They say most of the anti-Park protesters are disruptive communists, or naive young people who don't know any better. They believe the disgraced president Park Geun-hye should return to office.
Most of these pro-Park protesters, composed of different far-right groups, belong to South Korea's older generation. They witnessed a time when the country, known nowadays for Samsung, K-pop and being the friendly democratic foil to the "world's most isolated nation" up north, was once collectively hungry and actively afraid of North Korea.
They marched in Seoul last Saturday for the largest pro-Park rally yet, calling for an "impeachment of the impeachment." Tens of thousands, perhaps even hundreds of thousands, walked in Seoul's busiest streets, nearly everyone waving the South Korean flag. Nearby, on the same day, another huge crowd of anti-Park protesters held their candles up for the fifteenth weekend rally since October, calling for the president to step down immediately.
Korea Exposé talked to the pro-Park protesters in an attempt to understand why they still believed in the president, when the entire country seemed to rally against her in a rare moment of unity — including the usually partisan media outlets, traditionally conservative voters, and even lawmakers within Park's own Saenuri party (which has recently renamed itself the "Liberty Korea Party").
Their growing voices signify not only a ray of hope for the president and her cronies; they also illustrate the deep political divide in South Korea over the meanings of patriotism, Korean identity and democracy.
Kim Hye-sook (74): "If President Park gets impeached, we lose everything. We're not here just to save a president. Most of us [at the rally] are here to protect this system of free democracy for posterity." Like the other protesters, Kim said the conservatives want to save democracy from North Korean threats.
Today, her concerns and the self-righteous, simplistic division of Freedom vs. Communism seem almost laughable. But she grew up in a country where over 50% of the Ethics curriculum at school was related to anti-communism until the late 80s. She lived through the Korean War. North Korean spies conducted terrorist operations on South Korean soil. The threat felt, still feels, real to her.
Kim was adamant that president Park will not get impeached. "There is no way she will get impeached. I am certain. That will never happen."
Park Duk-soon (47): "I've been to every single pro-Park weekend rally since November. Every single media outlet is criticizing the president. I thought, this is strange, it's like communism, just looking in one direction."
Like the majority of the pro-Park protesters, he distrusts everything on mainstream media. He relies on non-journalistic channels like Kakaotalk (a popular messaging app) for information. One of his most trusted channels is South Korea's notorious online community Ilbe, known for its members' misogynist, far-right, even violent activities. "I thought Ilbe was a bad website, but when I looked at its politics forum, I saw a lot of people who felt as I did," Park said.
And if the president does get impeached by the Constitutional Court? "I'm ready to give up my life. I'm going to fight. Conservatives have been too meek. If the other side [the candlelight rally] starts getting violent, so will I. If they break the law, so will I. I won't just be watching meekly."
Kim Gap-jung (81): Kim is a former naval officer who calls himself conservative "by birth." He said it isn't possible to be otherwise, in a country that's trying to protect itself from communism.
"If, by a one in a million chance, Park Geun-hye did commit a crime, she should be punished. But it's a problem to impeach her when the situation is still uncertain. There was a problem with the whole process. She got impeached just because of what the newspapers said."
This is a fair point in theory, but false in reality. Assisted by media reports, the prosecutors investigated the case and announced her as a criminal suspect before the impeachment motion was proposed and passed in December. Meanwhile, the president has refused to be questioned by the prosecutors, the special prosecutor, and the Constitutional Court, despite having promised to cooperate with the investigation.
Shin Su-kyung (64): Shin was raised in a family of twelve, forced to eat just one meal a day when times were tough.
"Who helped our country become what it is today? None of the young people know." Shin reinforced the typical pro-Park narrative that 'the other side' with the candles was full of young people, oblivious and disrespectful of history. "President Park Chung-hee elevated our country. The young people don't know any of this."
Perhaps it's fairer to say that the candlelight protesters and Park Chung-hee's critics — many of whom are not at all young — offer a more complicated picture behind his 'miracle' of economic development. The older conservatives' nostalgia for Park Geun-hye's father played a major role in her 2012 presidential win (and still plays a role at the anti-impeachment rallies).
Park was raised in a presidential family during her father's 18-year-long dictatorship, and by becoming president herself, she was seen by many to be carrying on her family line. To many of her supporters, the impeachment is seen as an ignorant denial of the elder Park's legacy and perhaps of the Park family supporters' own struggles in the past.
"I'm so so angry," Shin said. "If impeachment passes, I'm still going to come out to the streets."
Yoon Byung-chul (73): "The issue isn't just the impeachment. I think the entire nation might dissipate," said Yoon, who traveled up from Geoje Island, about 400 km southeast of Seoul, just for the weekend really.
"The country has come down to this because our national identity is a mess." And what is this identity that Yoon speaks of? "It's a matter of supporting a liberal democracy or communism. There's no left or right. Just think of the leftists as people close to the North, and the rightists as people close to the U.S."
Yoon, former military officer and school principal, is repeating the conventional conservative rhetoric against the political left, which favors a softer approach to North Korea. During Park's presidency, a small leftist party was disbanded for the first time since 1958 for allegedly supporting North Korea at the cost of national security. Critics say the label "pro-North sympathizers" is a convenient conservative tactic to suppress any opposition.
To Park's supporters, stifling dissent on grounds of national security isn't suppressing freedom. On the contrary, it's the very act of protecting freedom. In their view, freedom is subordinate to national security, because protecting the country from communism — or, as critics say, claiming to protect the country — is the definition of democracy. Which is why the pro-Park protesters equate impeachment to dissolution of freedom and democracy. The logic of all this, of course, leaves much room for debate.
The ruling on Park Geun-hye's impeachment is likely to come out in March. Meanwhile, the pro-Park protests are growing in size every weekend, fueled by the impeachment decision in December and the deceptions the protesters allege on the part of the media and the prosecutors.
A recent poll by Gallup Korea showed that 80% of the surveyed Koreans still supported impeachment — but it is unclear how accurately representative this poll is. Out of the 1,007 respondents, only 208 supported the conservative parties, either the Bareun Party or Saenuri (now the Liberty Korea Party).
Political insiders say polls can be misleading. "Conservatives in their 60s and 70s aren't responding to polls," said Woo Sang-ho, floor leader of the Minjoo Party, the main leftist opposition. "Maybe they're the 'Shy Silver'; there are quite a few in the conservative bloc who aren't expressing their opinions."
Park's party is abstaining from judging the pro-Park protestors but many political parties, including the new conservative Bareun (a splinter from Park's ruling party as a result of this scandal), have criticized the conservative rallies as being extremist.
"The South Korean flag is the pride of this nation," wrote the Minjoo leader Choo Mi-ae on her Facebook. "Stop at once this abuse of the taegeukgi, the symbol of national independence and unity, to brazenly divide the people."
Cover image: A poster at last Saturday's anti-impeachment rally reads, "Have strength, president Park Geun-hye. We will protect you!"
Haeryun Kang contributed all images in this article.
Become a subscriber to access all of our content.