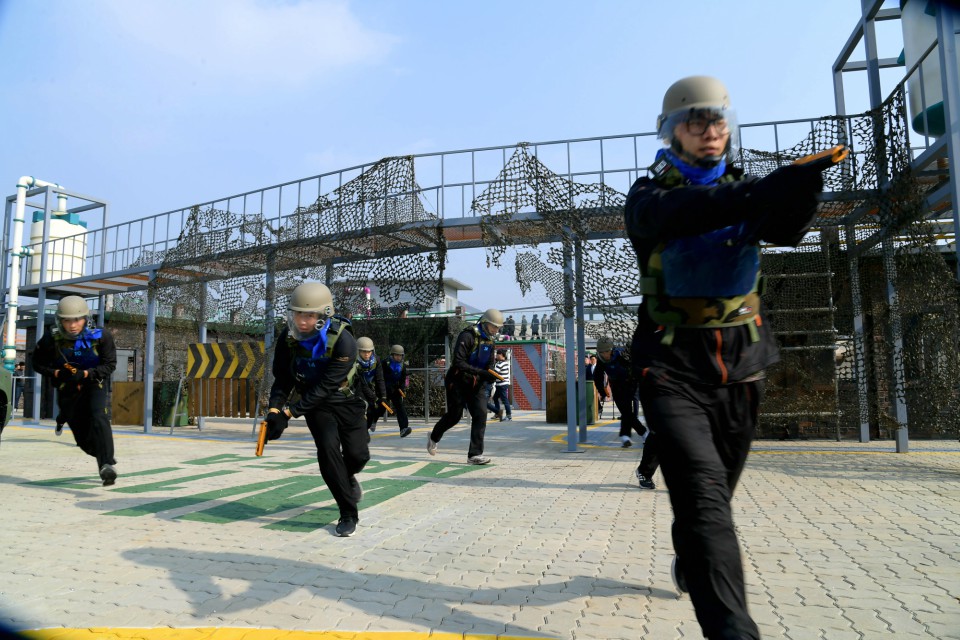 Sunshine Land: Where War is Actually a Game
On a crisp December Monday morning in Nonsan, South Chungcheong Province, city workers outfitted the students in Noh Min-hyun's sixth-grade class with child-sized body armor, helmets, and orange pistol-shaped BB guns. Resembling mini riot cops, the kids, divided into two teams, skipped and giggled their way into the newly opened Sunshine Land Military Experience Center to play a live action war experience called 'survival game.'
Machine gun fire and deep-throated male screams of agony blared over loudspeakers, providing a soundtrack to the game. Most of the kids began timidly, unsure of how to use their guns and reluctant to venture far from their team's starting point. As the game progressed, a few of the students — mainly boys — pushed further into Sunshine Land, exploring the space between its fake buildings and parked cars, to find and shoot their classmates-turned-play-enemies.
Just across the street from Sunshine Land is the Korea Army Training Center, the largest military training center in the country. In 2016, out of the 220,000 young men joining the army for their compulsory military service, 82,000 of them came to Nonsan for basic training. Over a million others — parents, siblings, friends, etc — came to visit them last year.
Sunshine Land's proximity to the army training center is no accident. According to Kim Jae-hui, manager of day-to-day operations at the military experience center, Nonsan mayor Hwang Myeong-seon saw a double opportunity to tap into the market of families and friends parting ways with conscripts, and to boost the city's profile and economy by attracting more military-curious visitors.
In addition to the survival game set, the center features screen shooting games, a virtual reality game, and a 1950s replica set called Sudden Attack Studio. A colonial-era set is also under construction. After a soft opening in November, Sunshine Land's doors will officially open on New Year's Day in 2018.
Unlike traditional military and security education programs in South Korea, visitors to Sunshine Land hear nothing about North Korea or the evils of communism. Sunshine Land instead draws visitors inward by scrambling distinctions between war as a game and as reality. Visitors find themselves immersed in an exciting, hyper-real world already made familiar to them through dramas, movies, and first-person shooter games.
Sunshine Land and similar military experience centers popping up around the country are mainly driven by local governments focused on attracting tourists.
Military experience centers, that treat war like a game, risk both trivializing and normalizing a state of permanent war on the Korean Peninsula. The Korean War never formally ended, and the next conflict always seems to be looming on the horizon; young people two or three generations removed from the Korean War are learning about what conflict means in a whole new way.
"Students these days play a lot of computer games," sixth-grade teacher Noh said. "But these experiences are indirect and nothing close to reality. For male students, because they will have to join the military in the near future, it is good for them to have a more realistic experience."
Lee Seong-jae, father of a small boy from Daejeon, said, "It's fun. There aren't many chances in Korea to try shooting a gun. On top of this, I came here because I thought it would be a good idea to visit with my son at least once." He added, "To be honest, there aren't many other places to visit in this area."
From the point of view of officials at Nonsan city hall, the main purpose of Sunshine Land is to generate economic activity. Development has proven tricky in Nonsan and other military cities, where much of the space is classified as 'military easement area.' Because the development of factories and other large facilities in these areas is limited or prohibited, Nonsan city hall has decided to emphasize tourism in its pursuit of local development.
The city put up half of the 1.1 billion won ($1 million) in funds for Sunshine Land, while South Chungcheong Province and the Ministry of Culture, Sports, and Tourism put up the rest. In 2013, the city appropriated a large swath of agricultural land and began construction; one elderly cleaning staff member told me that she used to cultivate sweet potatoes on the very same spot just a few years ago (for the record, working at Sunshine Land is easier).
In an interview at city hall, Shin Heon-jun, the Nonsan official overseeing Sunshine Land, explained the developmental logic at work: "If a lot of tourists become attracted to this area, private investment will follow: lodging, restaurants, entertainment facilities, and shopping areas."
Since the project was initiated, broadcaster SBS has invested 500 million won in a colonial-era drama set attached to Sunshine Land. Acclaimed screenwriter Kim Eun-Sook will use it to shoot Mr. Sunshine, a new drama about a Korean man who leaves Korea, joins the U.S. military, and then returns to his home country as a soldier.
The name 'Sunshine Land' was initially inspired by Kim Eun-Sook's drama, but for the park's manager Kim Jae-hui, the name has taken on a second meaning directly connected to local development efforts. "Like sunshine spreading out across a landscape," he waxed, appearing to recite a well-rehearsed line, "the news of Nonsan's military experience park will spread all over the country."
"Like sunshine spreading out across a landscape…"
Kim Jae-hui led me through the 1950s-style Sudden Attack Studio, a combined survival game space and drama set that shares two-thirds of its name with a popular first-person shooter computer game. Bombed out buildings mixed with U.S.-influenced shops and bars, and the façade of a U.S. military post exchange stood prominently at the set's entrance.
Kim Jae-hui and Shin Heon-jun did not seem to see Sunshine Land as anything more than a theme park. The re-created 1950s atmosphere of Sudden Attack Studio, Shin said, is a place "grandparents, parents, and kids can go together — it is a place for all generations." Instead of being a direct comment on the country's war experience, it is "a combined battle experience zone, photo zone, and drama filming location."
Sixth-grade students play an urban warfare survival game on a field trip to Sunshine Land.
Sunshine Land is part of a larger family of military education and experience projects around the country.
Down to the same blaring soundtrack of machine gun fire and anguished male screams, Sunshine Land's survival game is similar to one played by army reservists at a different facility east of Seoul in Namyangju. Reservists also play out on-screen urban warfare scenarios resembling those of first-person shooter computer games they would have played as teenagers in PC gaming rooms.
According to Yonhap News, Seoul city government is cooperating with Namyangju and the Army to allow civilian use of these training facilities as part of a broader effort to provide leisure and recreation opportunities to capital city residents.
"Grandparents, parents, and kids can go together — it is a place for all generations."
With the U.S returning 36 military sites to South Korea and consolidating forces in Pyeongtaek, some cities that have hosted U.S. military installations have turned to military experience parks as a way to capitalize on, and transform, their local military identities while making use of former U.S. military lands and infrastructures.
Because the Defense ministry owns most lands returned by the U.S., cities face limited development options. They must either purchase the lands themselves at market rate, which they can rarely afford to do, or undertake specific kinds of development projects, such as parks, to be eligible for financial assistance from the central government.
Recently, Paju and Gyeonggi Province made a deal with the Defense ministry to create a military experience and history park at former U.S. Camp Greaves, closed in 2004. Visitors to the park, located north of the Imjin River near the border with North Korea, can spend the night in former officers' quarters, try on military uniforms, make military dog tag souvenirs, and spot filming locations from the Descendants of the Sun, another Kim Eun-Sook drama.
Meanwhile, where I live in Dongducheon north of Seoul, one anonymous city official told me that he dreams of converting Camp Casey, a U.S. military base, into a U.S. military experience park once the base land is returned to South Korea. A shooting range and an English-only policy would attract outside visitors; the existing Burger King, Popeyes, and Starbucks would remain intact, with no Korean restaurants permitted; and part of the space would be privatized, with barracks becoming luxury apartments. City planners in Uijeongbu have similar ideas for U.S. Camp Red Cloud, which the U.S. plans to return to South Korea in 2018.
The proliferation of tourism-focused military experience centers comes at a moment as the government's youth programs for security education face a dramatic shift in tide. Notable is the right-wing, anti-communist Patrotic Education program, launched in 2011 under the conservative Lee Myung-bak administration. In early December, the Moon Jae-in administration — the first non-conservative government in nearly a decade — announced it would suspend classroom visits by lecturers and slash the budget of the Patriotic Education program, which is run by the Defense ministry.
As revealed by investigative journalists, Patriotic Education lecturers disseminated false information on daily life in North Korea, and portrayed South Korean critics of state security policy as North Korean spies. Lecturers also subjected at least 500 elementary school students to a violent video depicting forced abortion and infanticide in North Korea.
Although the Defense ministry claimed that a public release of the problematic video would damage national security, it was forced to release the video earlier this year, after a three-year legal struggle with left-leaning civic organization People's Solidarity for Participatory Democracy (PSPD).
Following this victory, PSPD and other civic organizations continue to pressure the government to close traditional military experience camps operated by the Ministry, such as the Marine Corps Camp for youth in Pohang. At this camp, middle and high school students can spend five days with experienced marines receiving training — in everything from chemical warfare to airlift techniques. They can also take a ride in a KAAV, a monster-like amphibious assault vehicle. In 2013, five students drowned in the ocean after being pressured by instructors to swim in rough waters.
"Military training programs for children have a negative influence on them, fostering violence and hostility, and we therefore insist that these programs be abolished," Hwang Soo-young of PSPD
In newer military experience centers, such as Sunshine Land, where tourism, gaming, and military experience coalesce, activists face an uphill battle in their struggle for peace-oriented education.
Moon A-young, a facilitator at peace education organization Peace Momo, which opposed the Patriotism Education program and youth military camps, said that she was "shocked" to learn that Sunshine Land is funded not by the Ministry of Defense, but the Ministry of Culture, Sports, and Tourism.
"Children's military experience is a heartbreaking example of how Korean society has become desensitized to military culture. Adults have an obligation to prevent kids from reliving the painful experiences of war suffered by previous generations. Let's not pass down the language of division and destruction to our children," Moon wrote in an email.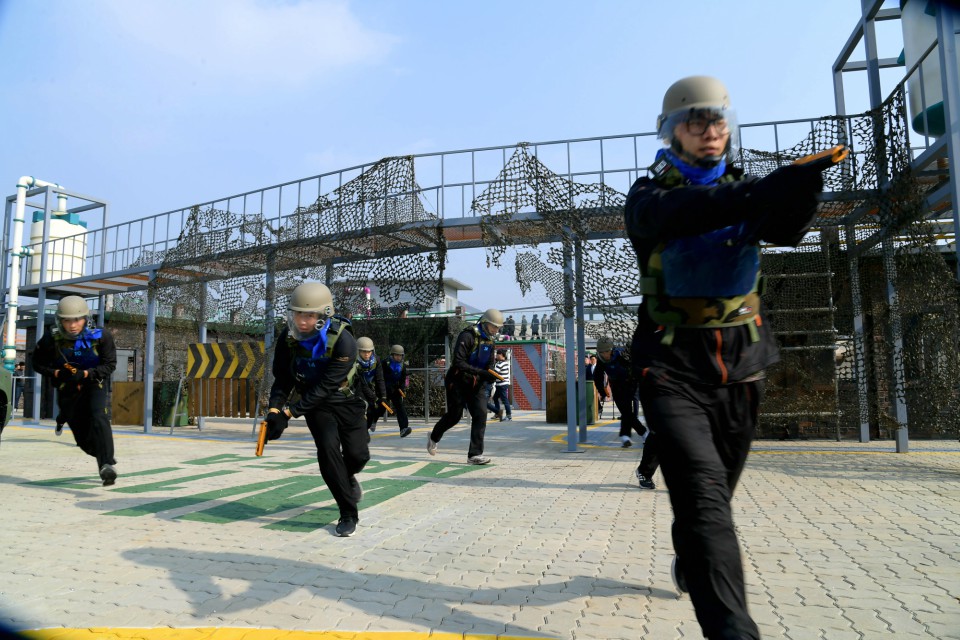 On the same day the sixth-graders had their Sunshine Land game shoot-out, hundreds of conscripts — some of them just seven or eight years older than the elementary school students — arrived in Nonsan to start their real-life military service. There was no skipping and giggling. The young soldiers-to-be milled around in front of the training center gate with somber faces.
Before they crossed into the training center by the 2:00 p.m. cutoff time, the young men ate their last outside meal with their parents, siblings, friends, girlfriends, and other loved ones.
When I asked one of the sixth-grade students visiting Nonsan's Sunshine Land what he learned during the survival game, he replied, "Guns are really hard to use. And also, you don't want to go into a war with a BB gun." In just a half dozen years or so, this student will have his chance to fire a more powerful weapon, one loaded with live ammunition.
Cover image: Sunshine Land's survival game set. (Source: Courtesy of Nonsan City)
*
The Korean War is a distant memory for most South Koreans; even North Korea's frequent provocations are met with indifference. Why? Read more about how South Koreans respond to North Korea:
Become a subscriber to access all of our content.