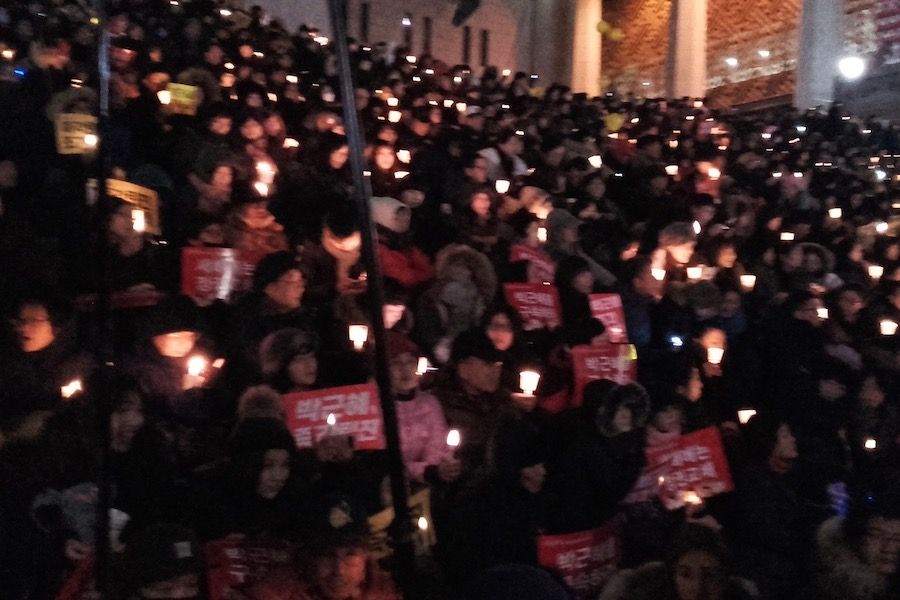 End of 2019, End of Candlelight Revolution's Hope
As 2020 begins, the optimism that permeated South Korea in late 2016 and early 2017 seems but a distant memory. Three years ago, hundreds of thousands were holding peaceful weekly demonstrations—popularly dubbed the "Candlelight Revolution" for the candle-carrying participants—against corruption on the part of then-president Park Geun-hye and her confidante Choi Soon-sil. In March 2017, Park was removed from power by the nation's constitutional court, which unanimously pronounced her unfit to continue her duties.
Replacing Park was opposition Minjoo party candidate Moon Jae-in, who won the specially scheduled presidential election by a wide margin. In his inspiring inaugural speech on May 10, 2017, Moon promised that he would "create a world without special privileges and disregard toward rule of law." He would make "ability and suitability his principle in personnel appointment." And above all, he would "not try to counter disadvantageous public opinion with lies."
Having attended several of the anti-Park demonstrations and commented regularly in the media on the corrupt and repressive nature of Park and her allies, I was elated to witness Moon's victory. Minjoo championed a center-left social agenda catering to the poor and the marginalized. And anything would be an improvement on the nine-year rule (2008-2017) by Park's conservative Saenuri Party (now called Liberty Korea)—characterized by anti-communist fear-mongering and neoliberal economic policies favoring the country's powerful family-controlled corporations.
Or so I had thought. With a little less than half of Moon's term remaining, the era he ushered in hardly looks to be fair or just. Despite being the Candlelight Revolution's biggest beneficiaries, Moon and Minjoo have been a disgrace to the movement's democratic spirit. South Korea is once again back in the throes of corruption and partisan politics that led to Park Geun-hye's outster.
___
The beginning was rosy, as many presidential tenures tend to be. Moon enjoyed consistently high approval ratings for an entire year. The government prosecuted Park and jailed Lee Myung-bak, Park's conservative predecessor, for corruption. Media was abuzz with stories about how "humble" and "down-to-earth" Moon was for putting on his own jacket, dining in the employee cafeteria of the presidential Blue House, and buying shoes handcrafted by artisans suffering from disability.
In an attempt at raising living standards for the poorest paid workers, Moon increased the minimum wage by 16 percent in 2018, and again by nearly 11 percent in 2019. While that economic initiative has been controversial for being too abrupt and too fast, it still had its share of supporters in a country where inequality is a growing problem.
Then, disappointments began to mount. Moon's promise to introduce checks and balances against his own office—long seen as disproportionately powerful within the political system—came to naught as a constitutional reform failed in the National Assembly. His pledge to reduce the influence of big family-controlled conglomerates like Samsung and Hyundai started to look doubtful when Moon began appearing in the company of those same families, using them to tout his big economic initiatives (Moon joined Samsung's head Lee Jae-yong on a ribbon-cutting ceremony at the firm's new factory in India; and he has been pushing such big companies to help him on economic collaboration with North Korea).
In a bizarre move, he even offered the Samsung chairman's brother-in-law—Hong Seok-hyun, head of one of the most powerful media companies in the country—a position of special advisor to the president on unification, diplomacy and national security (Hong declined).
Once hard on Park Geun-hye for her intolerance of criticism, Minjoo appears little different from her and her party now that it has power. When opposition Liberty Korea Party floor leader Na Kyoung-won labelled Moon "[North Korean leader] Kim Jong-un's chief spokesperson" (for pursuing détente with Pyongyang) in a March 2019 speech at the National Assembly, Minjoo lawmakers flipped out and brought the session to a halt, with their leader Lee Hae-chan asserting that the statement amounted to a "crime of insulting the head of state."
When Na defended herself by saying that she was merely quoting a Bloomberg article that said as much, Minjoo's chief spokesperson singled out the journalist—a South Korean citizen—by name in an official statement and slammed her for writing what he called "borderline treasonous content that insulted the head of state while in the guise of a U.S.-based media outlet." As a result, she reportedly started receiving threats to her personal safety.
The promise of not using lies to counter disadvantageous public opinion notwithstanding, Moon supporters—sometimes called "Moonslam," a portmanteau that combines Moon's name with "Islam" for their seemingly religious zeal in protecting him—are notorious for shutting down criticism real and imagined of the president, to the point of making journalists express fear of doing any coverage that might be construed as negative.
On another front, it emerged that Minjoo has sought to unduly influence online public opinion. One of Moon's closest confidants—lawmaker Kim Kyoung-soo who went on to become governor of South Gyeongsang Province in June 2018—was found guilty in January 2019 of manipulating public opinion and breaching the public election act. The case concerned the allegation that Kim had conspired with a prominent Minjoo Party supporter and blogger to control the visibility of comments on articles concerning Moon on big internet portal sites during the 2017 presidential race. The effect had been to amplify the impression that public support for him and the party was greater than in reality.
Regarding human rights, the Moon administration made clear its aversion to accepting a small number of refugees from Yemen in 2018 (most of them have been given only temporary residency, subject to renewal). The government also moved in that same period to exclude mentions of sexual minorities from the national human rights policy guideline (no surprise since Moon already said during a 2017 televised debate that he opposed homosexuality). Its reluctance to discuss human rights in North Korea is already well-known, and the administration cozies up to foreign governments with questionable human rights records like that of India's Narendra Modi for economic benefits.
___
But the most troubling aspect of the Moon administration and Minjoo since 2017 has been low ethical standards and corruption, precisely because the party has always positioned itself as morally superior to the South Korean conservatives.
From the beginning of the presidency, Moon's myriad appointees have been embroiled in immoral or illegal conduct, including Financial Supervisory Service chairman Kim Ki-sik. Even the president's chief spokesman Kim Eui-kyeom had to resign in March after news surfaced that he had been speculating on the real estate market—all while the government was implementing policies to curb, well, real estate speculation. A presidential nominee for the Constitutional Court of Korea and her husband—also a judge in the past—were found in April to have been trading in shares of companies involved in trials over which the couple had presided; Moon appointed her to the bench anyway. Ahn Hee-jung, a Moon ally and rising star in the Minjoo party who was widely seen as a 2022 presidential contender, was convicted of sexually assaulting a former aide in a final, binding September ruling by the supreme court.
And while foreign media's current focus is on Moon's year-end pardon of conscientious objectors to compulsory military service, the list of those pardoned includes a senior Minjoo figure convicted of receiving bribery and known for his close connection to Moon.
The first half of the Moon Jae-in presidency cannot be summed up without mentioning Cho Kuk, senior presidential secretary who became justice minister on Sep. 9 for all but 35 days. For this appointment he was handpicked by Moon Jae-in with a specific task in mind: reforming the Prosecution Service—a powerful entity within the executive branch that successive South Korean presidents have deployed to eliminate political enemies and quash dissent.
Prosecutors can investigate crime and monopolize the power to indict suspects in criminal cases. They do not form a part of the judiciary but answer to the justice minister and ultimately the presidential office, which appoints the prosecutor general. Predictably, their actions appear often to favor whomever in power. When evidence of corruption involving Park and her friend Choi Soon-sil first surfaced in 2014, prosecutors declared it fabricated (and instead charged three possible sources of leaking state secrets).
Making the prosecutors' office less powerful and subject to greater oversight was one of Moon's main campaign pledges. Cho, a law professor and Moon loyalist, seemed to be the right choice for the job because he had no previous ties to the law enforcement or national security apparatus that would complicate the task. But Cho's nomination and confirmation soon proved to be beyond contentious, unleashing a flood of corruption allegations against him and his wife, uncovered by conservative press.
The complete list is breathtakingly long, but noteworthy are using their positions and personal connections to improve their children's educational success, abusing his position as a senior official to enrich the family, and halting an investigation into bribery allegations involving a ruling-party figure close to the president.
Cho initially resisted calls to resign but stepped down once he became a liability for Moon and Minjoo, dragging their approval ratings down the longer he stayed in office. His wife was indicted soon after Cho became justice minister, and he himself looks to face a criminal trial against the very prosecutors he was supposed to supervise.
___
Although the substance of the charges against the couple are hard to dispute based on publicly available information, Blue House senior secretary for public communication Yoon Do-han claimed improbably on Dec. 31: "The result [of the investigation] has been beyond pathetic despite going so far as to encroach on the president's right to appoint personnel. It's a result that casts suspicion on the motive behind it."
At the same time, Minjoo passed on Dec. 30 a legislation establishing an oversight body with the power to investigate allegations of crime by high-level officials including prosecutors. What would have been a welcome development for South Korean democracy in an ordinary circumstance is raising eyebrows for the timing: the new entity has the potential to put pressure on the prosecutors investigating Cho Kuk and to undermine the case, which has grown to implicate a number of other figures connected to the Blue House.
Reflecting the various blunders, Moon's approval ratings have been hovering between 40 and 50 percent for about a year. They indicate the support he enjoys has shrunk to the core Minjoo base in this critical runup to the April parliamentary election. The end result is almost certain to be a split between center-left Minjoo and rightwing Liberty Korea, and even the dreaded possibility of the disgraced conservatives' takeover of the legislature cannot be ruled out.
The chief promise of the Candlelight Revolution three years ago was that the nation could at last engage in politics without corruption and deception. Protesters carried signs that posed the question "Is this really a country?" Moon, in turn, made a point of saying in his numerous speeches that he would make South Korea "a country worthy of being called a country."
As the new decade dawns, it is abundantly clear that neither Moon nor Minjoo is up to that task. If anything, all they have done is to engender people's cynicism toward the political process, and to make democracy a farce.
The Moon presidency is a cautionary tale not just for South Korea, but also for activists battling repressive forces in their respective countries: when an illiberal government is brought down, it is easy, but not altogether advisable, to turn to its most obvious alternative to bring about genuine change.
Cover image: a scene from the Candlelight Revolution, taken on Dec. 31, 2016 (Source: Wikimedia Commons)
Become a subscriber to access all of our content.