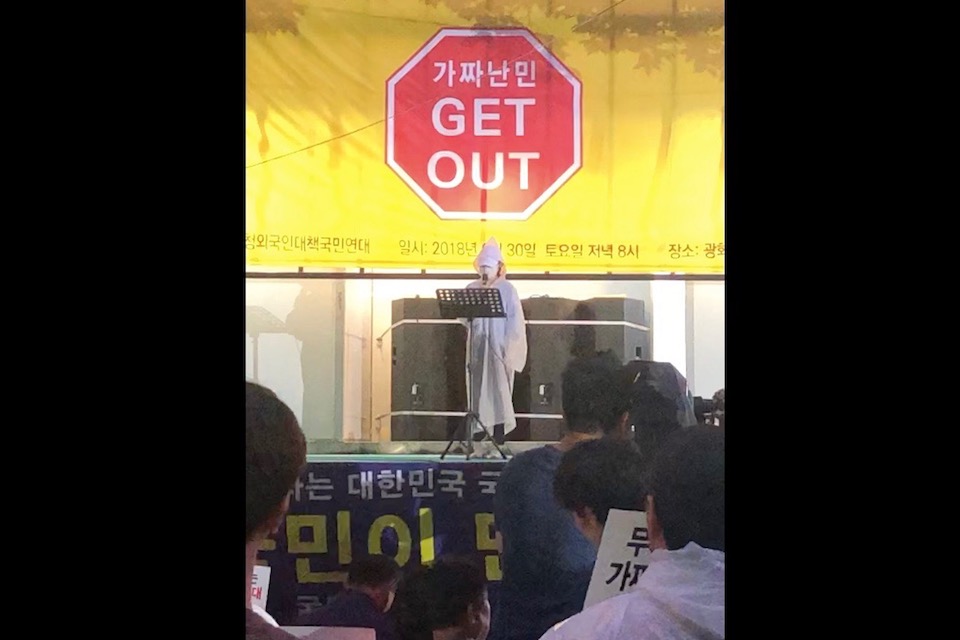 Tyranny of South Korea's Majority Against Refugees
From a distance, it had the feeling of a summer evening street party. A young man stood on a modified truck bed and belted out tunes to entertain a growing crowd. People—some seated on plastic chairs and others standing around—held up electric candles. Many were young hipsters. Parents brought children.
That sense of normalcy made the gathering more frightening. The impromptu stage was festooned with a banner that read: "Fake refugees—GET OUT." Many held up signs with the words "Oppose the Refugee Act, passed without citizens' consent."
This protest, attended by some 1,000 people on Saturday evening, was the culmination of popular rage on the rise since reports emerged early last month that 552 Yemenis fleeing war in their country had come to the South Korean island of Jeju between January and May and applied for asylum.
In response to the arrival of these Yemenis, more than half a million South Koreans have petitioned President Moon Jae-in to turn away all refugees. Online platforms have become refugee-bashing grounds. The government scrambles to appease the public by announcing ever-stricter measures to keep refugees out.
South Korean society has long been intolerant of outsiders, but the outrage sparked by a small number of Yemenis illustrates how deep xenophobia runs. For all its vaunted democracy and economy, compassion and humanitarian instincts are in short supply here. And the state bears much of the blame for normalizing hatred.
South Korea has no justification for harboring anti-refugee sentiment given how few refugees it accepts. The Justice Ministry data shows that in 2016—the latest year for which the government website has data—7,542 applied for asylum, while just 98 cases ended in success. In spite of being a signatory to the UN Refugee Convention and having a Refuge Act to facilitate compliance, this country has accepted only 2.5 percent of all asylum seekers it has screened since 1994 (not counting North Korean defectors), says the Human Rights Watch.
Even when those who applied for asylum here before the end of 2017 are counted, the total number of Yemeni asylum seekers in South Korea doesn't exceed 1,000, and most of them won't be staying if the government stays true to its track record.
The overblown reaction to the tiny number of Yemenis is a telling reminder of ingrained racism. Almost a decade ago, in 2009, an Indian scholar in Seoul made headlines by pursuing a criminal complaint against a South Korean man who hurled racial and sexist slurs at him and his female South Korean friend (who was insulted for being with a dark-skinned man).
The incident prompted much hand-wringing over enduring hostility at foreigners, especially those who come from less developed countries or have darker skin. Not much has changed since then.
In June 2017, a bar in the popular Itaewon district of Seoul was in the news for refusing an Indian customer. "No Indians," the bouncer could be heard as saying. "It is a rule. No Kazakhstan, no Pakistan, no Mongolia, no Saudi Arabia and no Egypt." That bar's owner ended up apologizing, but only a few weeks ago, a naturalized South Korean citizen of foreign origin emailed me to ask whether I would consider writing about how he, too, had been rejected by a different bar in the same area. Abuse and exploitation of migrant workers from less developed parts of Asia is rampant.
None of this is surprising given South Korea's education system. For decades children, myself included, were taught to believe that this is a single-blooded nation — dubbed danil minjok in Korean — at school. This myth of racial purity was promoted to foster national unity. Only after 2007, when the United Nations urged South Korea to stop promoting this racist notion, did the school curriculum change.
Granted, with interracial marriage on the increase, especially between South Korean men and women from other parts of Asia, the government has promoted the idea of damunhwa — literally "multiculturalism." But defined as encompassing only foreigners marrying South Korean citizens, the damunhwa paradigm promotes little tolerance for other types of foreigners seeking to stay long-term, such as refugees.
Effects of such pernicious educational and cultural policies can be directly observed in young South Koreans. According to a study published by daily Hankook Ilbo on Jun. 30, people in their twenties and thirties expressed the highest levels of opposition to accommodating Yemeni refugees, at 70 and 66 percent respectively. (In comparison, 43 percent of those in their forties were opposed.) A survey conducted by the Varkey Foundation, a global charity, of 20,000 people born between 1995 and 2001 in 20 countries found that well before Yemeni refugees became an issue, young people in South Korea already had by far the most negative views toward immigrants, more so than in any of the other 19 countries.
The arrival of the Yemenis coincides with a worsening climate of hate. Misogyny has been on the rise for the past two years, partly in reaction to women's more forceful demands for gender equality in a country that clings to patriarchal mores. The powerful Evangelical lobby and its political allies spread Islamophobia by claiming that "we, too, might become a Muslim state," without convincing evidence. The same Christian alliance has also been active in persecuting South Korea's fledgling LGBT community, which has never been widely embraced to begin with.
But it has been especially disheartening to see Yemeni refugees become targets of so much hatred—a combined product of racism, xenophobia and Islamophobia that permeate this society—so quickly. Suddenly even some feminists got on board, urging people to sign the anti-refugee petition because accepting refugees, especially those from Muslim-majority countries, allegedly "endangers all South Korean women."
It would only be right that the ostensibly progressive Moon Jae-in administration take the moral high ground, but I see no hope there. Moon himself, a human rights lawyer in the past, didn't hesitate to say he opposed homosexuality during a televised presidential debate a year ago, showing little sympathy for minorities. Foreign minister Kang Kyung-wha, formerly U.N. deputy high commissioner for human rights, has remained mum. It's clear neither of them will risk political capital on this issue.
Jeju is a visa-free zone for tourists from most countries. When pressed on the issue of Yemeni refugees, presidential spokesperson Kim Eui-kyeom told journalists on Jun. 20 that visa rules had been changed to stop more Yemeni refugees from entering Jeju. The Justice Ministry will expedite processing, presumably to expel those who are here faster. On Jun. 29, a ruling Democratic Party lawmaker introduced an amendment to the Refugee Act so that some foreigners won't be able to even ask for asylum.
Thankfully, not all South Koreans are bigots; polling data from Jun. 20 showed that 39 percent supported accepting Yemeni refugees, with some 49 percent opposing. The anti-refugee protest was countered by a much smaller but passionate "anti-anti-refugee protest" just one block south.
There are also several high-profile voices of reason. "How could we possibly ask our children to love this world if we discriminate against other races, other nations and other religions?" said Jung Woo-sung, a South Korean actor and goodwill ambassador for the U.N. Refugee Agency, at a public forum on Wednesday. That same day, Seoul mayor Park Won-soon posted on his Facebook page: "We, too, were once refugees."
But this is a minority, and the anti-refugee protesters knew it well. They used the term gungmin—the Korean word for citizens—liberally in their slogans to boast that it is they who speak for the majority. Implying their cause is just, they held up electric candles reminiscent of those in use during the candlelight protests against the corrupt president Park Geun-hye. Even the anonymous blogger who instigated the event goes by the nickname Ilban Gungmin—literally "Ordinary Citizen."
When male chauvinists from the ultra-rightwing site Ilbe took to the streets four years ago to mock families who had lost their children in the Sewol ferry sinking, it was appalling but not demoralizing. There were only so many of them, I thought. They didn't speak for the entire nation.
When ordinary citizens direct undiluted hatred at a small, vulnerable group, and see nothing wrong with it, it's downright chilling.
A shorter version of this essay appeared in the Opinion Section of The New York Times on Jul. 1, under the title "South Korea's Enduring Racism."
Cover image: The blogger known as Ordinary Citizen, who instigated the anti-refugee rally on Jun. 30 in downtown Seoul, took to the stage to address the crowd. (Staff/Korea Exposé)
Become a subscriber to access all of our content.