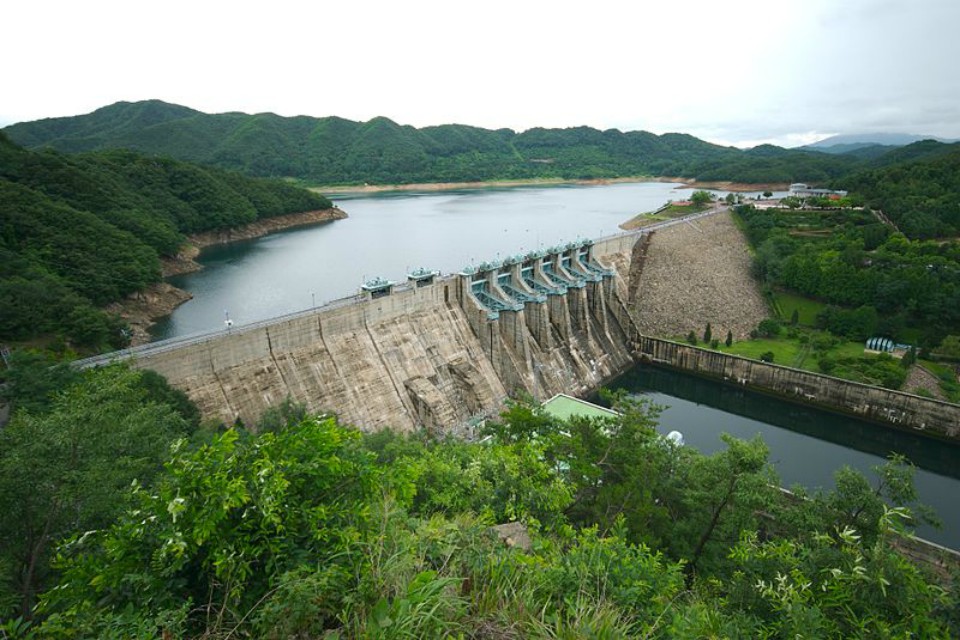 The Damming Verdict on Hong Joon-pyo's Drinking Water Plan
Hong Joon-pyo and his Liberty Korea Party regularly come out the worst when comparing presidential candidates' environmental manifestos. Be it climate change, energy, fine dust, land and sea management or almost anything else, the conservative candidate routinely fails to provide answers or is slammed for his inadequate plans.
Recently, one of Hong's two main environmental policies have been savaged by environmentalists.
Among his ten key manifesto pledges, the former South Gyeongsang governor promises to "supply pure, first-rate water to every home" by "building more small- and medium-sized drinking water dams." He calls the current drinking water from the taps "substandard" and vows to provide, instead, "first-rate water," essentially claiming to substitute bread with cake. He also pledges to expand the country's gray water pipe networks.
What would this mean in practice? Many of South Korea's rivers are already stagnating, as a result of the dams built as part of the Four Major Rivers Restoration Project. Would Hong's bid to deliver clean water mean more dams, built further upstream and in even more pristine natural areas?
It didn't take Korea Federation for Environmental Movements (KFEM) much time to rip apart Hong's idea, exposing it as "technologically, financially and environmentally impossible." KFEM argued:
– Even if each dam held 299 million tonnes of water (the largest possible size under the internationally-defined "large dam" category), 2,467 dams would be needed to supply South Korea's annual need for 7.4 billion tonnes of water. South Korea currently meets this demand, mostly by drawing water from rivers. But Hong is pledging to drastically increase the quality by providing pristine, and presumably upstream, water through new dams. It's an impossible pledge to carry out.
– Hong's suggestions for a gray water distribution network could require the laying of tens of thousands of kilometers of new pipes, potentially costing tens of trillions of won.
– Even using existing large facilities such as Soyanggang Dam and Andong Dam, as Hong has suggested, could provide only up to 29 percent of the country's domestic water needs. Besides, the water held in these dams' reservoirs is not "first-rate" (which refers to water with biological and chemical oxygen demands — standard measurements of water purity — of less than one milligram per liter).
– Hong's plan severely undermines South Korea's existing drinking water system by suggesting that tap water is now below standard (the Environmental Performance Index ranks South Korea 37th worldwide in terms of access to drinking water, between the United States (36th) and Saudi Arabia (38th).
According to KFEM, Hong's plan appears poorly conceived at best, and fraudulent at worst.
"The best way to obtain cleaner water is to open the sluice gates on the dams of the Four Rivers, but this would mean admitting that the project [implemented by previous conservative governments] was a failure," said Shin Jae-eun, a manager at KFEM. Opening sluice gates is a temporary way of allowing river water to flow again, alleviating stagnation and effectively negating the function of the dams themselves.
"It appears that Hong has come up with this policy as a way to try and provide clean water through even more civil engineering work instead."
Shin speculated that Hong's dam pledge, with its acute lack of detail, appeared to have been put together in haste due to the unusually short election campaign.
A policy spokesperson for Hong's Liberty Korea Party defended the dam plan, telling Korea Exposé that it was "quite feasible." When asked for more details, she said that those in charge of the pledge were unavailable for comment.
Meanwhile, progressive candidate Moon Jae-in, who appears set to win Tuesday's election, has pledged to reassess the Four Rivers project after permanently opening the sluice gates on larger dams, and to come up with a "comprehensive plan for water improvement." It's not yet clear what this plan will entail.
Cover image: Daecheong Dam in South Korea. (Source: Wikipedia)
*
Read more on South Korea's presidential election:
Become a subscriber to access all of our content.