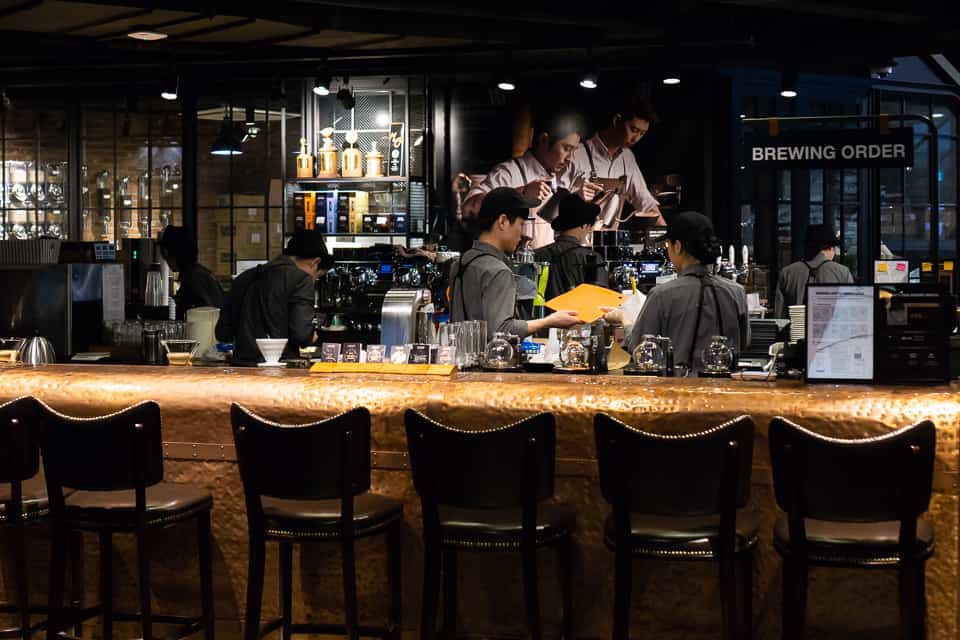 Ediya Coffee: South Korea's Answer to Starbucks?
For a country that cannot grow coffee beans, South Korea is certainly infatuated with coffee. According to the Korea Customs Service, South Korea imported more than 159 thousand metric tons of coffee beans in 2016, and 40 thousand tons for the first quarter of 2017 alone. One cup of coffee requires an average of 8 grams of beans, meaning for South Korea's 50-million citizens, annual coffee consumption is roughly 400 cups per capita.
Starbucks leads the market — in 2016, it earned a staggering 1.1 trillion won (roughly $1 billion) in sales and 65 billion won ($60 million) in profits, partly due to a key advantage over domestic coffee brands: The South Korean government bans franchises from licensing more than one store in a 500 meter radius.
Starbucks is not subject to this regulation, because all its stores are directly operated by Starbucks Korea. Most coffee brands operate under a franchise system, in which the headquarters grant licenses to independent business owners to open a licensed store.
Under tougher regulations, domestic brands are locked in intense competition to become the face of South Korean coffee. Caffé Bene, which opened upwards of 300 new stores a year in the early 2010s, went into rapid decline in 2015 and is now under corporate restructuring. Tom N Toms Coffee, also a popular domestic brand, has been plagued with controversy following allegations of embezzlement by its CEO Kim Do-gyoon.
Amidst the fierce competition, Ediya Coffee has triumphed across various metrics. It was evaluated by the Korea Fair Trade Mediation Agency in 2016 as the most profitable coffee franchise in South Korea. It recorded roughly 700 billion won ($650 million) in sales in 2017 and has the most number of stores across the nation, having opened its 2,500th store just last month.
During its 17 years in business, only around 250 stores have closed, making it one of the most sustainable franchises in South Korea. Around one percent goes out of business every year, compared to Caffé Bene, whose rate of closure was over 20 percent in 2016.
Korea Exposé met with Moon Chang-Ki, Chairman of Ediya Coffee, to find out how he managed to create a sustainable and popular brand in an oversaturated, hyper-competitive coffee market.
The following interview has been edited for length and clarity.
*
Korea Exposé: How did Ediya Coffee begin?
Moon Chang-ki: Ediya Coffee was founded in 2001, but I acquired it in 2004. I was a banker in the 1990s, and was one of the founding members of Donghwa Bank, which was unfortunately closed by the government during the IMF crisis. The crisis affected us all, but I was able to bounce back and establish an M&A firm called "Eureka Ventures."
In 2004, an acquaintance asked me to assess his coffee brand, Ediya Coffee. I was skeptical at first, but saw that the franchisees were all quite happy and had a steady revenue model. I took a risk and personally acquired the company.
Did you have any interest in coffee before?
Not really. I had spent 15 years in banking and coffee meant little to me. When I acquired Ediya, it had suddenly become my job to lead this company.
Business is all about a having a concrete revenue model, identifying who our clients are, and serving them well. For Ediya, our core clients are our franchisees — the business owners who operate our 2500-plus stores across the nation. To give our franchise owners good returns on their investments, we, the company, need to provide them with a sustainable revenue model.
What sets Ediya's business model apart?
We grew as a no-frills business that sold good, affordable coffee. It filled a niche market in a time when cafés would sell coffee at 4,500 won a cup. [Editor's Note: One cup of Americano at Ediya costs 2,800 won, or $2.60.] We were able to do this by keeping the cost of each store lower– smaller stores, simpler interior design, and lower payments to headquarters.
Affordable prices shouldn't detract from quality. We put great care into our coffee, hosting routine blind tastings and trying to improve our beans every year. We also make sure our beans are all sold within a month of roasting.
Many domestic companies have corporate backing, so are slow to keep up with changes in the coffee market. For us, it's all about coffee. South Korean consumers' tastes evolve every year, so it's crucial to be decisive when need be, and not be bogged down by other interests.
What do you mean by other interests?
For coffee chains, there are different ways to expand aggressively or pursue higher profits. For example, an IPO would allow us to expand rapidly with the influx of investors' capital. We have been ready for an IPO for a while.
Once investors are in the picture, their interests must also be constantly met. However, meeting their interests may damage franchisee sustainability. If our franchisees are hurt in the process, aggressive expansion loses its value in the long run.
Has there been some competition within the affordable coffee market?
Cheaper coffee brands have emerged in recent years, but it's unrealistic to profit from selling 1,000-won coffee (roughly 90 cents). [Editor's note: for example, a store with a 3 million won rent and three employees must sell about 9,000 cups a month, or 300 cups a day to break even.]
They occupy a different market, so we still have the strongest footing in the mid-range coffee market.
How do you maintain your domestic footing?
We have a proven revenue model and a young, creative, and happy team that is quick to adapt and innovate. All employees have direct lines of communication with the CEO and other executives, because all feedback is valuable in some way or another.
Employees and franchisees need to feel valued. Even pets know which family member loves them the most! It's human instinct to know when they're being loved or neglected. It's been my lifelong dream to run a company that people are happy to work for, a place where people show up smiling every morning. I want them to feel loved.
That's why we strive for a horizontal corporate culture, free of exhausting hoesiks and stifling, hierarchical interactions. Who wants to come to work when they're hungover?
We also strive to tackle the glass ceiling for women. We have approximately the same number of men and women employees, while forty percent of our executives are women. Beyond the ethics of it, there's a business component to the need to eradicate sexism: about two-thirds of our customers are women, and their feedback matters.
What else makes Ediya attractive to franchise owners?
Most brands demand about five percent of revenue in monthly royalties. We keep monthly royalties at a flat fee of 250,000 won [roughly $230]. We also provide up to 3 million won [$2,800] in marketing for each franchisee. These policies incentivize owners to care for their business like it's their own.
Following the recent minimum wage hike, Ediya headquarters lowered the price of supplies to our franchisees. [Editor: Since 2018, the Moon Jae-in government has increased the hourly minimum wage by 16.4 percent, from 6,470 to 7,530 won.]
We were hit with a loss of approximately 4.5 billion won ($4.2 million), but it was a necessary decision for the longevity of all our franchisees. Ethical management is about cohabitation.
At 2,500 stores, do you ever worry that cohabitation will become harder?
I think our estimated maximum number of stores would be about 4,000 stores. Because we will reach this number eventually, we have also been expanding our instant coffee line, called Beanist.
We'll also be expanding to China soon, and are looking to expand to other countries as well. So many domestic brands have expanded abroad without a solid domestic footing and have failed. 2,500 stores in, we feel ready to look outwards. We want to become the face of South Korean Coffee, the nation's coffee, so to speak.
Cover Image: Baristas at Ediya LAB, Ediya Coffee's R&D center and high-end café located at Ediya Coffee headquarters. (Ho Kyeong Jang/Korea Exposé)
Become a subscriber to access all of our content.