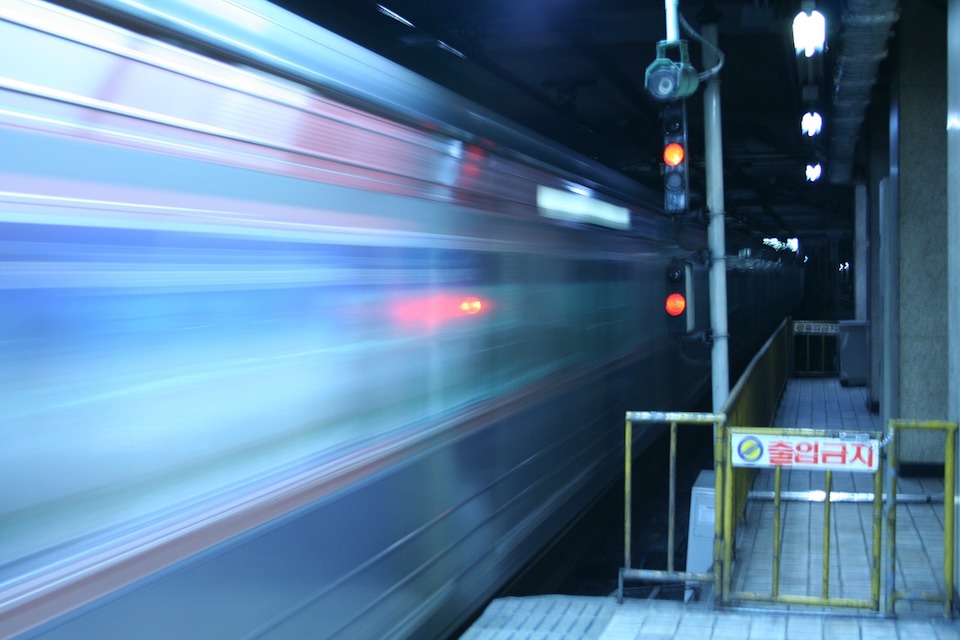 KÉ Interview: A Disabled Person's Day Is 12 Hours Long, Not 24
Hong Yunhui's 12-year-old daughter has never been able to walk on her own, having in infancy suffered spinal cancer that left her permanently disabled. Her lack of mobility has made every day a challenge for mother and daughter.
Once, while transferring through Wangsimni, a labyrinthine mega-station in Seoul with four intersecting train lines, Hong carried Jimin (pseudonym) to the bottom of a staircase, then left her sitting on the floor while she walked back up to retrieve her daughter's wheelchair. Meanwhile, crowds of Seoulites sauntered past, up and down the same stairs that Jimin couldn't use by herself.
"Mom, this is too hard for you," Jimin told her mother at the time. "If going out into the world means you have to suffer like this, I don't want to go out."
Hong said she was irritated. Not at her daughter, but at the reality that limited her daughter's world to the confines of her wheelchair and the narrow range of places that could accommodate it. This reality meant it might take her daughter hours to make a single subway transfer, where people without disabilities could do in ten minutes.
South Korea's urban landscape is replete with hilly, narrow streets that are unfriendly to pedestrians and prohibitive to anyone in a wheelchair. Many underground and overground passes don't have elevators. That goes for a lot of buildings, too. It is daunting for a disabled person to transfer at a subway station, where stairs without the right wheelchair infrastructure often pop up at unexpected corners.
Hong's family experience, and her country's general lack of wheelchair accessibility, led her to start Muui, a nonprofit that aims to map out Seoul subway's transfer routes for disabled people. Since 2015, she has worked with at least 100 volunteers, including one-time helpers, raised around 8 million won (over $7,000), and drawn the maps of sixty zones in 36 stations.
Seoul's sprawling metro system has around 300 stations within Seoul's city limits — 37 of which don't have any elevators — and over 500 in the greater Seoul area, which includes the surrounding Gyeonggi Province.
The subway is a microcosm of the various structures in South Korean society — buildings, roads, public transportation — which often by design place people with disabilities at a disadvantage. Many of these structures neglect the simple reality that not everyone has a healthy command over the body.
Hong wants to change the most widely used public transportation in the capital to fit the complexities of human reality, by reminding others that the world is full of different — not "abnormal" — people, whose needs are just as important as those of the people who fit the mold of the norm.
The following interview has been edited for length and clarity.
Korea Exposé: Were you interested in disability issues before your daughter was born?
Hong Yunhui: Not at all. Of disabled people, I would think, "Oh, that's how it is. I pity them," and I'd forget. But once it became my problem, I started looking at the issue differently. I gained the perspective to look from the level of a wheelchair. I learned to look at difference…not as inferiority, but simply, difference as difference.
What's behind the name, Muui?
It means to render disability meaningless (muuimi). It's a nice name, but it blows in terms of search engine optimization.
We're a cooperative that creates contents, showing that disabled people aren't objects of pity. They have desires; they can enjoy life. We don't want to objectify disabled people as beings who need help, who have "special needs." I always disliked the pitiful portrayals of disabled people on TV. Those tearjerkers. I mean, we're all just people.
Tell me about Muui's Seoul subway project.
We started through a crowdfunding platform on Daum. I didn't know how to make apps. It was really daunting, because developing online and mobile maps required too much money, and going to all the stations to gather data would be an overwhelming amount of work.
Last year, I was lucky enough to meet professor Kim Nam-hyung, who teaches design at Kaywon Arts University. We collaborated with his students, who worked with me as part of their graduation project. Students went around in wheelchairs to create the maps. We made 18 maps in January.
Hong Yunhui and her daughter unsuccessfully try to take an elevator for disabled people at Wangsimni Station. (Source: EBS via YouTube)
This year, we're getting funded by the Seoul Design Foundation and created maps of 40 subway zones. By the way, one station can have multiple zones. We made six maps alone for Wangsimni station.
It must be hard to gather map data because the lines are owned by multiple companies.
I've attended multiple meetings with government officials; they're often hesitant about going beyond their designated territory. Not only do they have to do more work, there's a general lack of a holistic driving force because the presidential administrations have changed.
There are ten private and public companies overseeing Seoul's nine subway lines. What's worse, public companies are under different government bodies. For example, lines managed by the Seoul Metro company are under the jurisdiction of the city government. But the Gyeongchun Line belongs to the Ministry of Construction and Transportation.
We're still in the process of coordinating with everyone. By now, everyone knows we exist. But there's no consensus yet on the budget responsibility of each department.
Muui doesn't plan to map out the entire subway system. We don't have an app because our map is far from complete. We're trying to tap into the Seoul Metro company and see if they can continue what we started. This is public information. Is it right that I do it? Using whose money? I believe this task is for public institutions to continue.
You work full-time as a senior communications manager at Ebay Korea. How do you make the time for all this?
I know, I know. I use my evenings and weekends. I'm lucky enough to have a lot of helpers.
[Editor's Note: For Ebay Korea, Hong also created Careplus, a specialist store within Ebay's Auction platform, selling products that meet the needs of the disabled and elderly people.]
Why do you think it's often difficult to see disabled people out and about on the streets?
I tell people to stop hiding and come out. Use those subway stations in your wheelchairs. That's how you make specific demands about the inconveniences. But most people stay home. It's because coming outside is much too difficult.
It's limiting to be in a wheelchair. There are lots of constraints on small freedoms. My daughter can't cross the street outside the apartment. She can't go to hagwon [private cram schools], the hospital, the pharmacy, the supermarket. Everything has a staircase. We can't go to the children's clinic next to our apartment, because it's on the second floor, without an elevator. We take the taxi to go to a faraway hospital.
A disabled person's day is 12 hours long, not 24. The person spends twice as long looking for the right routes. Also, factor in the guardian's time. There's a lot of waste. We need to improve the material accessibility, in order for them to save time and labor. This is improving the nation's economic competitiveness.
Disabled people have no choice but to feel diminished, because their opportunities and imaginations are constrained. Ultimately, Muui doesn't want to make maps. Muui wants to make a society that doesn't need these maps.
Why is disability seen as inferiority in South Korea?
To people who lag behind in competition, we say, "Stay home." But we must think in terms of human rights. Everyone can potentially be disabled.
South Korea was built around efficiency and development. The subways we see today were built with the mindset, "Build them fast. Open them up quickly." Most stations didn't even have elevators in the beginning.
We have to change this efficiency-driven mindset. Once, Jimin and I were at Nowon station. Nowon is a very challenging station; for people in wheelchairs to transfer, they must go outside and ride around the department store. We were taking an elevator up to ground level; a woman looked at us and said, "These days, disabled people get more privileges than the president." She thought of these elevators as a privilege of having a disability. She felt victimized because she thought disabled people were taking her rights and misallocating the government budget.
I think the way she thinks is a toxic consequence of a society that developed too quickly.
[Editor's Note: Read more about the activists who recently made a small milestone in South Korea's disability rights.]
What does your daughter want to be, when she grows up? I know, she's only in fifth grade.
She wants to be a civil servant. I told her, Jimin, that's not a dream. Jimin said, "I'm uncomfortable in my body. I heard AI is going to take all the jobs in the future. I honestly don't know what I'd do if you weren't here in this world."
The scope of her dreams gets narrower as she becomes more aware of her limitations.
What does she like? She likes to sing. She geeks out on K-pop idols like NU'EST, SEVENTEEN. She's good at writing. But she says she doesn't enjoy it.
Muui's maps, works-in-progress that guide disabled people through Seoul's most complex transfer stations, are available here (in Korean).
Cover image: The Seoul subway. (Source: BigbrotherBB via Pixabay, CC0 Creative Commons)
*
Read more about how disabled citizens are fighting against the country's limited classification system:
Become a subscriber to access all of our content.