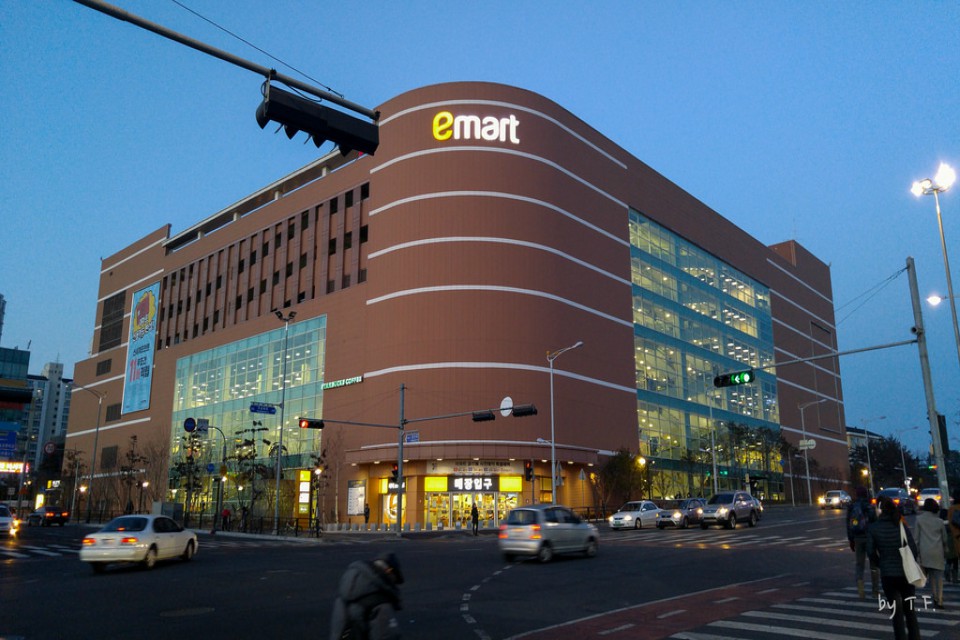 The Age of E-Mart Under Moon Jae-in
South Korea's first branch of E-mart, now the country's largest retailer and originally inspired by Walmart, opened in November 1993. That was about four years after the country's first convenience store, the Seven Eleven near the Olympic Village in Seoul, appeared.
It's hard to imagine a South Korea without E-marts or convenience stores. These days, every major city has at least one branch of E-mart (and/or of competitors such as Homeplus, Lotte Mart, and what have you). Every street corner in major cities seems to have a convenience store.
A promotional video of E-mart's first opening in 1993. (Source: Shinsegae Corporation, which owns the discount store)
More than twenty years after that first E-mart opened in Seoul, there are now over 500 large-scale discount supermarkets, over 10,000 SSMs (super supermarkets, generally smaller than the really large stores) and around 30,000 convenience stores in South Korea.
"The meaning of 'shopping' started to change in the `90s," said Lee Im-ha, the author of Reading Modern Korean History Through Culture. "In the past, a housewife would go to a marketplace and fill up her bags. Now, shopping has changed into a family activity at large-scale discount stores."
According to Lee, around the time the country's first E-mart opened in Seoul, net income for ordinary consumers was on the rise, which meant there was a larger domestic market for spending. Hence, the beginning of shopping at massive (and massively convenient) chain grocery stores.
But the country's lax regulations on chaebol expansion also plays an important role in cultivating the age of E-mart. Since the 2000s, more chaebols have shifted attention from manufacturing to the service sector, forming new subsidiaries every year to "infiltrate the alleyways," as the process of their expansion into the retail industry is often called. The biggest players in the retail business — like E-mart and GS25 — are owned by different chaebols, or family-owned conglomerates.
According to the Korea Supermarket Cooperative Association (KSCA), for every large-scale supermarket that opens, an average of 22 small supermarkets have disappeared between 2000 and 2011.
"We at the local village supermarkets are living every day as a fierce battle for survival," said Kang Gap-bong, the head of the KSCA, a nationwide union of 52 local, independent supermarkets. "Large conglomerates are sweeping up the businesses in the alleyways, by selling stuff like batteries, tissues and potato chips." Kang argued that there is no way local businesses can compete with the cheaper prices offered by the large chaebol stores.
At a press conference on May 23, members of the KSCA demanded that newly-elected president Moon Jae-in keep his campaign promise to protect smaller supermarkets. Moon has pledged to limit the expansion of multiplex shopping malls and make it more mandatory for the E-marts of the country to close more frequently on certain days of the week.
It's likely that Moon will strengthen regulations on chaebol expansion — he has nominated professor Kim Sang-jo as head of the Fair Trade Commission. Kim is nicknamed the "chaebol sniper" for his vocal criticisms of the conglomerates. But it's not clear exactly how far Moon will go to protect the "alleyway marts."
Besides, the issue is not so clearly "local supermarkets good vs. chaebol supermarkets bad."
Park Jeong-soo, an economics professor at Sogang University, told M-economy News, "Regulations may seem necessary, but it's a complicated reality, putting restrictions on the convenient shopping spaces that everyone wants." The romance of maintaining alleyway supermarkets aside, it is definitely convenient to have an E-mart (or even a GS25 convenience store) around the corner.
"If the government doesn't provide policies and solutions for alleyway businesses and local supermarkets, we will fight to the death," said Kang at the KSCA.
Cover image: E-mart is South Korea's most dominant mass supermarket chain. (Source: Flickr)
Become a subscriber to access all of our content.