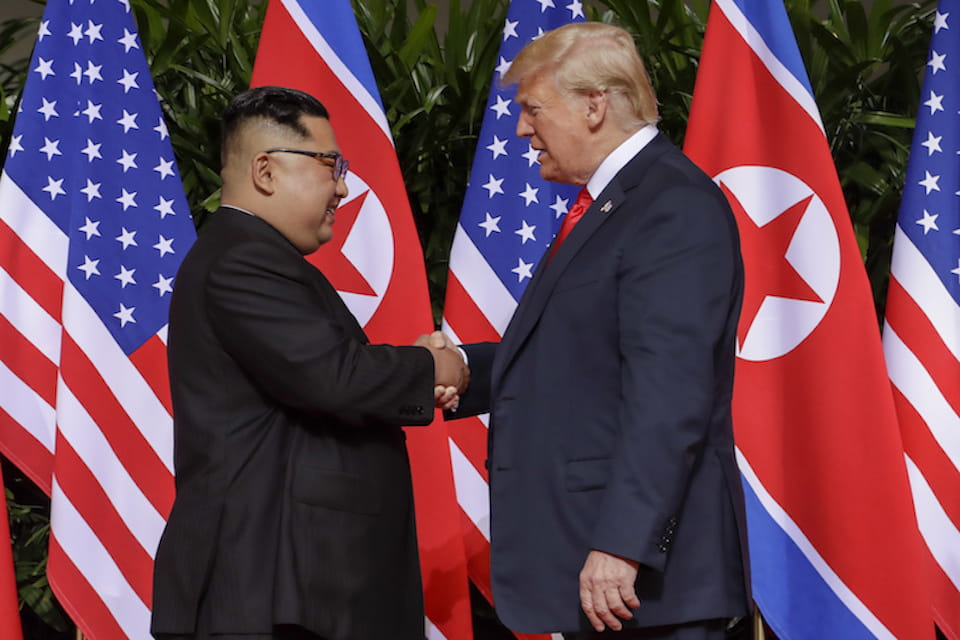 The Singapore Summit Gives Hope that Peace Is Still Possible
It was truly a historic day, no doubt about that. North Korea and the United States held their first-ever summit on Jun. 12 in Singapore. On the agenda: denuclearization of the Korean Peninsula. Despite some skeptics calling it just a photo-op for Kim Jong-un and Donald Trump, the day ended with a tangible two-page joint statement, which Trump proudly waved at journalists after he and Kim both signed it.
Trouble began when the contents of the statement became public, boiling down to this preamble: "President Trump committed to provide security guarantees to the DPRK, and Chairman Kim Jong Un reaffirmed his firm and unwavering commitment to complete denuclearization of the Korean Peninsula."
That sounds grand, but it goes little beyond previous agreements of this kind (the joint statement issued after the fourth round of the six-party talks in 2005 comes to mind). Even in the four major points that follow, there are no details of how complete denuclearization or security guarantees will play out, and on what timeline.
Still, this was expected to a degree by the South Korean establishment and is not seen as a failure by any means. Even as some foreign pundits and journalists take to the airwaves to argue the event was all symbolism and no substance, it is difficult to ignore that some real change is underfoot.
It was unlikely this first summit would yield a concrete roadmap to denuclearization and peace; that is why the domestic press, in the lead up to Jun. 12, kept using the phrase "bold agreement" to describe the best possible outcome (it implies only a broad framework and no specifics). Even the ever-optimistic South Korean president Moon Jae-in struck a note of caution during a meeting at the Blue House one day before the summit:
"First, the relationship of deep-rooted hostility and the North Korean nuclear issue cannot be resolved in one single action through a meeting between leaders. Even after the two leaders have initiated dialogue in a big way, we may need a long process that could take one year, two years or even longer to completely resolve the issues concerned."
Fortunately, the press conference that followed the signing offered some meat to chew on. Without Kim in attendance (he left early to go back to his hotel), Trump said North Korea was shutting down a missile testing facility. Though he did not present it as a reciprocal gesture, Trump made an unexpected pledge to put on hold joint military exercises with South Korea. "We're negotiating a very complicated deal. I think it's inappropriate to have war games," he said. "It is really something they [North Korea] very much appreciated."
While conservatives are alarmed that reducing military cooperation with the U.S. might leave the South vulnerable, and perhaps even lead to the complete pullout of the U.S. military (an unlikely but worrisome scenario for the South Korean right), it would not faze the government, which has said in the past it is best not to provoke North Korea for the sake of the peace process.
We will need to wait and see if Pyongyang really shuts down a missile testing facility soon, but in case anyone is still doubtful of North Korea's sincerity going into this summit, the North Korean state media have prominently covered Kim Jong-un's Singapore sojourn, including his nighttime tour of the city on Jun. 11, to telegraph Kim's interest in economic development, which would not be possible without lifting of international sanctions.
"The Dear Respected Comrade Supreme Leader visited the Singapore Botanic Gardens… the Sky Park garden on the top of the world-famous Marina Bay Sands building, and Singapore's harbor in order to inspect the state of social and economic development in the Republic of Singapore," Rodong Sinmun, the official newspaper of the Workers' Party of Korea, said.
"He said… that from now on, he wanted to learn from Singapore's wonderful knowledge and experiences in different sectors."
Call them naive if you wish, but South Koreans are already anticipating economic benefits of peace. With South Korea gaining membership at the OSJD (the Organization for Cooperation of Railways) on North Korea's backing last week, lawmakers are rushing to introduce legislations aimed at promoting inter-Korean economic cooperation. The share prices at companies like Hyundai Cement, a cement manufacturer, are spiking in correlation with progress in the peace process.
And the Chinese are already welcoming the joint statement and offering to reduce some of the economic pain borne by Pyongyang. According to Reuters, China's Foreign Ministry spokesperson Geng Shuang said "sanctions relief could be considered" given the signing of the comprehensive agreement in Singapore.
What happens next will be crucial. Trump said he will travel to Pyongyang "at the appropriate time." And he is inviting Kim to the White House (Kim apparently has already accepted the invitation). But in practical terms, further discussions will have to take place over the actual terms of denuclearization and security guarantees.
Another priority will be to build on the momentum and announce an end to the Korean War, ongoing since Jun. 25, 1950, because ending the Korean War could actually amount to a guarantee of regime security for North Korea. That effort will involve not just the U.S. and North Korea but also South Korea and China. The 65th anniversary of the armistice falls on Jul. 27, and it would make sense if the four powers decided to choose that date, in six weeks' time, for a formal declaration, though signing an actual peace treaty will require considerable work.
It has been less than six months since Kim Jong-un first floated the possibility of sending a delegation to the Pyongchang Olympics as a way of easing tensions. So much has happened since then, and so quickly, too, for a good reason. Speed will be of the essence if this third attempt at denuclearizing North Korea is to work (the first was the 1994 Agreed Framework, and the second, the six-party talks in the 2000s). The U.S. will have its midterm election in November and Democrats, who might retake Congress, look unkindly upon the current rapprochement. North Korea is not known for its patience, and any delay might put it off and derail the process.
But for the time being, everyone in South Korea can let out a sigh of relief. The summit did not quite live up to the hype, but it is certainly preferable to last year's tensions, and there are enough reasons to be still hopeful that negotiations will continue. Think of this as only a beginning, not the end.
Cover image: Kim Jong-un and Donald Trump shake hands Tuesday morning before the first-ever DPRK-US summit begins in Singapore. (Source: AP)
Become a subscriber to access all of our content.