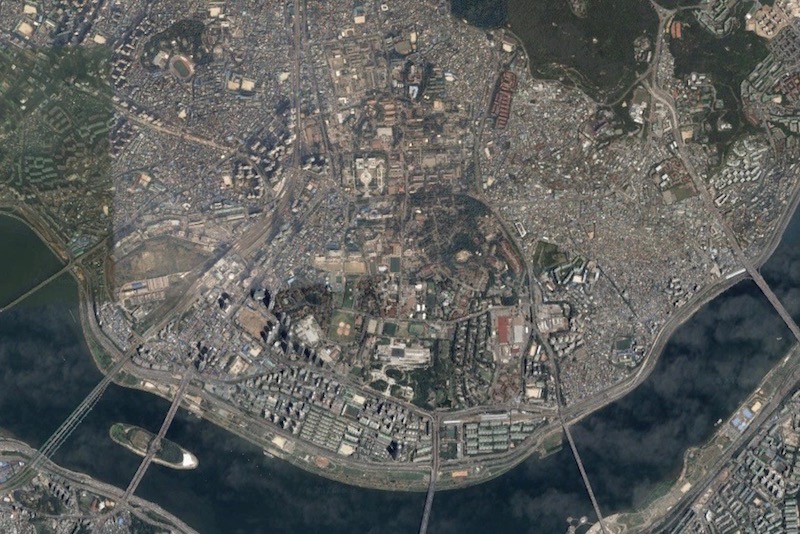 Truth of Contamination at U.S. Military's Yongsan Garrison Begins to Emerge
South Korean environmental campaigners won a significant victory against the country's environment ministry on Tuesday. Minbyun (Lawyers for a Democratic Society), a civil rights NGO, had sued the environment minister in a bid to force the disclosure of information about environmental pollution on U.S. Army Garrison Yongsan, a huge military base in central Seoul.
Environmentalists and Seoul Metropolitan Government have long been aware of high levels of benzene and total petroleum hydrocarbons (TPH) detected in areas adjacent to the Yongsan base, such Noksapyeong Station. But the base itself, assumed to be the source of the contamination, remains inaccessible to the city authorities.
Environmental groups welcomed the Supreme Court's decision to uphold Minbyun's lawsuit against the ministry. "This is a significant ruling both for the environment and for the people's right to know," said Sin Su-yeong of Green Korea United, who worked with Minbyun to obtain information in the ministry's possession. This was the third ruling in favor of the campaigners, and the second unsuccessful appeal on the part of the government.
The Ministry of Environment immediately released a four-page document with limited details of analysis conducted on groundwater samples gathered on the base in 2015. Substances detected at levels in excess of South Korean legal limits included benzene, toluene, ethylbenzene and xylene. At one sample well, the benzene level detected was 150 times higher than the South Korean legal limit. Soil sample test results were not given in the ministry's report.
"The U.S. military still uses fuel such as kersosene and diesel on Yongsan base, instead of gas," Sin added, explaining the probable reason for such high levels of contamination. She described such military bases as "blind spots" in terms of South Korean environmental law.
The Status of Forces Agreement (SOFA), which governs various aspects of the relationship between the South Korean government and the United States Armed Forces in the country, only states that "The United States Government … confirms its policy to respect relevant Republic of Korea Government environmental laws, regulations and standards." There is currently no legal means for South Korea to hold the United States Armed Forces to account for any pollution caused on bases in South Korea or – until now – to even obtain accurate information about what pollution may or may not have occurred.
Seoul Metropolitan Government plans to convert the land currently occupied by the Yongsan base into a park. It remains unclear to what extent soil and groundwater contamination of the site will compromise the site's suitability as a place of public leisure.
An in-depth look at this story is coming soon on Korea Exposé.
Cover Image: Yongsan Garrison (Source: Google Earth)
Become a subscriber to access all of our content.