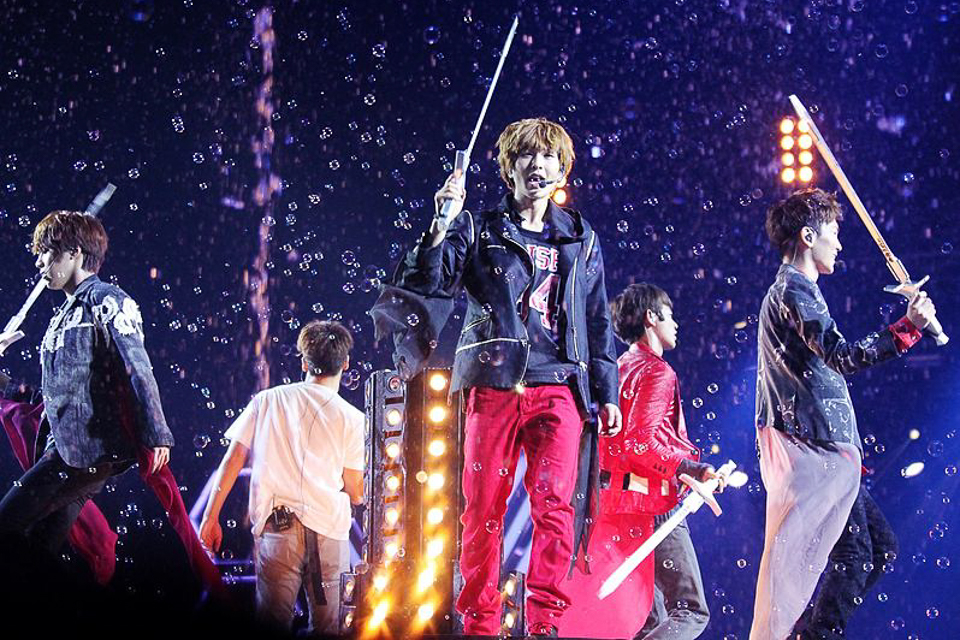 Obituary: The Legacy of Jonghyun
In an interview with Esquire magazine in April, Jonghyun of K-pop boy band SHINee shared the following story:
"A few years ago, I cried in front of my mother and older sister. I was super drunk…. I woke them up late at night and asked them if they were happy."
The famous singer went on with what was a rare show of public vulnerability for a celebrity: "It was my primary goal in life. For them to be happy. They both woke up and said they were happy. But I was so envious that they could say they were happy. I am not. I want to be happy too."
On the evening of Dec. 18, Jonghyun was found unconscious in a residential building in Seoul. He was later pronounced dead at a nearby hospital. His family has decided against holding an autopsy, and the most likely cause of death was carbon monoxide poisoning.
Over the past decade, many high-profile celebrity suicides have stunned the nation, sparking conversations about what might have driven people — who seemingly have it all — to end their own lives.
Fans and media outlets have made an effort to compassionately mourn his death. Hashtags are trending on Twitter, like #MyMentalHealthIn5Words and #YouDidWellJonghyun (in his final text message to his sister, Jonghyun reportedly wrote, "Tell me I did well").
Fans are reminding each other to not circulate Jonghyun's suicide note carelessly, as this could endanger those already at risk of suicide. South Korean media outlets are also including suicide prevention resources at the end of their articles, in line with the World Health Organization guidelines on suicide reporting.
SM Entertainment, Jonghyun's agency, set aside a separate room at Asan Medical Center, where his wake is taking place for three days according to traditional Korean custom. His fans can come and pay their respects until Wednesday.
Jonghyun had recently said both his persona as an artist and his private life, as different as they may have been, were both "the real Kim Jonghyun."
Jonghyun was the lead singer of SHINee. The band made its debut in May 2008 with "Replay," and has enjoyed an immensely successful and stable career. They had cemented a place in Korean Music as a veteran K-pop group by 2013, when they won "Artist of the Year" at the Melon Music Awards. Their fifth studio album, titled "1 of 1" was released in October 2016 and was reviewed as the "Best Album of 2016" by Korean web magazine idology.
Jonghyun began a successful solo career in 2015. In an industry where most performers sing tunes written for them in hit-making factories, his creative prowess as a singer-songwriter was unique. As early as in 2009, he wrote the lyrics for SHINee's "Juliette," before going on to write and produce the majority of his solo work. In his most recent album, titled "The Collection: Story Op. 2," his main lyrical themes were love, isolation, and trust.
A total of 69 songs registered with the Korea Music Copyright Association list Jonghyun as either lyricist or producer (Association Number 10000434, for the curious). Notable songs he wrote for other artists include "Sigh" for Lee Hi, "Gloomy Clock" for IU, and "Playboy" for EXO.
Jonghyun was establishing himself not just as a cog in a K-pop group, but a presence to be reckoned with in the broader Korean music industry.
In the occasional glimpses he provided of his personal life, Jonghyun came across as a loving son and brother who treasured his family, a beloved friend and colleague in the industry, a caring dog owner, and someone who just wanted to make his fans happy. He was lovingly nicknamed "the big floodgate" of SHINee, because he so often cried at public appearances.
He was also open about his mental health, saying, "Depressive moods and feelings of inferiority have always dominated and driven me." Instead of coming out and using the word "depression" to describe his condition, Jonghyun would say he had "depressive feelings" and attribute his struggles to his "character."
Are there structural problems within the K-pop industry that may have contributed to Jonghyun's death? The industry is notorious for dictating all aspects of artists' lives, forcing them through gruelling practice and performance schedules, and leaving them little or no free time.
At the same time, simply linking Jonghyun's death to industry evils seems like a disservice to his legacy, appropriating his voice, primarily because this wasn't an issue he had addressed directly in life; nor is his dissatisfaction with the industry, if he had any, particularly apparent in his suicide letter. He was an intensely driven artist, who benefited from his fame and the expectations of the industry, and there is no way to know exactly why he was depressed, why he is gone.
In his suicide note, Jonghyun reveals his struggles with feelings of depression, self-hate, and isolation. He hints at the pain of being "known to the world," his negative experiences with therapy, and the pressure of being forced to identify why he was unhappy.
Jonghyun's death raises many questions of social importance: about the K-pop industry, depression, and suicide as a health risk in South Korea. I hope that discourse around these questions can grow in South Korea and around the world.
Above all else, we mourn the loss of a talented artist.
Editor's note: For those of you living in South Korea, please call one of the following numbers if you are thinking about suicide: 1577-0199 or 129 (hotlines for suicide prevention).
For an in-depth look at the problems of conventional media reporting on celebrity deaths, read our analysis:
*
Cover image: SHINee at a concert in Taiwan, 2012. (Source: Sparking via Wikimedia Commons)
Become a subscriber to access all of our content.