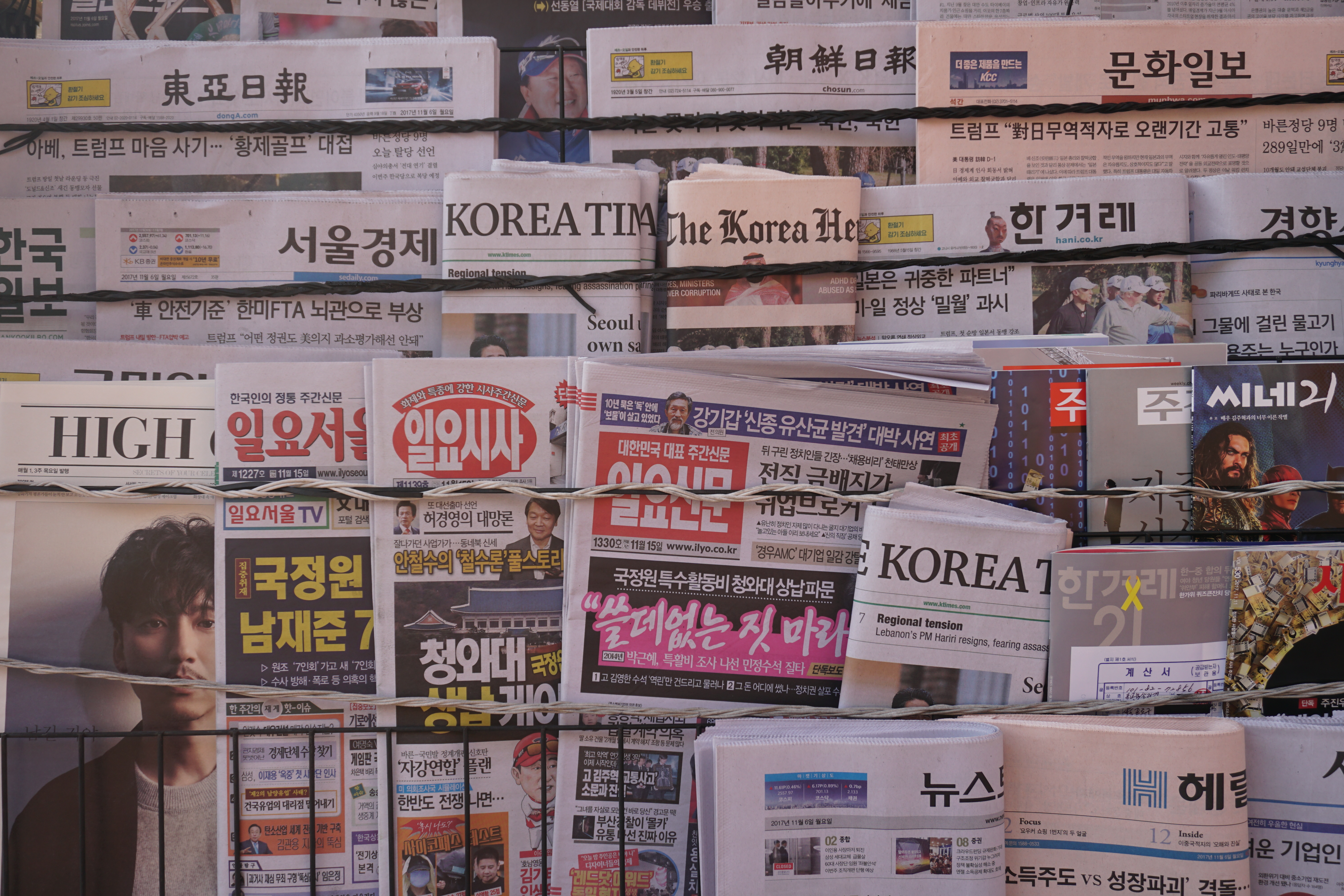 Media Roundup: S. Korean Chatter Ahead of Trump's Visit
U.S. President Donald Trump is scheduled to arrive in South Korea tomorrow on the second stop of his five-country tour of Asia, his first trip to the region as president. Trump's South Korea itinerary includes a trip to a U.S. military base, the National Cemetery in Seoul and an address at the National Assembly on Wednesday.
Local and international media will be sure to parse Trump's every last move and remark. While South Korea's media has a reputation for being sharply divided between right and left wings, a look at Monday's editorials indicates a fair degree of consensus on the need to preserve the U.S.-South Korea alliance, even with an unpredictable leader in the White House.
Here's a roundup, from across the ideological spectrum, of what South Korea's media are saying about Trump's imminent visit.
Donga Ilbo
Orientation: center-right wing
South Korea's right-wing media are more likely to frame the alliance with the U.S. as a necessary mechanism to deter North Korea and maintain peace. The Donga's Monday editorial states, "As the utmost priority, South Korea-U.S. cooperation toward a peaceful resolution to the North Korea nuclear issue must not falter."
The editorial addresses Blue House spokesperson Park Soo-hyun's comment on Sunday that, in line with South Korean tradition, Trump will be welcomed as a guest. Dozens of mostly anti-Trump protests protests are planned for Tuesday and Wednesday in Seoul. Donga argues that it might be necessary for either the South Korean president or prime minister to convince these protesting groups to stay in line.
Voice of the People
Orientation: far left wing
Striking a different tone than the establishment press, Voice of the People ran an editorial titled, "The Reason We Cannot Warmly Welcome President Trump." It criticized the U.S. president for nonchalantly "raising the risk of war on the Korean peninsula" with no apparent concern for the Korean people whose lives would be endangered.
The editorial admonished the country's politicians to keep their welcome in check, stating, "Trump's verbal bombs must not draw rounds of applause from South Korean lawmakers."
Maeil Business Newspaper
Orientation: right wing, pro-business
Trump arrives in South Korea directly after spending two days in Japan. Some South Korean media frame Trump's visit in the context of Korea's rivalry with Japan. The Maeil editorial stated that Trump's visit to Japan, where his daughter Ivanka also made a public appearance, was intended to demonstrate that the U.S. alliance with Japan is more important to Washington than the South Korea alliance.
Hankyoreh
Orientation: left wing
While across the media spectrum is basic agreement on the wisdom of maintaining the alliance with the U.S., Hankyoreh, the country's largest left wing newspaper, modified its approval somewhat, saying, "In solving the North Korean nuclear issue, cooperating with the U.S. on security and diplomacy is our most important resource and weapon. But such cooperation must be interactive and reciprocal in order to be a true alliance."
The editorial also notes, "As a small and weak country, it's not easy for us to find a way play a leading role in solving the North Korea nuclear issue. But we still can't leave our fate up to the will of powerful countries."
Chosun Ilbo
Orientation: right wing
South Korea's largest and most influential conservative newspaper is reliably skittish about North Korea and welcoming of the U.S. In its Monday editorial, the paper underscores what it calls the necessity of the U.S. military presence in South Korea and questioned the prudence of the groups that plan to protest Trump's visit. The editorial states, "In a country that can't properly defend itself, it's difficult to know whether these immature forces are brave or foolish."
The Chosun editorial also noted, in a tone of apparent regret, that Trump has no scheduled plans to meet regular South Koreans, the people who would be most affected by a war.
Cover image: A newsstand in Seoul's Hyehwa neighborhood, Nov. 6, 2017. (Jieun Choi/Korea Exposé)
Become a subscriber to access all of our content.