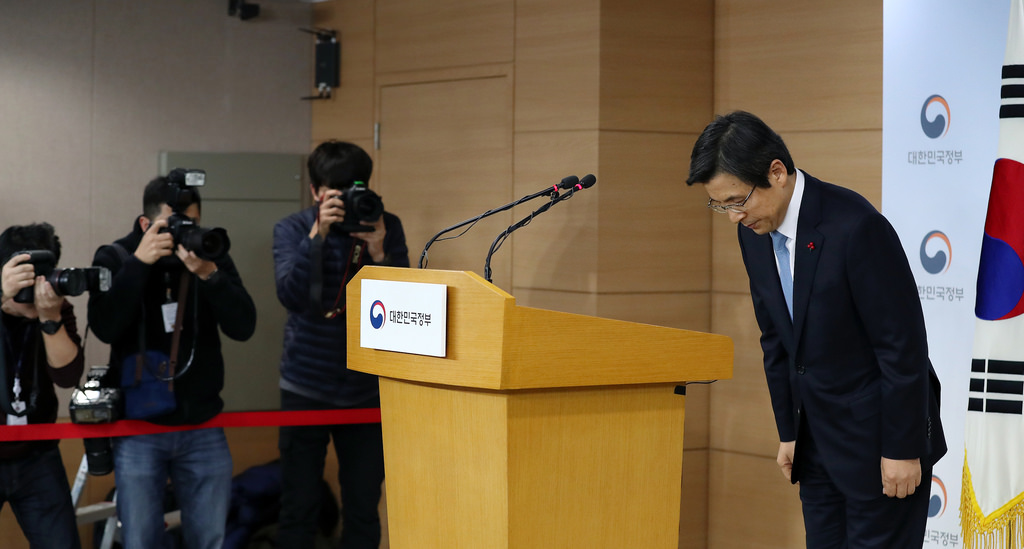 When A Watch Tells More Than Time
The word "watch" is a double, perhaps triple, entendre when it comes to South Korea's prime minister and acting president Hwang Kyo-ahn. It's not just a time-telling device. It's a symbol of his authority over time — specifically, his power to extend or kill the investigation that plays a crucial role in the country's political scandal, one that elevated the prime minister to his current position as proxy head of state.
But a watch is also very literally at the center of a minor scandal that surfaced recently, a couple of days before Hwang rejected the special prosecutor's request to extend the investigation into the president.
A daily Seoul Gyeongje released an "exclusive," citing an anonymous government official, that Hwang has distributed watches inscribed, "Acting President — Prime Minister Hwang Kyo-ahn." (It's customary for South Korean politicians to hand out watches engraved with their names and titles when receiving guests)
Hwang's office has confirmed that such watches do exist. But it has not responded to the charges from leftist lawmakers and the conservative Bareun Party, who are calling the watch as an 'impeachment souvenir' and a symbol of Hwang's own presidential ambitions. Critics point out that former president Roh Moo-hyun's prime minister did not distribute similarly engraved watches when Roh was impeached in 2014 and had his powers suspended.
The ruling party has predictably supported Hwang in this watch scandal. "It is truly a pity that people are hung up on a watch in this grave time," said Jeong Joon-gil, a spokesman for Liberty Korea (formerly known as Saenuri).
"Hwang Kyo-ahn must stop making and distributing this souvenir watch and extend the clock for the special prosecutor, just as people demand," said Jang Jeong-sook, a spokesperson from the minor opposition People's Party.
Hwang, though, has not yielded to the wishes of 'people,' so the special probe into the presidential scandal will end today as originally planned. Afterwards the case gets handed back to regular prosecutors.
What the watch really symbolizes is, perhaps, the precariousness of Hwang's own position. While the very fact of making the device is an attempt to reinforce his status, Hwang's time as acting president is ticking away. His fate is inextricably tied to that of president Park Geun-hye, who awaits a ruling on her future by the Constitutional Court.
Meanwhile, opposition parties excluding the Bareun Party announced yesterday they will seek to impeach Hwang for refusing to extend the special prosecutor's mandate.
Cover Image: Acting president Hwang Kyo-ahn bows after a public address in Seoul. (Source: the South Korean Government)
Haeryun Kang wrote this radar post.
Become a subscriber to access all of our content.