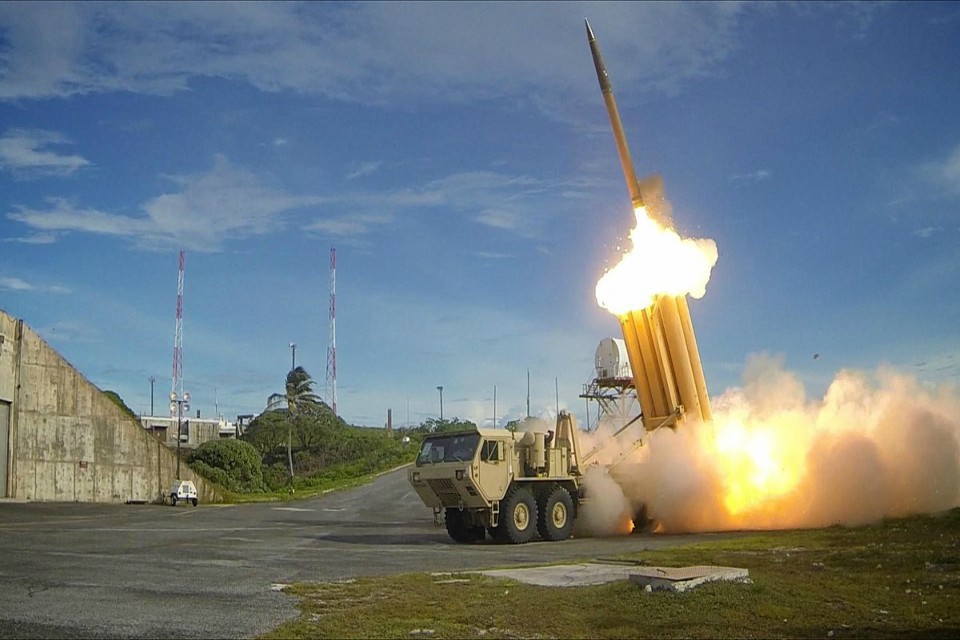 Why Does China Hate THAAD So Much?
THAAD is a useful acronym to know if you're interested in the geopolitical tensions in East Asia. The deployment of the U.S.'s Terminal High Altitude Air Defense (THAAD) system in South Korea caused a sudden transformation of Korea's relationship with China, its neighbor and number one trading partner.
Before the deployment decision was announced in July 2016, relations were blossoming between Seoul and Beijing. South Korean cultural products like television shows and music were hugely popular in China, and visitors from China accounted for a large portion of tourists to South Korea.
THAAD changed all that. China didn't like South Korea's decision to go ahead with the American missile defense system and has protested repeatedly. The system's purpose is to shoot down North Korean missiles before they land; since it is a defensive measure, and given that North Korea keeps testing increasingly sophisticated missiles, China's strong objection may be somewhat surprising.
China argues that a large swathe of its territory falls within THAAD's radar, meaning that South Korea could use it to peer into China and gather intelligence that it could share with its ally the U.S.China enacted an informal ban on group tourism to South Korea, and effectively banned South Korean entertainers from operating there. South Korean actors and musicians were removed from television shows, and Lotte, a major South Korean company, had its retail outlets in China shuttered.
In recent months, China appears to have lifted informal sanctions on travel to and business with South Korea. But China still isn't pleased about THAAD. China is competing with the United States for economic and military supremacy in East Asia, and South Korea deploying THAAD was a sign of Seoul moving further away from China. The closer South Korea gets to the U.S., the less influence China will have on South Korea. In particular, China is worried that the U.S. plans to bring South Korea into a missile defense network.
But is THAAD so much of a threat to China? Should China's people be worried about it?
First off, it is essential to note that THAAD is a defensive system. It doesn't target anything and is not designed to be used in the launching of an attack. Literally all it is meant to do it shoot down ballistic missiles just before they land.
There are fair reasons to oppose the purchase and deployment of THAAD.
1) For one, the greater Seoul area — where half of Korea's 51 million population live — isn't included in the land protected by THAAD. If the objective of the system is improving security for South Koreans, shouldn't the system cover where most of them live?
2) Some experts say that THAAD doesn't work very well, that it hasn't performed effectively in testing. Research by MIT Professor Theodore Postol posits that the THAAD system can't intercept missiles that fly in irregular patterns and can't distinguish between real missiles and decoys. Missiles can be made to tumble in flight, which may make it possible to elude THAAD's interceptors.
3) With its $1-billion price tag, THAAD is pretty expensive. The U.S. is paying for it, and it is likely that most Americans could think of something they would rather their government spend that amount of money on. South Korea will cover the costs of operating and maintaining the system, which over time, are sure to add up.
4) The system is occupying a nice bit of land in rural South Korea, and locals have vociferously opposed the installation of THAAD in their community. People who live nearby, many of whom are melonfarmers, say they're worried that THAAD's radar will emit radiation that will harm them and the local environment.
THAAD is a contentious issue among South Koreans, with 49 percent of respondents to a poll in favor of it and 43 percent opposed.
None of these factors are directly relevant to China. It is far enough from THAAD that it could ignore it easily.
But China is not apt to ignore developments in an area that it considers its sphere of influence. Chinese President Xi Jinping is spearheading efforts to expand China's control of the South China Sea as part of a bigger campaign for influence in East Asia. South Korea's deployment of THAAD is a subtle but sure sign that South Korea intends to keep the U.S. as its main ally, and keep China at some distance.
It is understandable that China might be annoyed or disappointed with this, but THAAD is not and could never be a 'life and death threat' to China.
Steven Borowiec authored this article.
Cover Image: The first of two Terminal High Altitude Area Defense (THAAD) interceptors is launched during a successful intercept test. (Source: U.S. Army via Wikipedia, Public Domain)
*
Moon Jae-in, the South Korean president, has a difficult diplomatic task: He's stuck between Washington and Beijing. How is he going to walk the line? Read more here:
Become a subscriber to access all of our content.