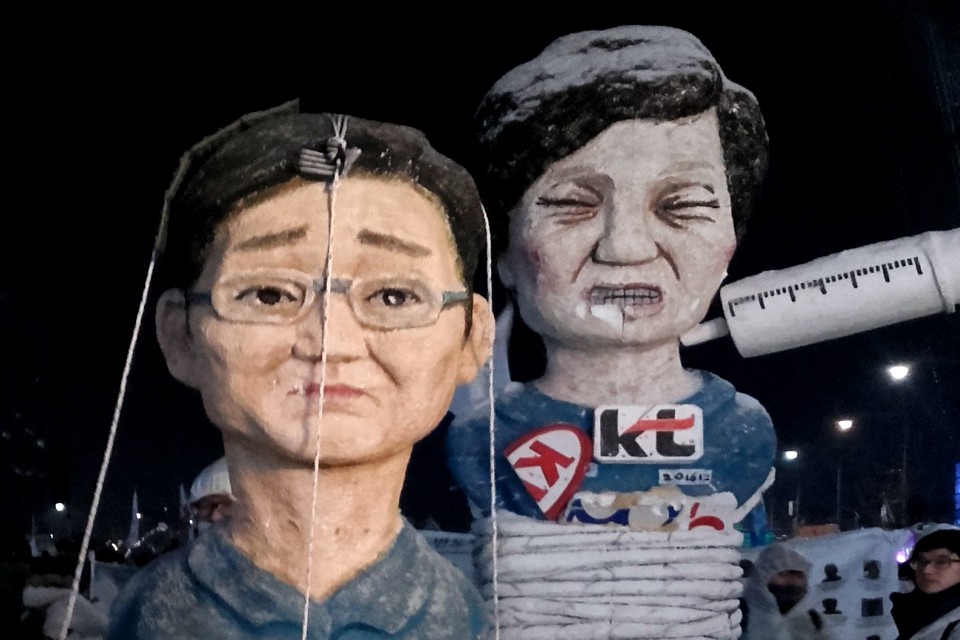 Spending Candlelight Protest Anniversary in the Slammer
One year after the start of a historic protest movement that ended with the ouster of a president, central Seoul is set to be filled with candle-holding citizens again this Saturday.
Last year's nationwide demonstrations were sparked by allegations of influence peddling involving then-President Park Geun-hye, her confidante Choi Soon-sil and Samsung de facto top dog Lee Jae-yong.
Where do the main trials stand today? Here's a breakdown on the main cast of defendants.
Park Geun-hye, the disgraced president
The former president, detained since March, is currently on trial facing charges of bribery and corruption. On Wednesday, a court appointed a new legal team to represent her after all seven of her attorneys resigned, protesting the court's decision to extend her detention by an additional six months.
MH Group, an international legal consultancy Park is working with, issued a press release on Oct. 13 decrying the decision to extend Park's detention. "Ms Park is an elderly woman who suffers from chronic medical conditions which need constant and dedicated care that can only be properly administered out of prison," the release states.
Lee Jae-yong, in a bigger mess than the smartphone explosions
Lee, the heir to Samsung Group, South Korea's biggest business empire, was sentenced in August to five years imprisonment for giving millions in ostensible donations to a foundation operated by Choi Soon-sil. In exchange, Lee allegedly received government support in restructuring Samsung to facilitate Lee's control of the company. Samsung denies all the charges and is appealing against the August sentence. The court is likely to rule on Lee's appeal by February.
Despite turmoil at Samsung's highest levels (Samsung CEO Kwon Oh-hyun resigned last month, citing an "unprecedented crisis" at the company), the conglomerate's most prized subsidiary keeps raking it in: In the second quarter of this year, Samsung Electronics reported a 73 percent increase in operating profits over last year, and expects bigger earnings this quarter.
Woo Byung-woo, the almost forgotten power broker
The shadowy former senior secretary for civil affairs has thus far managed to avoid being arrested. Woo is accused of acting on Park's behalf to oust officials who weren't cooperating with her directives, and faces charges of perjury, abuse of authority and dereliction of duty.
Choi Soon-sil, the president's confidante
Before last year's scandal broke, Choi was unknown to most South Koreans. Park is accused of granting Choi, who has no known skills or career, access to confidential government information, and making decisions at her behest.
In June, Choi, 61, was convicted and sentenced to three years in jail for using her influence to get special treatment from Ewha Womans University for her daughter, 21-year-old Chung Yoo-ra. Choi, who has started an appeal against the June sentence, is also charged with more serious crimes, related to allegations of colluding with Park to squeeze corporations for millions in donations to dubious foundations controlled by Choi.
Cover image: Statues of Lee Jae-yong and Park Geun-hye in ropes, at the 13th consecutive candlelight rally in January 2017. (Source: Jirangmoon via Wikimedia Commons, CC SA-4.0)
Become a subscriber to access all of our content.