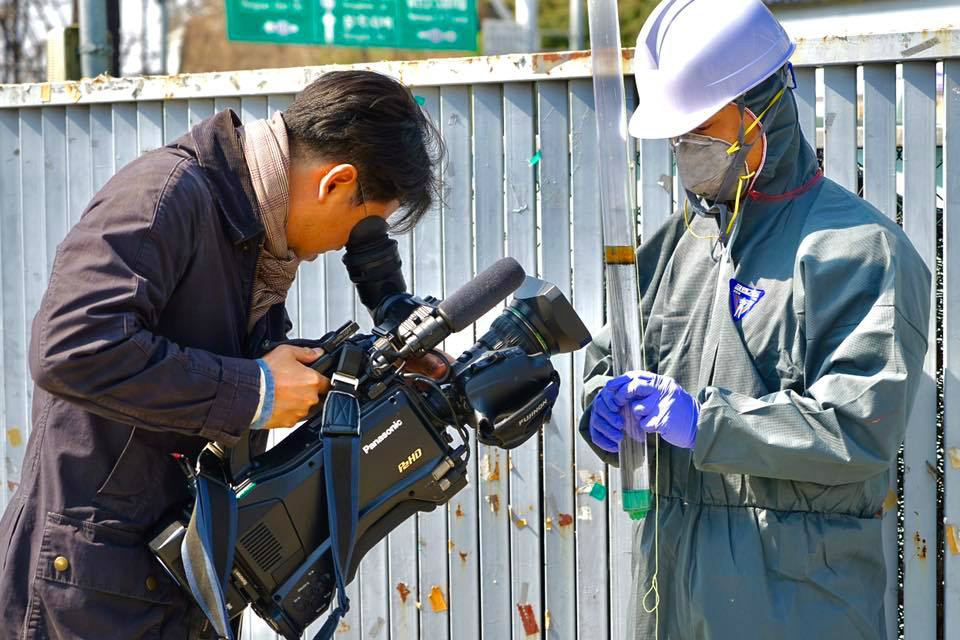 US Military Contaminates Central Seoul Neighborhood
Critics of the invasion of Iraq in 2003 claimed the United States was moving into a foreign territory in order to take its oil. But here's a new one: The U.S. military occupies a swathe of foreign soil for 65 years, fills it with oil, then moves out. That's what appears to be happening at United States Army Garrison (USAG) Yongsan, the beleaguered base at the heart of South Korea's capital.
* * *
The United States has almost 200,000 active military personnel stationed overseas. After Japan and Germany, South Korea hosts the third largest portion of these, with some 23,500 U.S. troops on its soil. And its soil is feeling the consequences: Decades of U.S. presence on bases around the country have left a toxic track record of polluted earth and groundwater that the US does not seem willing to deal with.
USAG Yongsan is still the nerve center of United States Forces Korea (USFK)'s national base network. Covering more than 300 hectares in central Seoul, the base stretches south from Mt. Namsan to the Han River and has been occupied by USFK since 1953. The huge tract of land is due to be returned to the South Korean government in 2018, when USFK relocates to the western coastal city of Pyeongtaek, and is due to start a new life as a park. But revelations of serious pollution on the base have provoked a dispute between USFK and Seoul Metropolitan Government (SMG) about who should be responsible for cleaning up.
Formaldehyde in the Han River, which bisects Seoul, was the first toxin to alert South Koreans that something was not right at USAG Yongsan. In February 2000, a USFK mortuary affairs officer had ordered two subordinates to pour almost 200 bottles of formaldehyde, a highly toxic embalming agent, down a drain. The substance eventually made its way into the river, a key source of drinking water for the city.
In 2004, USFK colonel Daniel M. Wilson revealed to the South Korean press that there had been seven oil spillage incidents on Yongsan base since 1998 that USFK had not reported to the South Korean government.
In subsequent years, oil and fuel were found in several parts of Seoul adjacent to USFK installations. Substances detected included JP-8, a fuel used by the U.S. military, near Camp Kim in Namyeong-dong (just south of Seoul Station).
USFK did report five environmental accidents, all involving oil leaks or spillages, to South Korea's Ministry of Environment (ME) from 2001 to 2006. In 2015, a joint investigation of pollution on USAG Yongsan was conducted by South Korean and USFK personnel. But the ME refused to make the findings of the survey public, spurring NGOs Green Korea and Minbyun (Lawyers for a Democratic Society) to sue the ministry. The ME lost its second appeal case in April this year, and made public a four-page document outlining the findings.
But the real bombshell, also in April this year, came when Green Korea used the United States' Freedom of Information Act (FOIA) to obtain American reports of oil spillages and leaks at Yongsan from 1990 to 2015. It turned out that there had been 84 documented incidents, far more than USFK had reported to the South Korean government. Moreover, seven of these had been of more than 3,780 liters, defined as "worst-case discharges" by USFK's Environmental Governing Standards (EGS).
The story took an even murkier turn when the 84 incidents revealed through the FOIA request failed to include six incidents already known to Green Korea. And yet another discrepancy appeared when the records obtained through FOIA indicated that USFK had informed South Korean authorities of seven oil spillage incidents, two more than the five incidents the ME claimed to have been told about by USFK.
In short, two things are clear: Very large amounts of oil have leaked or been spilled on USAG Yongsan — several incidents involved tens of thousands of liters — over the years; and USFK has shared very little information about it, and ME, even when aware of the contamination, chose not to disclose its full knowledge to the public.
With the return of the garrison land just a year away, the South Korean government has no way of knowing the extent and nature of soil and groundwater pollution on the base. It therefore cannot calculate the costs of a clean-up, or know exactly what to demand of USFK.
Seoul Metropolitan Government is increasingly anxious to get a clear picture of what it will find when USFK leaves Yongsan.
In principle, we want the base returned intact after complete decontamination of its polluted parts," said Kim Sang-dong, head of SMG's Water Circulation Policy Division. "We've been decontaminating polluted groundwater around the base in order to stop its spread and are monitoring it."
Kim told Korea Exposé that SMG believed most of the oil to have come from old underground storage tanks on the base itself, but emphasized how the potential costs of cleaning up after the return of the land were impossible to grasp as long as access was denied. He said, "The cost and time required will vary greatly according to factors like area and degree of contamination. They can only be predicted after a detailed investigation."
Local residents are unhappy, too. Kim Eun-hee, a member of civic group Yongsan Community for Thorough Return of USFK Base, has concerns about the impact of the base pollution on her family. "A park should be a place where you can take your kids to play, but when you know the ground is polluted, you can't do that," she said.
Kim also cited USFK's clandestine import of anthrax samples to Yongsan for experiments, which came to light in 2015, as another potential safety hazard.
Expensive clean-up bill
Various methods of soil and groundwater cleaning are available, according to Song Se-jeong, a manager and geologist at Korea Rural Community Corporation (KRC). Soil can be cleaned through vapor extraction, an in-situ technique that uses vacuum wells to collect and remove volatile pollutants from the soil; landfarming, in which contaminated soil is taken to a covered site and tilled periodically to break down pollutants through aerobic biodegradation; low-temperature thermal desorption, whereby removed soil is heated to volatalize absorbed pollutants; and soil washing, an off-site process that is what it sounds like.
Groundwater cleaning techniques include pumping and treatment, whereby groundwater is pumped to the surface and cleaned off-site; and air sparging, an in-situ technique in which pressurized air is pumped into groundwater to convert dissolved organic pollutants into gases, which can then be collected and removed.
Various combinations of these techniques have already been used to decontaminate soil and groundwater at former USFK bases returned to South Korea as part of the Land Partnership Plan (LPP). Signed in 2002, the plan involved the consolidation and reallocation of 42 USFK bases and camps around the country. Of these, 16 were designated for decontamination, with approximately 17% of their 316 hectares found to be contaminated. The resulting total cost, according to KRC, was more than 190 billion won (approximately 168 million USD).
Questionable status
At the legal heart of the USFK base pollution issue lies the Facilities and Areas and the Status of United States Armed Forces Agreement (commonly known as the Status of Forces Agreement, or SOFA). First signed in 1966 by the U.S. and South Korea, it was supplemented in 2001 by the Memorandum of Special Understandings on Environmental Protection, which included confirmation by the U.S. government of its policy to: "… promptly undertake to remedy contamination caused by the United States Armed Forces Korea that poses a known, imminent and substantial endangerment to human health."
The problem is how to define "known, imminent and substantial endangerment" (KISE).
"Imminent and substantial endangerment" (ISE) is a U.S. domestic risk-based standard contained in laws such as the Comprehensive Environmental Response, Compensation, and Liability Act (CERCLA). Of high relevance to cases such as Yongsan are previous rulings by U.S. judges that offer interpretations of the standard including this: "The 'endangerment' need not be an emergency, nor does it have to be immediate to be 'imminent.'" In other words, environmental contamination can be considered to meet the ISE standard even if it's not likely to harm or kill people in the immediate or short term.
But ISE is different from KISE that appears in the 1966 memorandum. One South Korean legal professor has claimed that the addition of "known" in front of ISE to form KISE shows that "the U.S. government intended to make the standard tougher to meet."
Of the toxins discovered in groundwater (and thus almost certainly present in soil) in and around USAG Yongsan four – benzene, toluene, ethylbenzene and xylene, volatile organic compounds found in crude oil-based products and known collectively as BTEX – were found at levels in excess of the South Korean legal purification standards. Long-term exposure to these substances are considered dangerous and have been found to cause disorders including cancer.
USFK showed no willingness to address specific issues. In response to seven detailed questions from Korea Exposé about oil spillage causes, prevention and cleanup costs, USFK public affairs specialist Song Ho-chong sent three non-committal sentences that failed to provide any direct answers. Song wrote:
Our responsibilities are defined in SOFA and relevant agreements, and USFK and ROK Government have a time-tested, reliable and effective agreed upon process for addressing health and environmental concerns."
Meanwhile, a 2006 presentation on base returns and environmental issues by USFK's Major Linda Moschelle mentioned that the U.S. was under no obligation, according to the bilateral SOFA, to remediate base contamination. "The U.S. [government] is obligated to respect, but not comply with or obey, [South Korean] law," wrote Moschelle. She concluded that a lack of environmental oversight for U.S. military installations overseas had contributed to the problem, ending with the words "Need stronger incentives to follow the rules."
No way to treat a friend?
South Korea is far from the only country to have been left in a mess by the U.S. military. Germany, Greenland and British Indian Ocean Territory have all been afflicted, as well as South Korea's eastern neighbor Japan, where returned base land has yielded asbestos and high levels of other pollutants, and virgin forest is now being cut down to make a helicopter landing site.
But as yet another base, this time in the center of the nation's capital, is about to returned in what seems to be a heavily polluted state, South Koreans are starting to feel fed up.
"Before it relocates from Yongsan, the U.S. army must apologize for the pollution it has caused and for ignoring the Korean people's right of access to information," said Shin Soo-yun of Green Korea. "Then it must give a detailed statement of how many incidents took place, their scale, the extent of pollution caused and the remedial measures taken."
Beyond the legal loopholes and ambiguous definitions of the SOFA agreement lies the question of how allies should treat each other. In the words of Lee Jai-young, a professor of environmental engineering at the University of Seoul, "The U.S. needs to show South Korea that it's really a friend."
Cover image: A researcher holds up a sample of contaminated groundwater. (Courtesy of Green Korea)
Become a subscriber to access all of our content.