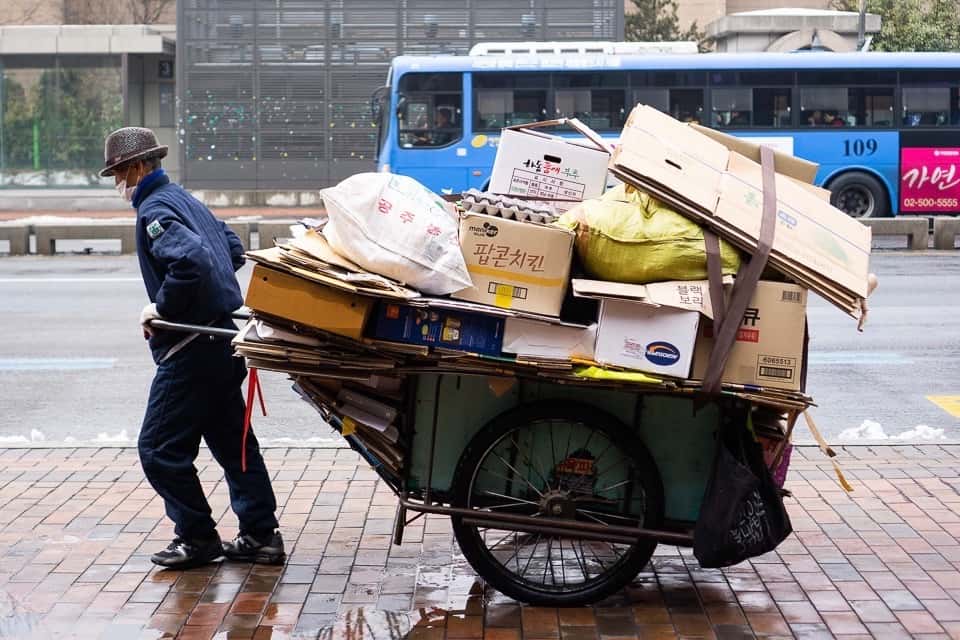 Is China the Cause of South Korea's Waste Problem?
In July 2017, China threw the global recycling industry into disarray by announcing the "National Sword Policy." In effect since January 2018, the policy banned import of 24 types of waste (now expanded to 32) and strengthened quality control, rejecting plastic scrap that wasn't at least 99.5 percent pure.
China had been importing around half of the world's recyclable plastic, including hundreds of thousands of tons annually from its neighbor South Korea. But the change in Chinese policy went unnoticed by most South Koreans—at least during the first three months.
Then came April 2018: 48 recycling firms in Seoul and the surrounding area—home to around half of the South Korean population—suddenly stopped collecting plastic waste, especially used bags, packaging and styrofoam products. Garbage began piling up at apartment complexes. The reasons given for the stoppage were varied, ranging from China's new import ban and rising costs of labor to the falling prices of recyclable materials and declining profit. And the government intervened quickly to ensure that collection would resume.
Still, given the timing, domestic media has been quick to blame much of the problem on China, dubbing the situation South Korea's "China-induced waste crisis."
"But China is not the main cause of the problem," said Choi Joosub, director of the Resource Recycling Policy Research Center. "Pointing to China's import ban may be easier for people to understand, but that's oversimplified reporting."
"Statistically, China doesn't have that much influence over South Korea's waste industry," Choi added. "The bigger problems lie inside South Korea."
Simply put, South Korea is the world's largest consumer of plastic per capita, according to a 2016 survey by Statistics Korea—the government's own data-gathering arm. Because so much plastic is in use, it simply started to pile up when recycling firms temporarily refused to collect it in April of last year.
It's easy to see the problem in stores, where most products including groceries are wrapped in a layer—if not multiple layers—of plastic of different types. Then there are takeout beverage cups, packaging for food delivery, and so on.
All that added up to 6.9 million tons of plastic waste in 2015, according to a government report. Around 60 percent was recycled within the country, and of the remaining amount, only some 230,000 tons were exported, including to China. After China's recycling ban, the amount of exports fell to around 10,000 tons in early 2018.
The government is aware that the biggest issue with plastic waste in South Korea is the sheer quantity. So its new regulations, proposed last May, included pledges to halve the amount of plastic waste by 2030. Last year, the government also banned the use of disposable cups for drinking inside cafes (it's still allowed for takeout). Starting this year, giant retailers and supermarkets bigger than 165 square meters can no longer give out plastic bags for free as they did before. Bakeries, too, have started to use more paper bags in lieu of plastic.
But Choi pointed to two other factors for South Korea's plastic disposal problem: the falling price of oil, which reduced the price of used plastic as a recyclable material (because oil is used to make new plastic), and the decline in the amount of plastic incinerated for energy, due to rising concerns about air pollution. The latter fact has served to depress the price of used plastic even further.
This means that even as the total amount of waste is increasing annually—over a total of 151 million tons in 2016, representing a 2.6 percent increase from the previous year—the incentive for recycling is decreasing, and the recycling industry is struggling to turn a profit. Businesses—especially those that specialize in plastic—are having a hard time nationwide, with some reportedly closing.
_____
Then there is the so-called "paper crisis."
All over Seoul and in other major cities, much of paper waste is collected by elderly people, who can be seen pulling heavy carts filled with different kinds of recyclables but mostly cardboard boxes. Many of these collectors are men and women in their sixties and older. At one recycling collection site in Hyehwa, central Seoul, they bring their carts between 4 and 6 pm everyday for weighing. Inside a tiny office with only flimsy plastic sheets as the door, the manager checks the weight indicator: 7 kg of clothes, 3 kg of window frames, and so on.
When the weighing is done, collectors come inside to receive the compensation in cash and a cup of coffee, made from an instant mix. This afternoon, a collector, who wished to be identified only by his given name Gyeongsu, had brought 140 kg of different waste products in return for 4,550 won (around four dollars). That's hardly enough to buy a cup of coffee in Seoul at one of the fancier franchise outlets.
"Many of the collectors are homeless. There are lots of grandpas and grandmas," said the 57-year-old manager surnamed Kwon, who agreed to speak on condition of anonymity. "It's difficult to subsist on this stuff. Even if you collect 200 kg, you barely earn 20,000 won." Less, of course, when the price dips.
Senior poverty is a serious issue in South Korea. Of the 7 million citizens aged 65 and older, 2.9 percent collect trash for a living, reported Korea Institute for Health and Social Affairs in 2017. Nearly half of the total elderly population live below the poverty line, according to the OECD in 2017.
For the elderly garbage collectors, life is difficult, of course, but not necessarily because of China. "China's effects on the paper waste industry haven't been critical," said Jeong Yunsub, the executive director at KPSRC, a body representing some 100 companies in the paper recycling industry. "We're exporting less to China, but more to Southeast Asia."
Most of the recyclable paper is collected and sold to domestic manufacturers, not exported. Jeong says the heart of the issue in the paper recycling industry is not China, but the power domestic firms wield. These companies determine the profit margin of domestic recycling collectors through a system called gamnyang (weight reduction).
"Typically, recycled paper is sold to a manufacturer in tons," said Jeong. "But if a company decides that there's too much moisture or foreign substances in the paper, they can unilaterally reduce (gamnyang) the value of what they buy."
The problem is, there is currently no standardized process for setting the price of used paper. If a manufacturer says it will pay less after visual inspection of the goods, "collectors just have to bite the bullet and sell the paper anyway, because the cost of transporting it somewhere else isn't worth it."
In addition, the China ban, which increased the domestic supply of recyclable paper, seems to have been a blessing for many manufacturers. The unit cost of paper decreased, as collection site operators competed to sell the recyclable paper piling up in their storage. The three biggest paper manufacturing companies reported record profits in 2018, according to Asia Economics.
"This year, largely because of [concern over the welfare of] elderly waste collectors, the government forbade companies to lower the unit cost of paper [they buy]," said Jeong. "So what's happening now is, companies are just importing a lot more [cheaply] from abroad and slimming down on the amount they accept from inside South Korea. These companies are making a huge profit."
The price collapse has a serious implication for elderly garbage collectors who see their income drop dramatically. In early 2018, the price Kwon paid for used paper temporarily dipped from 120 won (a little more than 10 cents) per kilogram to 30 won, before rising back up to 70 won at the time of reporting in January 2019. The price fluctuation also means that incentive for collecting paper in the first place decreases, leading to collection of less paper waste.
Some of Kwon's biggest headaches are far from China. "It's very difficult for businesses like us to get tax deductions," which he could claim for buying recyclables from elderly collectors, he said. "I'm paying [them], but I don't have the right documents for the government." For a number of reasons, collectors often refuse to disclose personal identifying information that Kwon needs: Some worry their monthly pension will be cut, and some are credit delinquents.
Outside Kwon's office, a crane picks up heavy chunks of trash, sorted by category into towering piles. Nearby, trash collectors who have just emptied their carts rest on wooden benches, some smoking cigarettes. "Life is killing me," one man laughed, but without humor.
_____
Waste-wise, it seems like South Korea could be doing much worse. At apartment complexes, residents are constantly reminded that they need to sort all their recyclables into specific categories. Food scraps are zealously collected and turned into animal feed. Officially, the country recycles over 85 percent of all waste, according to a 2017 government study. It's a globally commendable number, suggesting that very little waste is being incinerated, buried in landfill or released into the ocean.
But that official number belies an uncomfortable truth.
Illegally dumped trash has formed mountains in rural counties like Uiseong. The government recently admitted that over 1.2 million tons of waste have been abandoned nationwide. And thousands of tons of illegally exported waste from South Korea have been discovered in various parts of Southeast Asia, with some being shipped back after a local outcry.
Jeong says the challenge for the government is to create policies to cater to the particular needs of each waste product. The paper collecting industry struggles differently from those in the plastic business, and from metal collection and from electronics collection, and so on.
"[The problem] is really very complex and diverse," said Jeong. "Some measures fit some wastes, but others just don't. Waste isn't just one waste."
Meanwhile, garbage continues to pile up.
Cover image: an elderly garbage collector in Hyehwa, Seoul (Ho Kyeong Jang/Korea Exposé)
Become a subscriber to access all of our content.