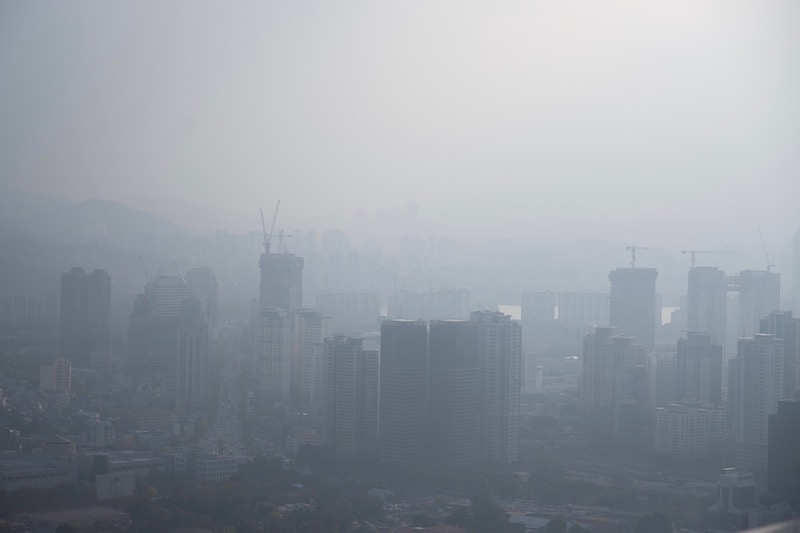 Seoul Had the Second-Worst Air Quality in the World This Morning
Early this morning, Seoul had the second-worst air quality in the world, after New Delhi.
According to AirVisual, an air quality monitoring site, things improved somewhat in Seoul as time went on. But as of noon local time, the South Korean capital was still in 8th place for terrible air, just behind such pristine cities as Dhaka, Lahore, Beijing and Shanghai.
Busan, South Korea's second largest city, was in 10th place.
Along with cherry blossoms, terrible air is what South Koreans have come to expect in spring. So where does the air pollution come from?
For a long time, China was seen as the main culprit.
It was once the fashion for some South Koreans to travel to the deserts of China and Mongolia on tree-planting trips, in the belief that this will slow down desertification, and thus reduce pollution reaching South Korea. As temperature rises, wind carries dust and sand in the area eastward over the Yellow Sea, blanketing the Korean Peninsula.
Combine the seasonal dust with industrial emittance from Chinese factories, concentrated along the coastal region, and you have South Koreans and their government exclusively blaming China for polluting air around South Korea, at least until the recent past.
But no more. While China continues to pose a serious environmental threat, growing attention is being paid to domestic sources of pollutants within South Korea. Even the Ministry of Environment admitted last June that external sources ordinarily accounted for only 30 to 50 percent of fine particular matter, also known as PM2.5.
Greenpeace was one of the first to point to South Korea's reliance on coal power plants as a major source of air pollution, especially PM2.5. As of 2015, 53 coal power plants produced some 43 percent of the national electricity supply. The number of coal power plants nationwide is expected to grow to 77 by 2021.
The government accepts that something must be done about the air quality, with then-president Park Geun-hye saying two years ago, "This is a serious problem that threatens public security and health. Significant policy must be established at the national level."
Then the government became a laughingstock by identifying two main culprits for air pollution: diesel cars and cooking. The Ministry of Environment came under widespread derision, for speculating that grilling mackerel fish and pork belly — two beloved foods in South Korea — constituted a major threat to public health. And experts criticized the diesel finger-pointing, questioning whether gasoline cars are really much cleaner.
다시 돌아온 봄 공기가 " 아니 너 아직도 공기청정기를 안산거야? " 라며 내 목구멍을 세차게 치는 이 느낌.

— 정모모 (@olyChloe) March 20, 2017
"It feels as though spring air, now that it has returned, is giving a hard kick to my throat while telling me, 'What, you still haven't bought an air purifier?'"
Some presidential contenders have pledged to address the issue of air pollution and fine particulate matter, but it has not been the focus of their campaigns. For now, it seems individual citizens have to protect their own health.
Today on South Korean Twitter, the word "air purifier" is trending. And to protest government inaction, Greenpeace Korea is holding a march on Mar. 25 near the world's largest coal power plant, which happens to be located in South Korea — Dangjin, South Chungcheong Province.
Cover Image: Smog over Seoul in October 2016 (Source: Microyance CC BY-NC-SA 2.0)
Se-Woong Koo wrote this radar report.
Become a subscriber to access all of our content.