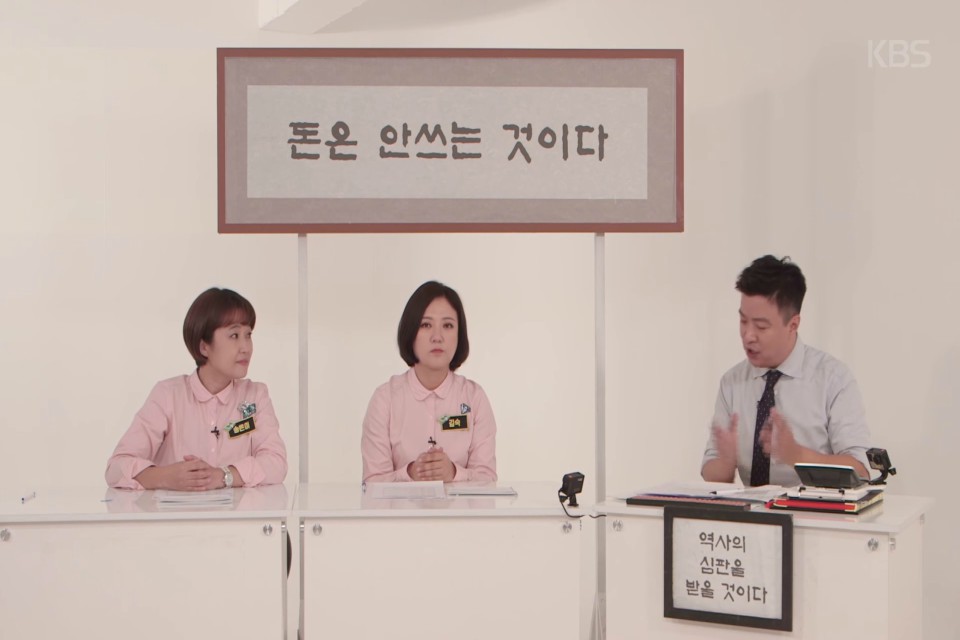 Being Frugal, Not YOLO, Is South Korea's New Fad
Who knew that a podcast analyzing receipts could create such a sensation? That's all there is to the recording: A South Korean comedian breaks down somebody's monthly expenditures and rates the spending based on the contributor's income and long-term financial goals. Two comedians sit beside him, for comedic relief.
Enter Kim Saeng-min's Receipts, one of the most popular shows on Podbbang, the country's main hub for podcasts. The program, which has nearly 50,000 subscribers, has given rise to popular catchphrases: "Goo-ray-it (Great)!" Kim yells, when the submitted receipt shows somebody making a monthly transfer to a savings account, or when someone with a low income goes to a supermarket and restrains herself from excessive spending by buying only a single toothbrush. "Suh-too-pit (Stupid)!" Kim screams, when a man with 3 million won (around $2,700) in debt buys a $30 facial cream on sale.
The popularity of the podcast doesn't seem coincidental, especially at a time when consumption is declining in South Korea, in tandem with record-high household debt, which likely limits consumer spending sprees. According to the Bank of Korea (BOK), in the first quarter of this year, the rate of savings reached a record high (36.9 percent) in 19 years. The last time the savings rate was nearly this high, the country was bankrupt and in the midst of the Asian financial crisis in the third quarter of 1998 (37.2 percent).
An increase in savings coincides with declining consumption. Ironically enough, the BOK predicts that the rate of savings will drastically drop to -3.6 percent by 2030 because of the aging population. "This study is about the long-term trends, not about what happens each quarter," said Cho Se-hyung, one of the authors of the recent BOK study, "Policies, Tasks and Effects of the Aging Population."
Kim's podcast serves to counter consumerism encouraged by the hugely popular YOLO trend. YOLO, or "you only live once," is often depicted by government agencies and big corporations as the consumer trend of this age. Infinite Challenge, the popular MBC variety show, even had a "YOLO Special" in May, where comedians were given corporate credit cards to use as however they liked. Another accompanying trend encouraging consumption is sibal biyong, which essentially translates to 'fuck-it-spending.'
Kim's receipt program also aired as an 8-part miniseries on KBS.
Contrary to these trends, Kim lauds people who save and boos those who spend. Strictly speaking, he's not anti-consumption. He's anti-indiscriminate, sibal biyong-ish consumption, especially when there's no awareness about the value of saving for the long-term. "I don't know if I have the energy to break the powerful YOLO trend," Kim Saeng-min told newspaper Joongang Ilbo in July, a month after his podcast first launched. Maybe so, but his energy is certainly powerful enough to resonate with the many South Koreans who don't think they can simply live in the here and now.
Cover image: The show's slogan is "Money is for not spending. You will be judged by history." (Source: KBS)
Become a subscriber to access all of our content.