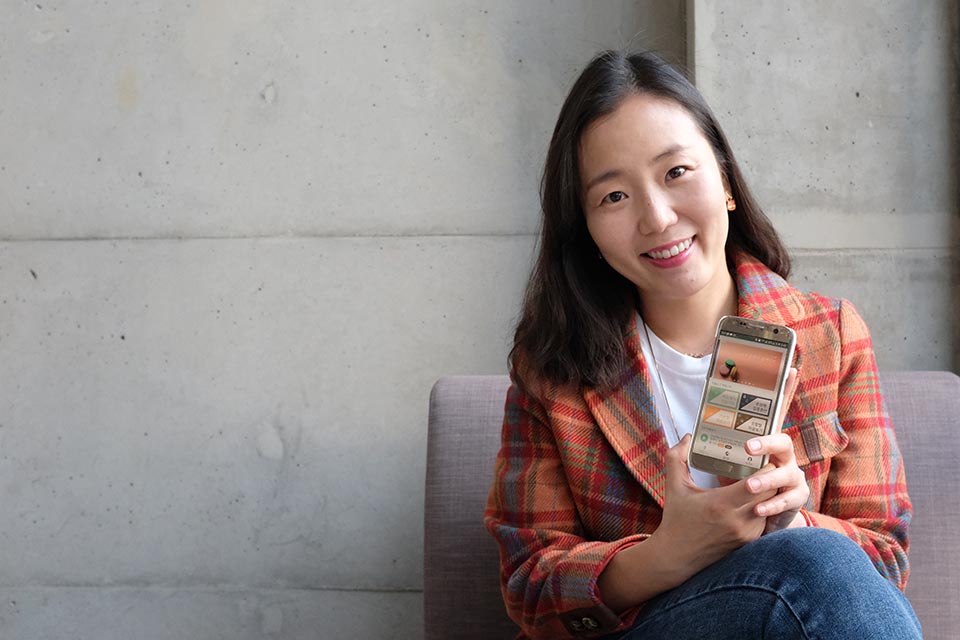 Interview: You Jung-eun, Creator of Meditation App Mabo
Meditation, originally a thing of the East, has gained popularity in the West in recent decades. But now, organizational psychologist You Jung-eun is bringing it back to the East with her guided meditation app, Mabo.
Since getting into meditation 6 years ago, You has worked hard to bring mindfulness to contemporary South Koreans. The doctoral candidate in organizational psychology and former consultant to foreign companies in South Korea has always been curious about what makes people happy, especially at work. Eventually, she realized that organizational culture could never change if the mindset of the leaders didn't change, which brought her to the question, "Can leaders change their mindsets? How can they be become good people?"
It was then that You came across Search Inside Yourself a book by Chade Meng Tan. Chade, a former software engineer at Google, is also known as Silicon Valley's 'Zen Master'. Their email correspondence led to a meeting at Google headquarters in California, after which You introduced Google's renowned gPause meditation-based leadership program to South Korea, leading in turn to the birth of Mabo.
As the first guided mindfulness meditation app in Korea, Mabo has around 11,000 monthly active users.
The following interview has been edited for length and clarity.
KÉ: How did you come up with the idea of creating Mabo?
Initially, I had only thought of bringing the program to South Korea; it hadn't occurred to me to become a meditation instructor myself. But once I was certified by the Search Inside Yourself Leadership Institute, I combined my knowledge in psychology and background in consulting to host meditation sessions at companies like Samsung and SK. Then I started a monthly meditation group at Seoul's Google Campus called 'gPause Seoul for Mindful Entrepreneurs', which is still going on.
One day, after a meeting at Google Campus, an amateur app developer who was part of the group came up to me and asked if he could record my voice. He told me it was difficult for him to focus with the English meditation apps because of the language barrier, so he wanted to record me and make an app. I decided to partner with him at that moment, and we started making the app.
We began in winter 2015 and officially launched in August 2016 by selling lifetime memberships on South Korean crowdfunding website Wadiz. We only had an Android beta-version back then, but not only did we we end up achieving 100% of our funding target within three days of launching, we received so many requests to create an iOS app that we began working on that too. By the end of the campaign, we had achieved achieved around 720 percent of our target — our goal was to raise 2 million won, but we ended up with over 15 million. With that money, we created the iOS app and then changed to a subscription-based model. Last year, we did another round of crowdfunding with Kakao, where we raised over 30 million won. We reached 1,500 percent of our target.
KÉ: I noticed that there's plenty of room for people to share their experiences and thoughts about the content on the app itself. Is there a reason why you put a lot of emphasis on communicating with users?
Many people mistake meditation for sitting alone, closing your eyes, and achieving enlightenment. But mindfulness meditation isn't like that at all. It's about connecting and relating to other people and the reality we live in. As people share their stories and pain on the app, they realize that there are others who have experienced the same thing: that it's a mutual experience that human beings can have.
KÉ: What do you think is Mabo's strength compared to other meditation apps?
The great thing about Mabo is that it offers very generic mindfulness meditation. We structured the app so that people can choose a type of meditation based on their mood or situation. There's also a basic, 7-day mindfulness course. So it's applicable to people with all different kinds of needs — whether they're depressed or in search of happiness.
We also have a very wide user base. The largest group of users is women in their 20-30s, followed by men in their 20-40s. The gender divide is almost equal, through there are slightly more women.
KÉ: Do you also host offline meetings?
There are two meetings that I currently host: the free, monthly meditation meeting at the Google Campus called gPause Seoul for Mindful Entrepreneurs, and an 8-week offline course for Mabo users. I take applications for the 8-week course and select members based on how long they have been using the app and why they want to join. I'm currently running that course for the third time
KÉ: Why do South Koreans need this type of self care? How do you think it's different introducing a mindfulness app here as opposed to in another country?
I don't think this is something only South Koreans need. People today share a common illness: being busy. Everyone's always busy planning the future or regretting the past instead of focusing on the present. And our smartphones play a huge role in making us do that.
Mindfulness meditation has only been in the limelight in the United States for the past 10 years, a period that coincides with two things:. First, smartphones were also created around that time, making people's lives steadily busier. Naturally, this has made them seek tranquility. Second, science has developed in ways that enable us to see the effects of meditation on our brains and teach us that we can train them.
KÉ: So are you planning on expanding to other countries?
I was at a meditation retreat in China last year, where Jack Kornfield and Trudy Goodman were guests. Listening to the concerns that the Chinese attendees shared, I realized that we all share similar problems in life, contrary to my prior belief that some concerns were unique to South Koreans. While there are universal struggles that everyone can relate to, there are some that are unique to Asian culture. For that reason, I want to create a network of meditation teachers in Asia. There are many things that Asian countries can learn from one another, and I want to make something out of that.
As my next business project, I'm thinking of taking Mabo to Vietnam and other Southeast Asian countries. Jack Kornfield learned meditation from a Thai Buddhist monk named Ajahn Chah. That's an example of how meditation started in the East and went to the West. And now it's making its way back to the East. As we embrace meditation in Asia, I'm sure that we can find a way to make it work for our culture. I hope that we can eventually form a network of teachers and break the stereotype that meditation is something that only old people do in temples. Instead, I want to show people that we can meditate in our daily lives and be practical about it.
Cover image: Mabo creator You Jung-eun (Kathy Yun/Korea Exposé)
Become a subscriber to access all of our content.