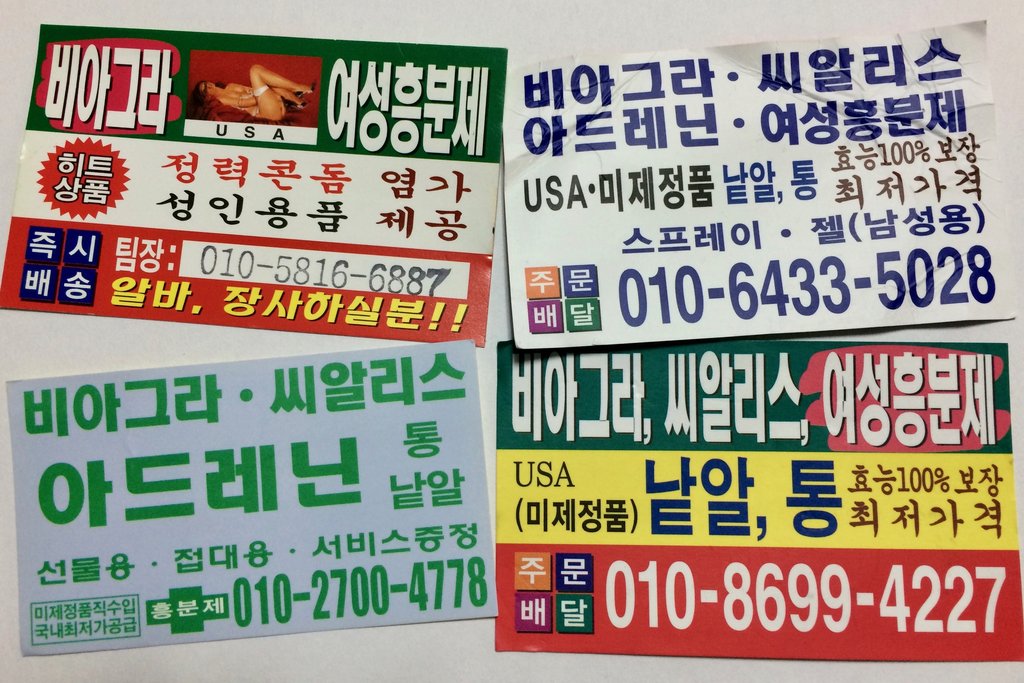 Drugs in South Korea: Sex, Sales and Crackdowns
In 2004, comedian Noh Hong-chul, perhaps best known around the world as the "elevator man" in Psy's "Gangnam Style" music video, published a confessional essay stating that he once got a girl drunk while in high school in order to have sex with her.
He wrote, "[…] in order to get a woman [unconscious], you could use alcohol, sleeping pills, or pig aphrodisiac. The last one was too hard to get, so I gave up. They didn't sell sleeping pills in large quantities, so I gave up on that too […]"
The article ends with Noh confessing that the girl started vomiting, that he had to send her home "without any rewards", and that the next day the girl called him, yelling, "Don't ever do that again, you asshole!"
The article caused much controversy when it resurfaced in 2007, but Noh's agency has maintained that the magazine had fabricated the article.
Sex, Drugs and Crime
Yet drugs and sex appear inseparable in South Korea. Hashtags such as "ice," "methamphetamine" and "cannabis" on Twitter are almost always accompanied by terms such as "aphrodisiac," "erection aid," "Viagra," "lip café" (a type of prostitution service) and "hot girls."
Methamphetamine has been used by men as a date rape drug, as a means to force teenage girls into prostitution, in involuntary manslaughter, as well as in facilitating moral transgressions such as orgies, partner swapping and 'various perversions,' and meth 'parties' involving pregnant women, some of them underage.
Substance users often claim they had used the drug to "get away from the shame" of the sexual deviations they had committed.
A more disturbing aspect is the use of aphrodisiacs – particularly "pig and horse Viagra" products normally used by veterinarians to sexually arouse animals for reproduction and which may have fatal consequences if administered improperly, both on animals and humans. Such medication is sold for hefty sums on various online shopping malls as aphrodisiacs, but upon closer examination their marketing approach is to promote rape.
In the first installment of this series, I said that prescription drugs such as GHB and Rohypnol were being sold illegally. As opposed to the prescription drugs which are used to turn women unconscious, several natural and chemical products are sold and marketed as 'aphrodisiacs' – they'll want to make women have sex with you, so you don't have to 'force' them — is the underlying assumption of many of the ads for such products.
Some domestic news outlets report that between 1995 and 2010, nearly 90 cases of crimes involving animal aphrodisiacs were reported, with the numbers increasing year after year.
Aphrodisiacs, sold under names such as Yohimbin (a tree bark extract), Spanish Fly (an insect derivative), mulppong and simply "rape drug," retail at prices ranging from 150 to 300 USD. Their ingredients remain vague in both quality and quantity.
Pig aphrodisiacs sell for 20 to 30 USD, making them much cheaper than others but nevertheless at a tenfold increase from their base price. This substance is especially problematic for authorities: It can act on the central nervous system and disrupt the endocrine system if administered in large quantities, but not subject to formal checks since it is not officially a narcotic substance.
Despite health professionals' and the government's repeated warnings against using the drug on humans, South Korean men's demand for such drugs persist, with sales outlets ranging from online malls, erotic shops, and veterinary stores. In 2011, it was found that of the 220 websites reported by the Korea Food & Drug Administration for selling illicit medication including such aphrodisiacs, 95 were still running at the end of the year.
Pig aphrodisiacs are also used by teenagers, due to their lower price and availability.
The veterinary drug has even made its mark on popular culture. The 2002 movie Sex Is Zero starring A-list actress Ha Ji-won shows youths exploring their sexuality, from masturbation to a sex doll to using pig Viagra. More recently, Comedienne Jang Do-yeon caused controversy when she spoke about having spiked a former boyfriend's drink with the substance, but later retracted the story, saying that she had run out of materials and had made it up to get laughs.
Increasing Demand for Drugs and Dealers Online
According to a 2016 Korean Institute of Criminology report (via Yonhap), of the 9,742 arrests made in 2014, 52.2% were users; 26.1% dealers; only 5% of all arrests were made on farming (opium poppy and cannabis) and 4% on drug trafficking. No case of drug manufacturing (i.e. meth labs) was reported (though there recently have been raids on drug labs).
The drug arrest figure correlates to the rising number of purchases made through the Internet and international courier services. Drug dealers are unlikely to choose South Korean portal sites such as Naver and Daum as their outlets, as they are known to comply to government requests for user data including user ID, logon data, and IP address.
However, overseas-based services such as WordPress, Tumblr, Gmail, messenger apps Wickr and Telegram, as well as Deep Web forums are easily accessible and frequented by users. By taking photos or videos of the products on sale next to their phones, clearly showing the date and time, dealers try to prove to potential customers that they have genuine goods.
Bizarrely, some dealers advertise even on university websites, in an indication of their target clientele.
Zero-Tolerance Policy and Inadequate Treatment
The continuous increase in drug usage is alarming to authorities which fear the country will lose its status as a drug-free nation. The label implies that the population has little risk of exposure and that international drug trafficking faces a challenging environment. Regulations are thus tough on both South Korean nationals and on foreigners, with repeat offenders sentenced between ten years to life and in some cases, capital punishment.
South Korea's hardline policy is not surprising considering the region's general attitude — Japan has even refused visas to Mick Jagger and Paris Hilton for drug offences committed elsewhere in the past. However, South Korea is not as tough as some of its neighbors — Singapore and Indonesia enforce executions more widely on hard drug traffickers, and China extends this to cannabis.
The Busan Metropolitan Police was widely praised for their work when they released footage from a methamphetamine user's arrest on YouTube in 2013.
The South Korean government's drug regulations still remain strict, and notably follow the 'Nationality Principle,' meaning that South Korean nationals who have consumed illegal substances in a country where they are legal can be punished retroactively once they re-enter the country. Although this sounds harsh, it actually means that the "don't ask, don't tell" policy is effectively in place.
Despite various legislation on drug use and sales dating for nearly 60 years, South Korea lacks a comprehensive 'drug agency.' Currently, the National Police Agency and the Supreme Prosecutor's Office are in charge of arrests, the courts of sentencing, and twenty-one national medical facilities and the Korean Association Against Drug Abuse (KAADA) of rehabilitation.
A particular deficit can be found in the rehabilitation process, as demonstrated by the high numbers of repeat crimes (accounting for anywhere between 30% and 40% of all drug-related crimes). Founded in 1992, the KAADA is an NGO responsible for the rehabilitation process and provides a residential program for up to a year, but only focuses on the behavioral aspect of treatment and job training, and does not, as in many other OECD nations, conduct this in parallel with medical treatment. It also limits patient intake to twelve persons at a time, and treatment may cost extra for the patient, depending on the case.
Drug Use: On the Rise but Still Stigmatized
In a twisted turn of events, drugs appear to be one of the few factors that bring South Koreans from different generations and walks of life together. On Nov. 8, a group of 6 drug dealers and 84 users ranging from celebrities, flight attendants, college students, North Korean defectors, housewives, "salarymen," as well as gang members were arrested. Six days later, on Nov. 14, an 81-year woman and a 50-year old man were arrested growing and distributing marijuana, respectively.
Just this Thursday, police arrested a man in his thirties for manufacturing 350 grams of methamphetamine from cold medicine at a factory in Gyeonggi Province.
Nevertheless, South Koreans as a whole are little affected and uninformed when it comes to drugs: Many clump 'drugs' into one large box, without distinguishing soft and hard drugs. Celebrities are often wiped off completely from the scene following a drug scandal – singer Park Bom, whom I discussed in the first installment of this series, made an exceptional comeback at the 2015 Mnet Asian Music Awards following a 14-month hiatus. Her appearance at the event stirred a major backlash. Since then she has not released any new music or been featured in ad campaigns.
Cover Image: Business cards advertising erectile dysfunction drugs and aphrodisiacs side by side can be easily found in mens' toilets around Seoul.
Become a subscriber to access all of our content.