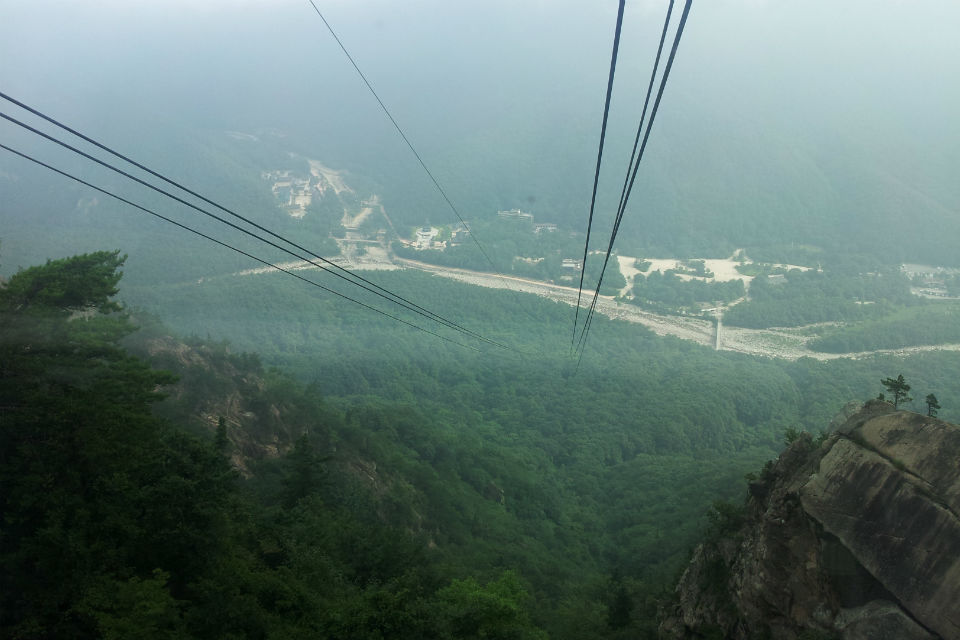 Ropeway, Airport Encroaching on National Parks
It's a familiar sight for anyone exploring the South Korean countryside: Just when you least expect it, a row of giant concrete columns newly growing out of a rice paddy, rising upwards in readiness for another highway or high-speed railway to be laid across the top. This is a small, densely populated country and people like to get around. Full-on traffic jams are a common occurrence even on rural highways.
The transport infrastructure has largely kept up with demand over the years, making leaps and bounds since the first Seoul-Busan expressway opened in 1970. But as one new road, tunnel, bridge, railway, or international airport appears after another, you sometimes have to wonder: Is it ever going to stop?
This year marks the 50th anniversary Korea's national park system. Jirisan National Park came into existence in 1967, the first of what are now 22 national parks covering 6.7 percent of the entire country.
Now, Korea Society of Environment and Ecology (KSEE), one of the country's foremost group of academics, is making a bid to stop rampant development encroaching upon national park land – again.
In a statement issued on Nov. 1, KSEE slammed decisions by the Cultural Heritage Administration to allow the construction of a controversial ropeway to convey tourists to one of the peaks in iconic Seoraksan National Park, and by the South Jeolla provincial government to build an airport on the island of Heuksan-do, which lies in Dadohaesang National Park.
A dispute over the new Seoraksan ropeway has rumbled on for years (there is an existing ropeway in another part of the mountain), with proponents citing benefits to the local economy and opponents desperate to prevent environmental damage, particularly to several endangered species inhabiting the local area.
"Seoraksan National Park is of immense conservation importance, recognized both nationally and internationally, by bodies like the IUCN and UNESCO," Professor Choi Song-hyun of KSEE told Korea Exposé. "There are 15 or 16 ropeway projects currently planned in Korea. Some of them may be acceptable, but not in national parks. If the Seoraksan ropeway is approved, it will be logically harder to argue against any of the others. And the Heuksan-do airport will cause huge environmental damage to the local ecosystem, including migratory bird habitats. The islanders want more regular boat services instead."
Choi suggested long-term sustainable tourism projects in collaboration with local communities as an alternative to the current focus on "large-scale developments" currently endorsed by many local politicians with the purported aim of boosting the economy.
A South Jeolla provincial government official, requesting anonymity, claimed that most of the islanders, "except environmentalists," were in favor of the airport construction plan, citing convenience. "Have you been to Heuksan-do?" he asked. "It takes a long time to get there."
The Heuksan-do airport plan is mirrored by a similar plan on Ulleung-do, an island off South Korea's east coast. In this case, too, access will be dramatically improved, with the journey time from Seoul to be cut from around nine hours – not counting frequent boat cancellations – to just one.
It's a familiar pattern that echoes past developments including the Four Major Rivers Project, the Miryang electricity pylon dispute and numerous other projects. Vocal opposition from environmentalists on one hand is countered by promises of local economic development on the other. Local residents are often divided. But with more and more of the country crisscrossed by new highways, railways, giant bridges, airports and more, the question of sustainability may eventually come to the fore, even in mainstream media.
Cover image: View from an existing ropeway in another part of Seoraksan National Park (source: Wikimedia Commons)
Become a subscriber to access all of our content.