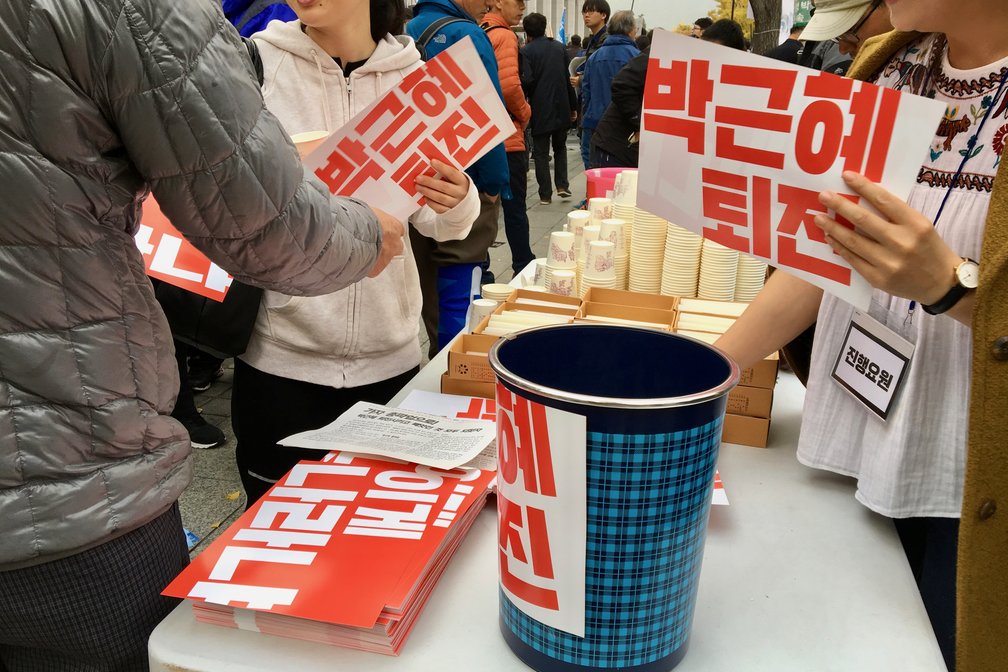 "Step Down, Park": Anti-Government Protestors Occupy Downtown Seoul
Masses of South Korean protesters took to downtown Seoul Saturday for a candlelight vigil and a march, demanding that President Park Geun-hye step down – with no barricades nor scuffle, in what has been praised as a surprisingly peaceful demonstration.
Police estimated the size of the crowd at 45,000. The number given by organizers was 200,000.
Despite the presence of 20,000 police officers and several water cannons, the rally, made up of a wide range of people – including Sewol Ferry victims' families, activists, supporters of the late Baek Nam-gi, labor unions, and middle school students – proceeded to take "a stroll in the park" down the streets of Gwanghwamun, Jongro, and Myeongdong.
The demonstration comes amid a snowballing scandal surrounding the president and her confidante, Choi Soon-sil, after prosecutors formally arrested two former presidential secretaries in connection to the case on Sunday.
"They know they can't treat us with excessive force at an event like today's," said Choi Yeon-jeong, 26, a student activist at Sungkyunkwan University. "Everyone's at the brink of exploding in anger, and the police are already under criticism after what happened last year with Baek Nam-gi."
Baek, a farmer activist who spent nearly a year in a coma after he was struck down by a police water cannon during an anti-government rally last November, died late September. On Saturday his funeral was held at Seoul's Myeongdong Cathedral, followed by a procession. In Gwanghwamun Square a special ceremony, attended by thousands, commemorated his life.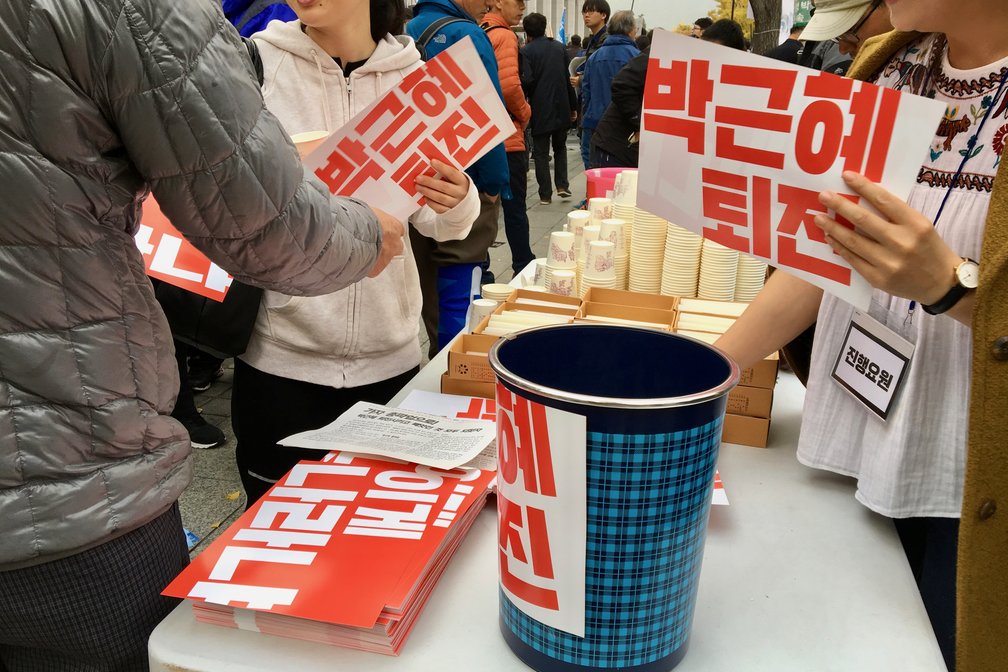 Once the commemoration ended, red signs saying "Step down, Park" and "Is this a country?" were handed out at numerous booths set up across Sejong-daero, a main traffic artery leading to Gwanghwamun, while musicians performed satirical songs about the Park administration on a stage in front of Gyeongbok Palace.
Families also took part in the vigil, with many parents encouraging their children to hold up signs that read, "We want democracy, we want a safe society."
Kang Soon-hui, 43, who attended with her 10-year-old son, said there was no excuse to skip today's rally.
"This is for our future generation, so they can live in a transparent and happy society," she said. "I don't want my child to grow up being ashamed of his country, nor feel that the government is more threatening than protective."
Meanwhile on the sidelines of the protest, a group of about 20 Park Geun-hye supporters condemned today's rally, holding up South Korean flags and heart-shaped signs that read, "We love you, President Park."
Passersby shouted foul language and scoffed at the pro-government activists, questioning their intentions and accusing them of being paid minimum wage by the presidential office as alba, or hired demonstrators, to come and show support for the government.
One conservative group known as "Eomma Budae," or Army of Mothers, was later reported to have gotten into a scuffle with a high school student at the vigil. The leader of the group, Joo Ok-soon, 63, was detained by the police after allegedly hitting a 16-year-old girl with a picket sign.
Only identified by her surname Kim, the teenager took to Facebook to clarify the details of the incident: "There have been erroneous reports saying that I hit her. I didn't. I tore down her sign after she started making abusive remarks about my parents. She then slapped me with the picket sign." Kim later deleted the Facebook post.
The main reason for the Saturday rally was the Choi Soon-sil scandal, but some said that there's more than meets the eye when it comes to the popular demand for Park's resignation.
"The Choi Soon-sil scandal is just the tip of the iceberg," college student Lee Jae-yoon, 22, said. "It shows Park Geun-hye's character: Being an utter failure when it comes to communicating with the people, and lacking basic human decency in general."
The candle light vigil continued past 11PM, well past the initial plan for the event to conclude at 9PM.
Organizers say they aim to rally one million participants for next Saturday's rally, the third of its kind since the scandal erupted last month.
Become a subscriber to access all of our content.