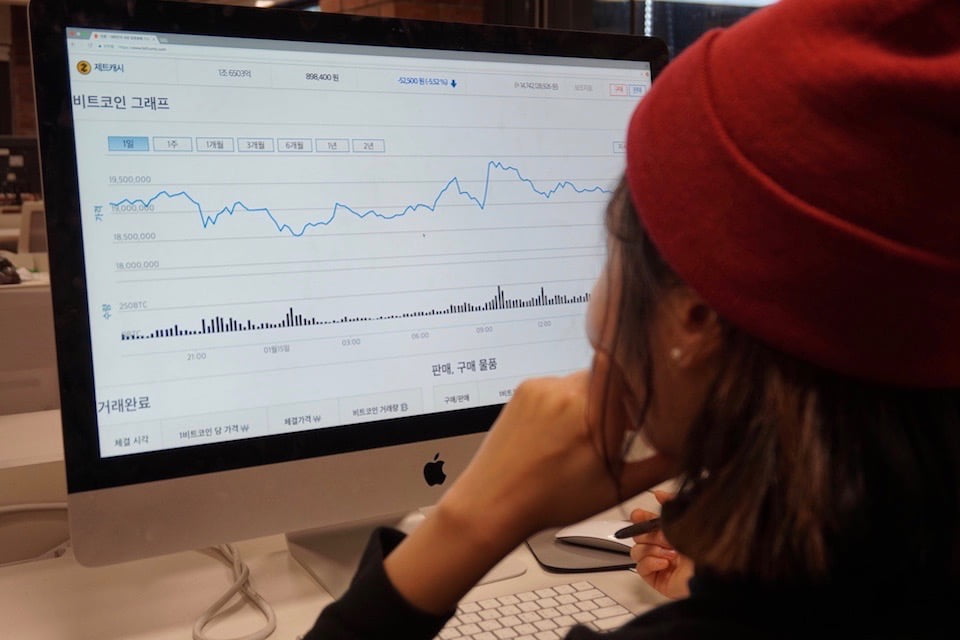 I Am a 24-Year Old South Korean and My Hopes Are in Cryptocurrency
"Do you know how to buy bitcoins from exchanges abroad?" asked my cousin on KakaoTalk, South Korea's popular messenger app. When I told him he might need an overseas bank account, he asked, "Do you also invest in bitcoins?"
I told him about my very first financial investment made a few days ago — 2,500 dollars evenly divided between Ripples and Ethereum Classic. "Let's greet another Ripples investor." With that message, he suddenly welcomed me into a different chat room consisting of him and three other cousins I rarely keep in touch with.
The atmosphere in the chat room was a lot more jovial than at our usual family gatherings — especially when the price of EOS, one cryptocurrency, momentarily surged more than 90 percent last week.
They digitally shouted, "Gazua"– a bastardized version of the Korean word gaja which literally means "let's go!" So "Gazua" means something along the line of "Let's goooooooo," reflecting the hope among investors that the value of their cryptocurrency will soar to the moon. (South Korea is the world's third-largest cryptocurrency market so the word has been appropriated even by foreign investors on online bitcoin discussion communities and Twitter).
Even though I've been covering business news for about two years, I was never much of a believer in investing because of all the horror stories about investments gone bad. For example, my ex-boss who used to be a big-time trader in Singapore told me about his friends who jumped off the bridge during the 1997 Asian Financial Crisis. It led me to believe that I should rely more on my hard work and determination instead of staring at tickers and graphs for money I didn't sweat for.
However, now, as a 24-year old in South Korea, investing in cryptocurrency seems like my only hope for a brighter future. And clearly I am not the only one to think this way.
The Hell Joseon Conundrum
I wouldn't call South Korea "hell" because that sounds like a place with engulfing fire and pitchfork-wielding demons, but many young South Koreans have taken to describing their country in this way because living in South Korea sometimes feels like swimming in ocean toward a faraway island with no idea of when or how to get there. I've been back only two months, but I am already gulping for air.
I have graduated from one of the top tertiary educational institutions in Asia, and would sometimes hear people refer to me as a person born with a "golden spoon" in her mouth because they think I am wealthy enough to study abroad. But they don't know that I took out a massive loan to pay for the education, and I am still paying it back with the help of my parents.
I am not the only one to pay exorbitant fees for decent education. An average South Korean student spends 256,000 won ($240) per month on after-school education even before entering university, according to government data. In Seoul's rich district of Gangnam some parents reportedly spend as much as 2.57 million won ($2,415) per month on education-related costs for a single child in high school. That is more than 92 million won (some $86,000) for three years of high school.
And trust me, people not living in Gangnam also fork out large sums to the best of their ability to educate their children in the hope of changing the color of their kids' "spoon." My friend's mom living in a humble suburban of Seoul held two jobs delivering milk and babysitting to pay for private hagwon fees when my friend was in high school. In South Korea, even an average family earning a monthly income between one and two million won ($940 to $1880) still spent five to 10 percent of that money on a child's private education in 2016.
To make the best of this expensive education, I interned four times during university at global companies including Google and Bloomberg while participating in various school activities, taking numerous classes per semester, and tutoring young students. I did all this partly out of passion, but also to make sure that I can find a job after graduation, pay back my loan and financially support myself.
Now in Seoul, I feel like my hard work, neatly summarized in a one-page resume, has been basically worthless.
I have been lucky to get full-time work immediately out of university, but almost one out of every ten South Korean youths (officially defined as aged 15 to 29) is jobless, partly because they spend all that time just preparing to get a job at additional cost.
The most sought-after career path for many South Korean graduates is entering one of giant South Korean conglomerates — the so-called chaebol — such as Samsung, LG and Hyundai. Those companies offer relatively generous salaries and benefits (with the starting salary at around three to four million won ($2,800 to $3,800)) and a measure of job stability. However, even if you're lucky to get a job at one of those companies, forget about work-life balance (not that smaller companies paying less would offer more free time).
When I came back to Seoul, I envisioned myself drinking somaek (the delicious combination of soju and beer) with my friends after work in dimly lit grilling joints of Seoul. The plan never materialized because many work until 2 or 3am. Their dinners during the week are reserved for eating with colleagues and bosses, and their weekends are for resting. Their lives resembles that of my dad, a former civil servant, who worked until 1am almost every day before retirement. I never saw much of him growing up, and that culture hasn't changed.
Even if you are willing to put up with the hours, fitting into South Korea's toxic corporate culture is tough, and you can be picked on for things that have nothing to do with workplace performance. When I went for a job interview at one of top PR firms in South Korea, a thirty-something manager asked me, "Why is your resume so laden with social consciousness?" He was pointing to the part that listed my experience as a news assistant covering the 2014 Sewol ferry disaster. At the end of the interview, he concluded, "I don't think you can adapt to our corporate culture because you grew up overseas." I won't even go into the issues of discrimination against women.
And why should I put up with this when none of these terrible jobs will ensure a good living standard? Getting housing in Seoul is a challenge for me and many young adults even with a decent income.
The median price of an apartment in Seoul stood at nearly 435 million won (almost $400,000) as of late 2016, Maeil Business News Korea has reported. Seoul is more expensive to live in than Geneva, Paris and Copenhagen according to a 2017 survey by the Economist Intelligence Unit.
However, unlike other big Asian locales on the list, South Korea doesn't have a low youth unemployment rate or a well-established system of public housing (as in Singapore, where 80 percent of the the population live in government-provided apartments), or a strong domestic economy and a bigger supply of jobs (as in Japan).
It will take me at least 10 to 18 years to be able to afford to buy a place in Seoul on the premise that I save every won (calculated on the basis of my current salary and expectation for higher earnings in the future).
South Korea's income inequality is the worst in Asia according to the International Monetary Fund's 2016 report — the country's top 10 percent of income earners account for 45 percent of total earnings. I've already done my math. Unless I suddenly become an investment banker or a lawyer, I can predict that my future salary won't be enough for retirement (the national pension system is still in its infancy and doesn't pay much unless one has worked as a public servant or teacher). I have no inheritance or connections to count on (unlike those chaebol children who become executives at family firms when they are still in their twenties and thirties).
Going to graduate school is financially out of the question. Having kids doesn't sound feasible at all when I sometimes worry about my debit card getting rejected at restaurants due to insufficient funds in my bank account. Which brings me back to the cryptocurrency craze.
Life Jacket
People in their twenties and thirties account for more than half of all cryptocurrency investors in this country. For young South Koreans who find themselves with no ways of getting ahead in life, the cryptocurrency market is the fairest financial playground to date, in that it doesn't require insider knowledge controlled by a limited number of institutions and individuals — the very thing that moves the traditional stock market.
Unfortunately, the mood in my cryptocurrency chat room has been gloomy since South Korean justice minister Park Sang-ki suddenly announced on Jan. 11 that regulators were preparing a legislation to ban cryptocurrency trading (over accusations of facilitating speculation and money-laundering). The announcement, which was retracted by the presidential office days later, caused global cryptocurrency prices, and the value of my investment, to plummet.
(There's now an online petition to the president asking the government not to regulate cryptocurrency trading. It has been signed by more than 200,000 people as of Jan. 16.)
But investing in cryptocurrency isn't just some irrational or (potentially) illegal business that worried academics, out-of-touch luddite government officials and seemingly know-it-all journalists make it out to be.
Because, what other options are there for wealth accumulation in this new gilded age? Private broadcaster SBS's show "We Want to Know the Truth" recently examined the Bitcoin investment phenomenon, featuring a 22-year-old South Korean speculator who turned an investment of 80,000 won ($75) into some 28 billion won ($26 million) as an example of what many are aspiring to become.
In the same episode, one ordinary investor described his I-have-nothing-to-lose mentality in this way: "Whether you have 50 million won in your bank account, or lose that 50 million won on Bitcoin trading, you are still a 'dirt spoon.'"
And I am not really that much better off. I already realized that my hard work and determination likely won't translate into job and social security in South Korea. At times cryptocurrency seems like my only life jacket, and I am joined by many other young South Koreans who believe the same.
For more on cryptocurrency trading in South Korea, read:
*
Cover image: Juwon Park monitors the cryptocurrency market even while at work. (Jieun Choi/Korea Exposé)
Join the newsletter to receive the latest updates in your inbox.