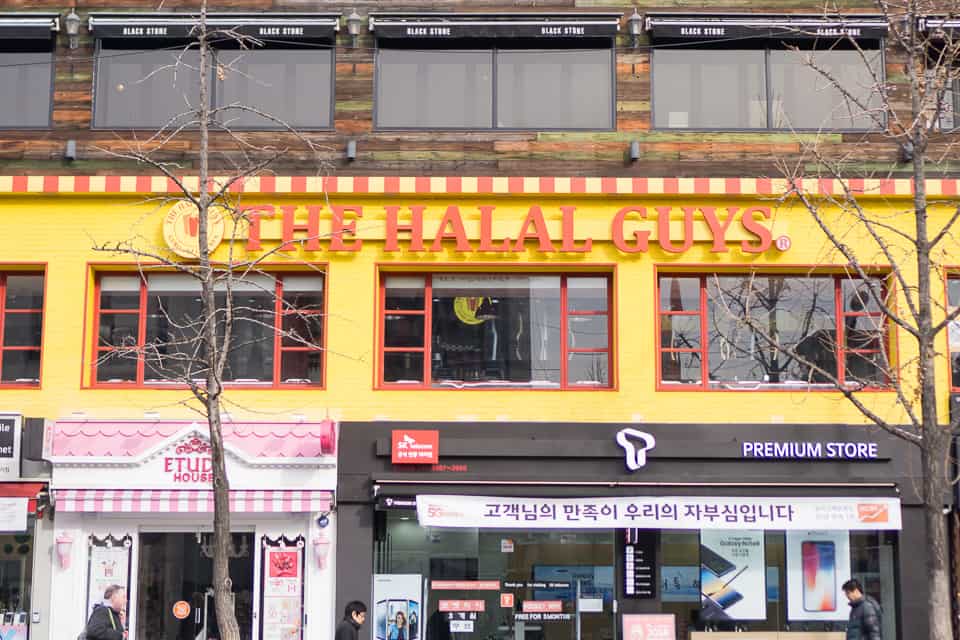 Can South Korea Tap into Growing Halal Market?
Up the hill from the subway station in Itaewon, one of Seoul's most diverse neighborhoods, a quiet road lined with a random jumble of shops leads to Seoul Central Mosque. In among the tattoo studio, the corner grocery shops and the LGBT bookstore stands Eid, a small eatery serving Korean cuisine.
But Eid differs from most dining venues in one crucial way: It's South Korea's first Korean halal restaurant. The eatery is filled with non-Korean men and women enjoying traditional Korean dishes such as bulgogi and samgyetang. There is only one ethnic Korean in the restaurant: owner-chef Yu Hong-jong.
Eid is one of a growing number of South Korean businesses attempting to cater to the country's increasing Muslim population, both floating and permanent.
Encountering Islam
When Yu's son entered Hankuk University of Foreign Studies to study Arabic, Yu's life took a new direction. "My son was always interested in the Middle East and Muslim culture. He converted to Islam in his first year at college, around 2005," Yu said. "Our entire family used to be Catholic."
Yu's son eventually moved to Malaysia to study Islamic Finance for his doctoral degree, as no such course is available in South Korea. It was then that Yu started paying more attention to Muslims in South Korea. "My son used to bring foreign students home. Now, he's the one studying abroad. I realized that just like my son living abroad, Muslim students in South Korea have involuntarily restricted diets."
Many Korean dishes contain pork, a meat strictly forbidden in Islam. Others frequently contain meats such as beef and chicken, which can only be eaten if halal.
"I remembered how my son's Muslim friends ate only seafood and vegetables because they couldn't find halal meat in South Korea. I thought to myself, why don't I open up a Korean halal restaurant for those Muslim students so they can eat Korean food?"
Yu himself was once an avid pork-eater and alcohol drinker. "I worked in an advertising agency for over 30 years," he said. "Which meant I had to drink a lot. And we ate loads of pork, of course."
However, Yu's concerns for Muslim students in South Korea, like his son studying abroad, were reason enough for him to open Eid.
Yu bought the space for the restaurant in mid-2014. "I didn't even know how to cook instant noodles before," he recalled. It took me three or four months to open the restaurant because I was so nervous." In October 2014 he finally took a leap of faith, and Eid was born.
Unfamiliarity
The shortage of halal eateries is one of many obstacles faced by Muslims living in South Korea.
In order to adhere to Islamic Law as defined in the Koran, all meat they eat must be halal (which means "permissible" in Arabic).
"As a Muslim, food is the most difficult thing to manage [in South Korea]. I can't eat in the school cafeteria or restaurants because most food contains non-halal items (meat)," said Most Shirina Begum, a Bangladeshi PhD student at Ewha Womans University in Seoul.
This difficulty was reflected in a 2016 study by Korea Tourism Organization (KTO) of visiting Muslim tourists — respondents cited limited food option as one of the biggest travel concerns they faced in the country. A further risk is encountering restaurants that falsely claim to be halal and are certified only by themselves.
Two domestic non-governmental organizations provide halal certification in South Korea– Korea Muslim Federation and Korea Halal Authority. The KMF is the better known of the two bodies, but has certified only 14 halal restaurants nationwide. Nine of these are in Seoul. Korea Halal Authority told Korea Exposé that it had certified five other halal restaurants, raising the official total to 19 in a country with an estimated resident Muslim population of roughly 200,000 (no official government figure is available).
The limited halal food supply doesn't just affect tourists. Yu said he had difficulty getting hold of halal meats. "We use beef and chicken for our dishes. I get chicken from the local halal meat shop but all beef is imported from abroad. There's no halal beef butchery in South Korea."
South Korea's halal market lags behind that of some other developed countries. Many supermarkets in the United Kingdom, for example, stock halal meats. Around 15 percent of all meat slaughtered in the UK is reportedly halal compliant (to be fair, 6.3 percent of the UK population was Muslim in 2016, compared to less than 0.4 percent of South Korea's).
In 2015, the South Korean government planned to build a halal food production complex in Iksan, a small city in western South Korea. But the scheme was scrapped in 2016 after a strong backlash from some national Christian organizations and media outlets.
Like it or not, South Koreans have been more exposed to Islamic culture lately. According to KTO, number of inbound Muslim tourists to the country clocked 980,000 in 2016, a 33 percent increase on the year before. In 2001, the figure stood at just 202,000.
Korean Halal Overseas
The global halal market was valued at $5.73 trillion in 2016, catering to a worldwide Muslim population of about 1.8 billion (China, by contrast, had a population of 1.38 billion people in 2016).
Despite this huge potential opportunity, strong cultural unfamiliarity appears to have kept South Korea out of the Muslim food market.
But a visit by now-ousted President Park Geun-hye to the United Arab Emirates in 2015 ignited interest within South Korea in the halal market.
"[Our] two nations will be able to lead the global food industry if we use a reliable halal certification system, develop mutual trust and create menu items favored in both countries," Park told Abu Dhabi crown prince Mohammed bin Zayed at the time.
South Korean businesses have quickly jumped on the bandwagon. "According to our data, more than 400 companies and around 800 products have received halal certification in South Korea," Jang Geon, director of Korean Institute of Halal Industry, told Korea Exposé.
"South Korean companies generally export South Korean halal food and cosmetic products to Indonesia, Malaysia, Iran, the UAE, and Saudi Arabia." Jang claimed that these countries bought over 70 percent of all South Korean halal exports. "This is remarkable progress, as South Korea has only been acquainted with Islamic culture for the last five or six years," he added.
Until recently, South Korean food exports were focused on old regional partners and allies. In 2016, over half of the country's agricultural exports went to Japan, China, and the United States, according to the Ministry of Agriculture, Food and Rural Affairs. Criticism that South Korea was putting all its eggs in one basket increased in 2016 during the row with China over THAAD, the US's anti-ballistic missile system. South Korea's tourism industry took a heavy blow after Beijing banned group tours to the country and China-based South Korean businesses experienced severe retaliation measures from Beijing.
In order to diversify its export portfolio, the South Korean government attempted to negotiate with the UAE and Indonesia for recognition of KMF halal certification, offering a potential boost for South Korean exports. This recognition appears to have not yet been granted.
KMF halal certification is accepted in Malaysia and Singapore but not in Indonesia or the United Arab Emirates.
According to Jang, "KMF lacks global credibility compared to Malaysia's JAKIM, Indonesia's LPPOM MUI, and the UAE's ESMA."
***
But regulatory obstacles are not deterring South Korean businesses looking to conquer the newly discovered halal market. Sometimes, it's easier to start at home.
Shinsegae Duty Free, a subsidiary of retail giant Shinsegae Group, is working to attract tourists from beyond China. "Sales to Muslim tourists from Southeast Asia are not very significant as of now" according to PR official Doh Yeong-gwang, but the company claims to be planning to expand its halal food and cosmetics selection in the near future.
Lotte Department Store — a subsidiary of Lotte, the South Korean conglomerate hit so hard by Chinese anti-Korean retaliations — recently opened a prayer room for Muslims at one of its Seoul branches. And several deluxe hotels now offer halal dishes. However, it's still too early to say South Korea is ready to fully accommodate Muslim customs.
"As a Muslim, I want to join Friday prayers, but it is difficult for others, such as employers and professors, to understand and allow the time for it," said Dr. Md. Niamul Haque, a post-doctoral researcher at Incheon National University.
For someone like Yu Hong-jong at Eid, halal is more than just a business. Before opening his restaurant, he had an important decision to make. "It doesn't make sense for a non-Muslim to run a halal restaurant," he thought to himself. (Indeed, official KMF regulations dictate that halal restaurants in South Korea must be operated by Muslims.)
Living with his Catholic-turned-Muslim son gave Yu plenty of time to get acquainted with Islam. "I had my share of doubts about Catholicism. A lot of my questions were answered by Islam." Yu converted to the religion "without hesitation," and was subsequently followed by his wife and second son.
"After Miss Park Geun-hye came back from the UAE, I had a sudden flood of requests for collaboration, even from big companies like Korean Air," Yu added."They all approached halal purely from a business angle because they'd heard it was a profitable industry. But my food is just simple Korean dishes. Home-made food, using halal ingredients, and made by a Muslim."
Cover image: The Halal Guys restaurant in Itaewon, Seoul. (Ho Kyeong Jang/Korea Exposé)
Join the newsletter to receive the latest updates in your inbox.