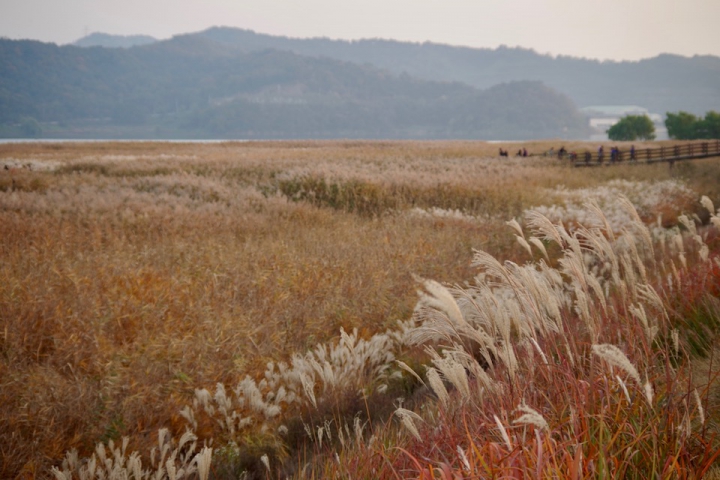 Seocheon: Overlooked, All the More Authentic
The mudflat is vast, stretching as far as the eye can see. A few fishermen in thigh-high rubber boots waddle through pools of seawater. Two elderly women are hunched over, digging up shellfish.
We gingerly hop from one rock to another, trying not to fall while still admiring small sea creatures here and there. After an hour or so, our guide beckons us to hasten the pace. "We need to hurry. The tide will start coming in soon." With some regret I make my way back to the safety of the shore, putting the seascape behind me.
Living and working in Seoul means I seldom travel beyond the capital region. When I do, Gyeongju is certainly enjoyable for its temples and grassy royal tombs. Mt. Seorak has majestic peaks and waterfalls. Jeju beckons with a semi-tropical climate, myriad beaches and a stunning volcanic landscape.
But I have been here long enough to see them all. And most sights of lesser renown often fall short of expectation, no matter how glowingly government-sponsored brochures describe them.
Seocheon, on the southwestern tip of South Chungcheong Province, was never on my list of places to see, much less on my radar. Located between Boryeong, busy during its well-attended summer mud festival, and Gunsan, a port city that boasts an assortment of colonial-era architecture, Seocheon, with a population of 56,000 and decreasing, is one of those places you might drive through but hardly think about.
Eat Local, a travel startup that aims to take foreigners to such under-the-radar destinations, contacted Korea Exposé about a weekend press tour in Seocheon last month, and I decided to join mainly out of curiosity.
As the name makes clear, the company emphasizes food as a big part of the travel experience. The itinerary promised plenty of local delicacies available in Seocheon, a hub for seafood trade.
After a two-and-a-half-hour drive from the south of Seoul, our first stop was a countryside restaurant with only a small sign announcing its name: Hwayang Yeonhwa. At 11:45 a.m. on a Saturday, the parking lot was near empty, but it took only a few minutes before dozens of South Koreans started milling in, eager for the set meals reserved in advance.
While certain elements of the menu were familiar — bulgogi, japchae and rice cakes — the lunch was peppered with some rare delights: skate, steamed and meltingly tender rather than fermented and reeking as it is normally served; shucked oysters so fresh they tasted mostly of seawater with just a hint of minerals; and slices of pine mushroom, its fragrance augmented by a smidgen of sesame oil. The scrumptious fare set the tone for things to come over the next 30 hours.
"Koreans mostly just go to famous sights when traveling. My goal is different: to go to less-known regions, taste regional cuisines, and meet people of those regions. That's what makes me happy," said Yoon Yoo-kyoung, one of Eat Local's three co-founders.
She was working for the Korean chapter of Slow Food International when this business idea came to her in late 2015.
"I got to meet many local producers or farmers around South Korea, and since [Slow Food] was an international organization, we also got to collaborate with other chapters overseas. One such opportunity was attending an event called Terra Madre every two years. On these trips abroad we went to see nearby farms and restaurants, in the U.S., France and Japan. We learned so much."
With that experience etched into her mind, she teamed up with two of her colleagues and received a grant from Korea Tourism Organization to start a venture, one that offers a chance to visit under-explored parts of South Korea.
After lunch, we traveled to a museum dedicated to mosi, a type of linen woven from fibres of plants that grow prodigiously in Seocheon. Premium mosi is crafted entirely by hand on wooden looms and expensive; it is used mostly by the well-to-do to make funerary suits, for dressing bodies before burial. Viewing the exhibit was admittedly less than exciting, in the way that most small South Korean museums tend to be — beautifully constructed but poorly curated — but at the end we were led into the basement where elderly weavers were hard at work, good-naturedly answering our questions about this vanishing art form.
Bang Yeon-ok, 70, is a master weaver recognized by the South Korean government as a holder of "intangible cultural heritage." Asked about who would carry on her legacy, she smiled a sad little smile and shook her head. "The training program is three-years-long, but we are lucky if a single trainee makes it to the end." Seeing her at work, I could easily tell why so many give up: the women do everything from harvesting the fibre out of plants to weaving, in a process that involves some dozen steps. To produce a single bolt of even the loosest weave takes 80 hours of labor just for weaving; more if the end product is to be of top quality.
But back to food. We were driven to Samhwa Brewery, which specializes in a local rice-based liquor known as sogokju. The technique as demonstrated was still very much traditional — mixing sticky rice with water and kneading the mixture to a desired consistency before adding yeast — but updated using modern refrigeration facilities and stainless-steel containers. The end product is almost honey-sweet, with a touch of flavor that isn't available in generic supermarket brands. It went down well with small dried Korean anchovies and squares of seaweed that accompanied the tasting.
Dinner that evening was at Yujeong Sikdang — a seafood feast centered on lightly fried eels and raw crab meat, both heavily seasoned using the typical Korean dressing of soy sauce and red pepper powder. The preparation methods were nothing to write home about, but the freshness of the ingredients elevated the dishes, especially in the case of crab, which was sweet in the way only just-harvested seafood can taste.
Seocheon enjoys some renown as a good place to view reeds along a river bank, especially at sunset. The gently undulating plumes of white whiskers were lovely, and crowds of domestic tourists predictably descended at the annointed hour wielding selfie sticks. The town also claims what is purportedly the second-oldest surviving church building in Korea — now privately owned and used for storage by the farmer — as well as being the place where a complete Bible was transmitted to the Korean Peninsula for the first time. Local lore — supported by official records of the Joseon Dynasty, which ruled Korea from 1392 to 1910 — says that in 1816 two British naval vessels anchored nearby, prompting local officials to go aboard for a look. The Koreans were gifted several documents and books, one of which was the Bible.
That copy has since gone missing, but last year the local government finished construction of a memorial hall at the tune of 8 billion won (around $7.5 million), and procured a 1611-edition King James Bible from the Bible Museum near Phoenix, Arizona — reportedly for an additional 300 million won ($277,000). The leather-bound volume, displayed in the place of honor at the memorial hall, is impressive to behold for its sheer size, but didn't leave a major impression, for the connection between it and the missing copy was hard to discern.
From traipsing around a mudflat to stopping by an early morning seafood auction, South Korea clearly has something to offer tourists who are tired of well-known sights and museums. The notion of authenticity — whatever that means — is important for many cultured travelers, and stopping by some historical marvel for a photo or several doesn't quite satisfy their urges. Being able to eat what locals eat, and see what locals see, has become a meaningful pursuit for anyone who claims to be well-traveled.
In many ways, the test version of Eat Local's tour hit that spot. We saw no other foreigners at all, and only a few dozen domestic travelers. It was also an experience so authentic as to leave certain foreigners wanting more: English-language explanation wasn't always adequate or fluent; the food was local enough that a couple of the participants shunned it at times. (Even I had mixed feelings about watching live octopuses being dunked in boiling water for instant cooking.)
At a time when South Korea is in the global spotlight as a tourist destination, especially in the months leading up to the Pyeongchang Olympics in February, it's good to see attempts at eliciting interest in different sides of the country that are far removed from the usual hotspots. And Eat Local is perfectly situated to meet the demand for authentic travel experiences if it can up its game.
This article was sponsored by Eat Local.
*
Cover image: The reed field in Seocheon at sunset. (Se-Woong Koo/Korea Exposé)
Become a subscriber to access all of our content.