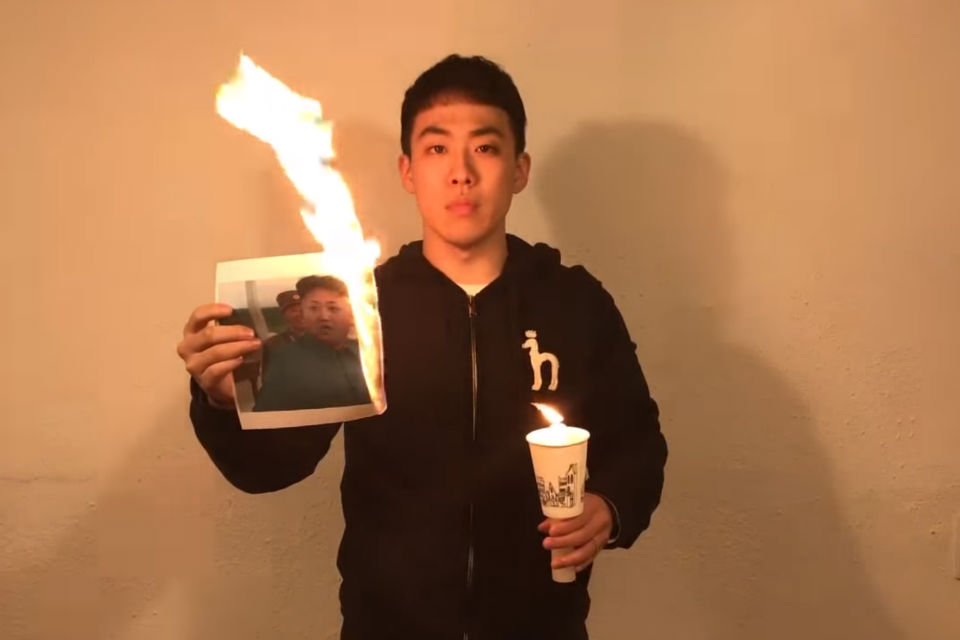 Pyongyang Olympics? Burning Tensions Ahead of Games
South Korea has been hit with a cold snap — the mercury plunging to minus 18 degrees Celsius in Seoul on Jan. 26, and some have been burning papers, not to keep warm, but to condemn North Korea and the South Korean government's rapprochement efforts ahead of the forthcoming winter Olympics in Pyeongchang.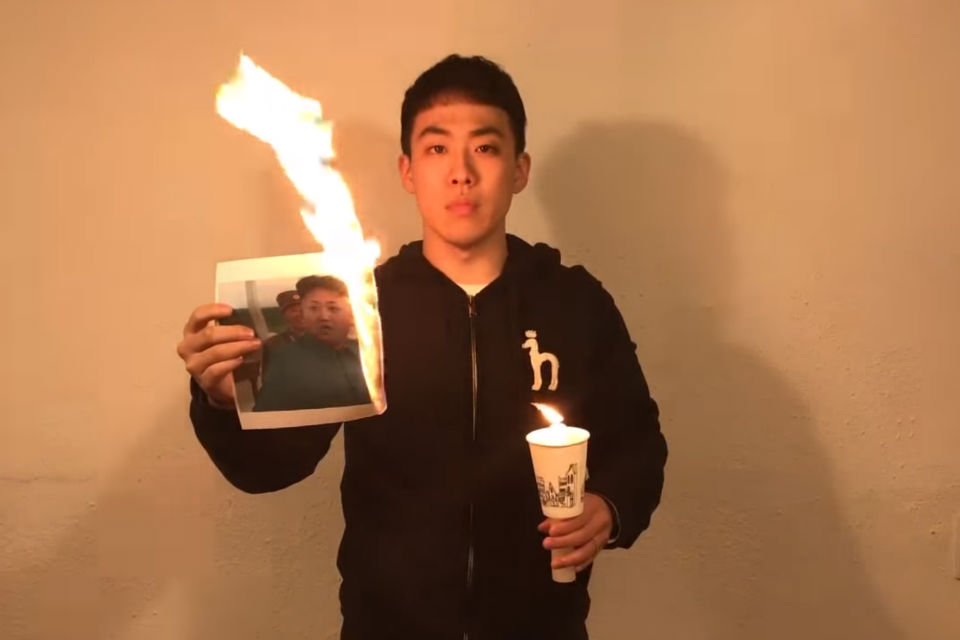 The burning antics started among the older generation, when an estimated 150-200 South Koreans gathered outside of Seoul Station on Jan. 22 to set alight a near life-size picture of North Korean leader Kim Jong-un, along with a North Korean flag and a 'unification flag' — which will be held by the two Koreas as they enter the Olympic stadium at the opening ceremony on Feb. 9.
The far-right Korean Patriots Party, a group composed predominantly of elderly conservatives, flocked in front of the railway station where North Korea's delegate Hyon Song-wol was scheduled to return from her overnight trip to Gangneung, a Olympic host city, to inspect performance facilities there. North Korea is expected to dispatch a 140-member orchestral music troupe to Gangneung and Seoul on Feb. 8 and 11, respectively.
The Korean Patriots said during a heated press conference, "The Pyeongchang Winter Olympics is turning into the 'Kim Jong-un's Pyongyang Olympics,' that effectively recognizes North Korea's nuclear armaments and propagates its regime."
The protest even prompted the presidential Blue House to urge the public to welcome all participating countries in games — including North Korea — calling it a rare chance to ease tensions between the two sides who are still technically at war.
"We cannot understand those that label the games as the 'Pyongyang Olympics,'" Park Soo-hyun, a Blue House spokesperson, said in a statement earlier this week.
North Korean state media condemned the actions of the protesters as "criminal acts" committed by "a handful of betes noires," threatening to walk-out of the Olympics unless "South Korean authorities take a prompt measure to prevent the recurrence of such acts."
But now, the elderly protesters are not the only ones venting frustration at the flurry of reconciliation efforts with North Korea.
The campaign of burning (or ripping) photos of Kim Jong-un is titled 'South Korea is a free country' (as opposed to North Korea).
Young Christians, both male and female, have jumped on the anti-North Korea bandwagon, filming themselves lighting pictures of North Korean leader Kim Jung-un on fire. (They offer the option of also ripping the photos.)
A video mashup, uploaded on Jan. 25 on a YouTube channel by a group called 'Kingdom Strikes Back' — part of the Korean Christian Federation — starts with a young man who holds a picture of Kim Jung-un while staring blankly at the camera. He goes on to say, "I am someone's husband, and the Republic of Korea is a free nation," before proceeding to set the image alight.
A young woman in a black Princeton hoodie appears next. She says "I am a young South Korean adult" before tearing the photo of Kim in half. "The Republic of Korea is a free nation," she repeats. The acts of tearing and burning continue for approximately two minutes as different protesters take to the camera.
The video encourages people to upload footage of themselves on social media with relevant hashtags. As of Jan. 26, the group is uploading participant videos on their Facebook page — around 30 as of now, each with at least 1,000 views — some including a child tearing up a picture of a North Korean flag. It's not clear how big the movement is; on YouTube the campaign video has garnered around 500 views.
Future Korea, a conservative Christian media outlet, commented on the campaign, noting that the Seoul Station rally held earlier in the week had translated into an online movement.
The burning of portraits of leaders and flags is nothing new — a small group of people, notably those from a ultra-rightist conservative body called the Korea Parent Federation, has carried out such demonstrations for decades. The group, primarily made up of elderly conservatives born before or during Korean War, is known for its loyalty to ousted ex-President Park Geun-hye and fondness for Donald Trump, and hatred toward current liberal President Moon Jae-in.
Find out more about why South Korea's conservatives are hesitant to embrace a liberal, reconciliatory attitude toward North Korea: "Impeach the Impeachment: Older Conservatives 'Defend Democracy'"
What seems like a small group of men and women expressing anger can have serious implications in terms of diplomatic relations. In 2003, North Korea almost withdrew from the Universiade Games in South Korea's southeastern city of Daegu after a North Korean flag was burnt at a protest in Seoul. Then-president Roh Moo-hyun had to publicly apologize to get North Koreans back in the games.
The latest burning tensions (pun intended) reflect rising dissatisfaction with President Moon's seemingly unconditional extension of an olive branch toward North Korea in return for North Korea's participation in the Pyeongchang Games, which he dubs the 'Peace Olympics.'
On top of the North Korean orchestra performances, South Korea has decided to create a joint women's ice-hockey team; there are now talks of a possible joint ski cross-country team.
Politicians, too, have expressed their dissatisfaction with President Moon's attempt at rapprochement: On Jan. 25, lawmaker Kim Sung-tae of the main opposition Liberty Korea Party said, "We cannot help but ask once again whether this is the Pyeongchang Winter Olympics or the Pyongyang Olympics of the Democratic People's Republic of Korea," echoing the sentiment felt by some South Koreans that North Korea is getting all the Olympic spotlight. On South Korea's biggest portal website Naver, "Pyongyang Olympics" became one of the top trending terms, at least for a few days.
Meanwhile, president Moon Jae-in's approval rating dropped to its lowest level in four months. In a survey result published on Jan. 26 and conducted by Gallup Korea, 64 percent of respondents said they approved of the president's performance, down three percentage points from the previous week.
Juwon Park contributed to this article.
Cover image: Young Christian burns picture of Kim Jong-un. (Source: Kingdom Strikes Back YouTube channel)
Join the newsletter to receive the latest updates in your inbox.